ANDERSON IS SIGNING#4
(Wednesday 2nd September 2020)
The Club confirmed the signing of Curtis Anderson on 2nd September 2020 on a one year deal. The 19-year-old 'keeper became the fourth signing of the close season for Wanderers. Gareth Ainsworth commented: "Curtis has fantastic potential and has done really well in training so far, earning this opportunity to show us what he can do and develop his game further over the coming season."
Read full press release via wycombewanderers.co.uk
YOUNG KEEPER SET TO SIGN
(Monday 31st August 2020)
More transfer speculation saw former Blackpool and Manchester City 19-year-old keeper Curtis Anderson linked with a move to Adams Park. The 6ft glovesman, who is currently a free agent after playing in USA, was member of the England U17 team who lifted the 2017 World Cup but has yet to make senior appearance in the UK.
HIBS STRIKER LINED-UP
(Monday 31st August 2020)
Hiberbian winger Daryl Horgan was set to sign for Wycombe Wanderers according to reports in the Scottish press via the Daily Record. The 28 year-old Ireland international had netted 10 goals in 80 apps for Hibs in two seasons. The former Preston North End man also scored for PNE in their 5-1 FA Cup win over Wanderers at Adams Park in January 2018. His is contracted with Hibs until 2021, so Wycombe are likely to need a fee for his services.
ASTON VILLA 5 WYCOMBE 2
(Saturday 29th August 2020)
A Wanderers side lost 5-2 to Aston Villa in a 'practice match' held at the Premier League side's training ground. No team line-ups were made available, but the Villa scorers were recorded as Anwar El Ghazi (2), Ally Samatta, Trezeguet and Ezri Konsa. Meanwhile, Fred Onyedinma and Scott Kashket netted for Wanderers with Joe Jacobson seeing a penalty saved.
WYCOMBE 1 WEST HAM 5
(Tuesday 25th August 2020)
Wanderers fielded six trialists as they went down 5-1 to a mixed strength West Ham United side in a behind closed doors friendly at Adams Park. Arthur Masuaku had given the visitors the lead on 5 minutes before a back pass by Darius Charles on 28 minutes embarrassed David Stockdale in the Wycombe goal to double The Hammers lead. Alex Samuel pulled a goal back for Wanderers on the half-hour before Manuel Lanzini and then a brace by Jarred Bowen cemented victory for the Premier League side.
Wycombe 1st half: Stockdale, Grimmer, Zico Asare (trialist), Charles, Jay Williams (trialist), Thompson, Pattison, Jem Karacan (trialist), Kashket, Parker, Samuel
Wycombe 2nd half: Allsop, Morgan Toney-Green (trialist), Jacobson, Andre Burley (triallist), Stewart, Bloomfield, Gape, Freeman, Andron Georgiou (trialist), Onyedinma, Ikpeazu

RETURN OF THE MAC#4
(Tuesday 25th August 2020)
After much speculation via social media, the Club confirmed on 25th August 2020 the return of Jason McCarthy to Wycombe Wanderers – signing a 3-year deal for an undisclosed fee from Millwall. It will be his fourth spell with Wanderers having originally spent the 2015/16 season at Adams Park on loan from home town club Southampton. He re-joins Wycombe just three appearances short playing his 100th game for the Wanderers.
FRIENDLY VICTORY AT SOUTHAMPTON
(Friday 21st August 2020)
A Wanderers XI played Southampton on the afternoon of 21st August 2020 in pre-season friendly at St. Mary's. Wycombe fielded nine triallists who have been involved in pre-season training to date. The match was won by Wycombe via a second-half goal by Alex Samuel from a Josh Parker corner. The Southampton side was believed to be mainly taken from their U23 squad.
Wycombe starting XI: Stockdale, Phillips, Charles, Thompson, Pattison, Kashket, Ikpeazu + 4 trialists - 2nd Half XI: Stewart, Grimmer, Gape, Parker, Onyedinma, Samuel + 5 other trialists

FIXTURES RELEASED 2020/21
(Friday 21st August 2020)
Wycombe Wanderers will host Rotherham United for The Chairboys first ever fixture in the 2nd tier of English football – with the match due to take place on Saturday 12th September 2020, behind closed doors at Adams Park.
Wycombe and Rotherham, both promoted from League One in 2019/20, are the only two sides in the division who have never played in the top flight of English football. The home game with The Millers is followed by a trip to Blackburn Rovers on Saturday 19th September 2020.
Full fixture list 2020/21 is available via wycombewanderers.co.uk
PHILLIPS IS SIGNING #2
(Thursday 20th August 2020)
Wanderers' second signing of the 2020/21 season was announced on Thursday 20th August 2020 with the news that former loanee Giles Phillips had returned to the Club on a one-year deal following his release from Queens Park Rangers. He had originally joined Wycombe in July 2019 on a season long loan from the Championship side and went on to make 16 First Team appearances - including ten starts in League One.
PFA AWARD FOR JACOBSON
(Thursday 20th August 2020)
Joe Jacobson became the first Wycombe Wanderers player to pick up a PFA Player of the Season award since they were introduced in 2001 when the results were announced at their virtual ceremony on 20th August 2020. Jacobson also becomes only the 2nd Welsh player to collect the award since Robert Earnshaw of Cardiff City in 2003.
NEW DEAL FOR GRIMMER
(Wednesday 19th August 2020)
The Club confirmed on 19th August 2020 that Jack Grimmer had signed a new deal with Wanderers - now running until June 2023. His return from injury for the Play-Offs was hugely significant for Wycombe. He had previously been out of action for seven months when he took the field for the Semi-Final 1st Leg at Fleetwood in July 2020. He went to play every minute of all three Play-Off matches. His new deal coincides with changing his squad number from 19 to 2.
BRENTFORD AWAY IN FLC
(Tuesday 18th August 2020)
Wycombe were drawn away to Brentford in the First Round of the Football League Cup after the North/South regionalised draw was made on 18th August 2020. Ties are scheduled for the weekend of Saturday 5th September 2020 (a week before the League season starts). The tie will be the first competitive match to be held at Brentford's new stadium but will be played 'behind closed doors'.
Brentford - Quick Guide
TRAVEL REDUCTION FOR 2020/21
(Monday 17th August 2020)
Wycombe Wanderers will travel a total of 1,000 less miles during their Championship campaign in 2020/21 compared to their League One season in 2019/20. The total travel distance in the Championship will be 5,356 miles (average one-way trip per game 116 miles). This compares to 6,336 in League One (including Bury for sake of equal number of clubs) with an average 137 miles per game. Wycombe's total travelling is 7th highest in the division, comparing to the lowest Coventry City (4,654) and the highest Middlesbrough (8,942).
IKPEAZU SIGNING CONFIRMED
(Monday 17th August 2020)
The signing of Uche Ikpeazu from Hearts was confirmed by the Club on Monday 17th August 2020. The 25-year-old was signed on a three-year deal with no fee mentioned in either club's press statement at the time but believed to be a nominal, undisclosed, figure due to the two years remaining of Ikpeazu's contract with the Tynecastle side. He was allocated the No.9 in the Wycombe squad ahead of the 2020/21 season.
Read full press release via wycombewanderers.co.uk
UCHE IKPEAZU SET TO SIGN
(Friday 14th August 2020)
Reports in the Scottish press have suggested that Wycombe are looking to sign former Reading Youth Teamer Uche Ikpeazu from Hearts. The 25-year-old Harrow born striker netted 22 goals in 88 appearances for Cambridge United prior to 10 goals in 55 apps at Hearts. The Daily Record said it understood that: "[Wycombe] are on the verge of getting their man after he travelled south to undergo his medical on Friday."
WEST HAM FRIENDLY
(Friday 14th August 2020)
Wycombe Wanderers announced a behind closed doors pre-season friendly against West Ham United at Adams Park to take place on Tuesday 25th August 2020 with a 2pm kick-off. On the same day The Hammers take on League One Ipswich Town. West Ham Manager David Moyes was reported as saying he will split his squad between the two games.
NEW SHIRT DESIGNS REVEALED
(Thursday 13th August 2020)
The Club revealed new design kits for the 2020/21 season on 13th August 2020. The new 1st choice kit with new sponsors Dreams will be a variation of the traditional light and dark blue quarters. The change/away kit will be the existing mango design but with the Dreams sponsor. Two goalkeeper kits were also revealed – 1st choice 'black to grey' – 2nd choice 'Mardi Gras'. A new 3rd kit will be launched later in August 2020.
Read full press release via wycombewanderers.co.uk

2020/21 KEY DATES REVEALED
(Thursday 13th August 2020)
The Football League (EFL) confirmed the key dates for the 2020/21 season on 13th August 2020 as follows:
League fixtures released - Friday 21st August @ 9am
Season starts 12th September – ends 8th/9th May 2021
Draw for League Cup 1st Round – 18th August
First Round games weekend of 5th September, with the following three rounds all within September.
It was also confirmed that Wycombe will not compete in the Football League Trophy which is restricted to League One and League Two clubs, plus invited Clubs from higher divisions with recognised U23 sides.
DREAMS BACK AS SHIRT SPONSORS
(Tuesday 11th August 2020)
The Club confirmed on 11th August 2020 that Dreams beds would return as main shirt sponsors for the 2020/21 season. The company, with their HQ in Loudwater, High Wycombe, will enter a third spell with Wanderers having previously sponsored the shirts for seasons 2007/8 and 2008/9 and then 2011/12 and 2012/13. The new deal is for three seasons, with the new design kit to be revealed on 13th August 2020.
Read full press release via wycombewanderers.co.uk
ADAMS PARK - 30 YEARS ON
(Sunday 9th August 2020)
9th August 2020 marked the 30th anniversary of the first ever game at Adams Park when Brian Clough brought his Nottingham Forest side to town for a friendly with Martin O'Neill's side in front of a crowd approaching 5,000. See the link below for a special article written for the 25th annivesary.
Adams Park 25 years ago - retro chairboys.co.uk special
TRANSFER FEE RECORDS
(Friday 7th August 2020)
A look back through the COTN archives reveals that in Wycombe Wanderers' 27 seasons to date in the Football League they have signed or loaned just over 400 players. The record fee as of August 2020 was £200,000 and the combined transfer costs were around £2.5m.
Wanderers' record transfer fees to date are the £200,000 paid to Barnet for Darren Currie in July 2001. Prior to that, Sean Devine also signed from Barnet for £200,000 in March 1999. The previous record fee was £150,000 for John Williams from Coventry City in September 1995.
ALL 2020/21 OPPONENTS CONFIRMED
(Tuesday 4th August 2020)
Wanderers' full list of opponents for their debut season in the Championship was finalised on 4th August 2020 when the Football League confirmed that Wigan Athletic's appeal against their points deduction had been rejected – meaning The Latics will be relegated to League One at the expense of Barnsley who will stay-up and play Wycombe for the first time since the 2018/19 campaign. Meanwhile, Brentford lost their Championship Play-Off Final with Fulham, meaning The Bees will meet Wycombe for the first time in League football since 2012, with the 2020/21 season being the first at their new ground.
Barnsley - Quick Guide Brentford - Quick Guide
FA CUP INCOME DROP 2020/21
(Monday 3rd August 2020)
The FA revealed details of the FA Cup for the 2020/21 season on 3rd August 2020 – a season when Wycombe Wanderers will be exempt to 3rd Round Proper for first time ever. The FA confirmed that the prize fund will return back to 2017-18 levels due to the "financial impact of the COVID-19" - as an example in the drop of prize monies, 3rd Round winners will receive £82,000 compared to £135,000 during the 2019/20 season. The competition is set to start in September 2020.
More via The FA website - thefa.com
WEDNESDAY DEDUCTED 12 POINTS
(Friday 31st July 2020)
It was confirmed on 31st July 2020 that Sheffield Wednesday will be deducted 12 points for the 2020-21 season for breaking spending rules as determined by an independent disciplinary panel. The ruling says Wednesday breached rules by including the sale of their Hillsborough Stadium home in their 2017-18 accounts despite the ground being sold a year later. However, they were cleared of "breaching its duty of utmost good faith to the EFL by deliberately concealing information". More via BBC website.
CARDIFF AND SWANSEA CONFIRMED
(Thursday 30th July 2020)
Wycombe Wanderers will meet Welsh clubs Cardiff City and Swansea City in the Championship during 2020/21 after both clubs failed in their bid for promotion to the Premier League.
Cardiff City will face Wycombe for first time since 2003 in League football and it will be also be the first visit to the CC Stadium for Wanderers. Player connections include: Gareth Ainsworth, Kadeem Harris, Joe Jacobson and Roger Johnson.
For Swansea it will be a first League meeting since 2005. Player connections between Wanderers and The Swans include: Adebayo Akinfenwa, John Cornforth, Jermaine Easter, Alfie Mawson, Stuart Roberts and John Williams.
Cardiff City - Quick Guide Swansea City - Quick Guide
£5m EXTRA INCOME FOR WANDERERS
(Monday 27th July 2020)
Wanderers' estimated financial reward for reaching the Championship is estimated at £2.3m basic award plus £4.5m solidarity. This compares to the League One basic award of £732,000 and a solidarity payment of £675,000 per season – equating to an increase of £5.4m of income over the season. This compares to Wanderers' estimated turnover for the 2019/20 campaign of around £4m, with a players wage bill estimated at £2m.
Meanwhile, the parachute payments to relegated Premier League clubs Bournemouth, Norwich and Watford provide eye-watering reading. A tweet sent from the @GasManCOTN account highlighting the figures picked up a lot of interest.
PREMIER LEAGUE SIDES RELEGATED
(Sunday 26th July 2020)
Bournemouth, Norwich City and Watford will meet Wycombe Wanderers in the Championship in the 2020/21 following the conclusion of the Premier League season. All three have played previously played Wycombe in the Football League – Bournemouth (most recently 2012), Norwich (2010) and Watford (1997).
Bournemouth - Quick Guide
Norwich City - Quick Guide
Watford - Quick Guide
FOREST RETURNING TO WYCOMBE
(Wednesday 22nd July 2020)
A bizarre sequence of the results at the end of the 2019/20 Championship season means that Nottingham Forest will meet Wycombe Wanderers for the first time in League competition during the 2020/21 campaign. Forest missed out on a play-off place by goal-difference. In 1990 Forest were the first side to play at Adams Park. The previous season Forest had finished 9th in the top tier, while Wycombe ended 10th in the Conference.
Nottingham Forest - Quick Guide
DERBY AND BORO CONFIRMED
(Saturday 18th July 2020)
Results in the closing stages of the Championship season 2019/20 have confirmed that Wycombe Wanderers will meet Derby County and Middlesbrough in league competition next season for the first time. It will also be a first ever competitive meeting with Derby, while the games with Boro will evoke memories of the FA Cup Third Round meeting between the two sides in January 1975 when Wycombe were in the Isthmian League and Boro joint top of the old 'First Division' with Jack Charlton as Manager.
Derby County - Quick Guide Middlesbrough - Quick Guide
RETAINED & RELEASED
(Thursday 16th July 2020)
The Club confirmed their retained and released list on 16th July 2020 as follows:
'Multi-year deals' were confirmed for Matt Bloomfield (including coaching duties), Joe Jacobson and Anthony Stewart.
A new one-year deal was agreed with Adebayo Akinfenwa, while an appearance clause triggered a one-year extension for Alex Pattison.
The players released were Sido Jombati, Jamie Mascoll, Jacob Gardiner-Smith and Craig Mackail-Smith. Jombati finished his spell at Wanderers with 185 First Team appearances and seven goals.
STEWART NEW DEAL
(Wednesday 15th July 2020)
It was revealed on 15th July 2020 that Wanderers central defender Anthony Stewart had signed a 'multi-year' deal with Wycombe with a 'Premier League' clause. Wanderers Financial Director Pete Couhig confirmed the news on the 'League One Lowdown' podcast recorded shortly after the League One Play-Off Final. Stewart played every single minute of Wycombe Wanderers' League and major cup campaigns in 2019/20 and scored the first goal in the Play-Off Final.
BLACKBURN FOR FIRST TIME
(Tuesday 14th July 2020)
Blackburn Rovers' defeat in the Championship on Tuesday 14th July 2020 confirms they will face Wycombe Wanderers for the first time at any level during the 2020/21 season. Amongst the connections between the two clubs, Wanderers Manager Gareth Ainsworth was a former Rovers Youth Teamer before being released, while Simon Garner scored close to 200 goals in around 500 appearances for Rovers before his time at Adams Park under Martin O'Neill between 1993 and 1995.
Blackburn Rovers - Quick Guide
OXFORD UNITED 1 WYCOMBE 2
(Monday 13th July 2020)
As far as emotional evening's go watching your team via a satellite dish or internet connection, then Monday 13th July 2020 is unlikely to surpassed in the history of being a supporter of Wycombe Wanderers Football Club. At around 9.40pm UK time the final whistle at Wembley signaled a 2-1 victory for Wanderers over Oxford United and confirmation the Club would play in the second tier of English football for the first time in its 133 history.
Victory came after Anthony Stewart had headed Wycombe into an early lead before Mark Sykes equalised for The U's just before the hour mark. However, the historic victory for Gareth Ainsworth's side was secured when Fred Onyedinma was pole-axed by U's 'keeper Simon Eastwood with just over ten minutes remaining and Joe Jacobson cooling converted the resulting spot-kick.
Oxford United 1 Wycombe 2 - match details, stats, reaction & highlights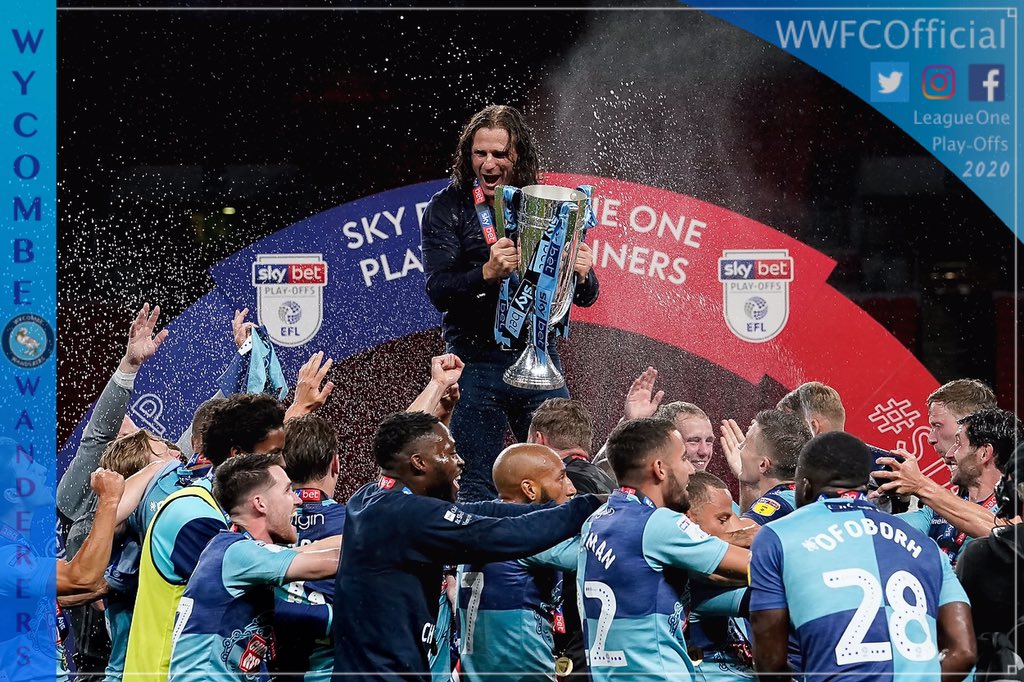 WYCOMBE 2 FLEETWOOD 2
(Monday 6th July 2020)
Wycombe Wanderers left themselves one game from reaching the second tier of English football for the first time ever after completing a 6-3 aggregate play-off semi-final victory over Fleetwood Town. The 2nd leg at Adams Park ended 2-2 after the visitors had given Wycombe a brief scare by leading 1-0 and 2-1 before a stoppage time goal from Fred Onyedinma sealed a visit to Wembley Stadium on Monday 13th July 2020 where Oxford United will be the opposition following their semi-final victory over Portsmouth earlier the same evening.
Wycombe 2 Fleetwood 2 - match details, stats, reaction & highlights
FLEETWOOD 1 WYCOMBE 4
(Friday 3rd July 2020)
Wycombe Wanderers took a huge step to securing a place in the Championship Play-Off Final after an exhilarating 4-1 away victory in the 1st leg played behind closed doors at Fleetwood Town. Goals from Nnamdi Ofoborh, Joe Jacobson, David Wheeler and Alex Samuel gave Wycombe a huge advantage ahead of the return leg at Adams Park on Monday 6th July 2020.
Fleetwood 1 Wycombe 4 - match details, stats, reaction & highlights
TRUST NEWS UPDATE TO MEMBERS
(Monday 29th June 2020)
Wycombe Wanderers Trust provided an update to members on 29th June 2020 via an email and update to their website. The updates included: Season Ticket discussions, pitch renovation, new Wi-Fi installation at Adams Park and a warning over the protection of the 25% stakeholding of the Trust in Wycombe Wanderers Football Club.
Read more at wycombewandererstrust.com
AGENT FEES FOR 2019/20
(Wednesday 24th June 2020)
Intermediary-fees and transactions for the 2019-20 season were published by the FA on 24th June 2020. Wycombe Wanderers were the 3rd lowest in League One with £25,868 compared to £19,500 for same period last year (only Rochdale and Bolton Wanderers were lower). Sunderland were top of this table with £1.34m, with the next highest Coventry City with a spend of £353,632. The transaction detail shows 16 different Wycombe players.
Read full details via thefa.com
ROB COUHIG ADDRESSES FEEDBACK
(Thursday 18th June 2020)
Club CEO Rob Couhig moved quickly to allay criticism of the prices rises and restricted refunds for Season Tickets for the 2020/21 season. Firstly commenting on the large increase for junior tickets Couhig said: "No longer are we willing to offer free tickets to children, or any fan for that matter. I don't know of any organisation in the entertainment or leisure industries that welcomes children for free. How can you teach anyone the value of a ticket to an experience if that ticket has no price attached to it?" However, Couhig accepted the price was too high and the increase would now be from £90 to £95, rather than £190, with refunds made to anybody who had already purchased. It was also agreed that pro-rata rebates would be offered for games played behind closed doors in addition to access to viewing all home games via the iFollow streaming service.
Read Rob Couhig's full statement via wycombewanderers.co.uk
SEASON TICKET DETAILS 2020/21
(Friday 19th June 2020)
There was mixed reaction from supporters after the Club released Season Ticket details for the 2020/21 season on 19th June 2020. Adult Season Ticket prices increases were between 19-25% while there were price rises for juniors in the Family Stand up from £90 to £190.
The press release stated: "The club have brought prices in line with what it believes represents fair value for money. These prices remain consistent regardless of which division the club will be in next season." Terms and conditions of the Season Tickets also stated that no refunds would be made for any games played behind closed doors, thus leaving many supporters unsure of their benefit of renewing during such uncertain times. Other fans also commented that automated emails had not been received via ticket agency TicketCo.
Read full details via wycombewanderers.co.uk
ROB COUHIG ON TICKET PLANS
(Thursday 18th June 2020)
Wycombe Wanderers CEO Rob Couhig published a statement on 18th June 2020 where he outlined his thoughts ahead of releasing Season Ticket details for the 2020/21 season. He said: "We needed to make a realistic plan for the coming year. Of course, this was complicated by the fact that the present season has not concluded, there is uncertainty over which league in which we will play (although I have a belief as to which one!)." The comments come as suggestions that the new season will start in September and is likely to be behind closed doors but with contingency to limit a 'socially distanced' crowd to Season Ticket holders only capped at 25% of capacity of Adams Park.
Read Rob Couhig's full statement via wycombewanderers.co.uk
TICKET REFUND OPTIONS
(Thursday 18th June 2020)
The Club announced on 18th June 2020 a wide range of options of claiming back or waiving (part or full) previously purchased matchday tickets and season tickets for unfulfilled games during the curtailed 2019/20 season. The Club also said that any waived money will be put towards the playing budget for 2020/21. Season Ticket information for the 2020/21 campaign will be published on 19th June 2020.
Read full details via wycombewanderers.co.uk
AINSWORTH "WE'RE NOT LUCKY"
(Saturday 13th June 2020)
Gareth Ainsworth defended Wycombe's chance to compete in the play-offs after his team finished 3rd in the table on PPG. Speaking to the Daily Mirror, he said: "We don't feel 'lucky'. We still feel we had a chance of automatic promotion if the season continued." The response follows other media outlets, close to clubs who didn't achieve enough points during the season to qualify on PPG, going into a tail-spin over Wycombe Wanderers' wrongly perceived actions of voting to curtial the season. The Wanderers boss added: "We didn't lobby for PPG because we knew it would favour us and wouldn't have looked right."

EFL CONFIRM PLAY-OFF DATES
(Friday 12th June 2020)
The dates of the League One Play-Offs were confirmed by the EFL on 12th June 2020 as follows:

Friday 3rd July 2020
Portsmouth v Oxford United 5.30pm
Fleetwood Town v Wycombe Wanderers 7.30pm

Monday 6th July 2020
Oxford United v Portsmouth 5pm
Wycombe Wanderers v Fleetwood Town 7.30pm

Monday 13th July 7.30pm
Final at Wembley Stadium

All games will be played 'behind closed doors' and shown live on Sky Sports. The ties will not be available via the any of the club's iFollow streaming services.
THE COUHIG'S ON THE PLAY-OFFS
(Thursday 11th June 2020)
The Club confirmed on 11th June 2020 that loanees Paul Smyth, Giles Phillips, Nnamdi Ofoborh and David Stockdale have all had their deals extended with Wycombe to cover the play-offs. Meanwhile, Craig Mackail-Smith is back training with the squad following the end of his loan with Stevenage but will not be permitted to feature in the play-offs. Millwall loanee Jason McCarthy had already returned to his parent club due to financial implications of extending the loan.

THE COUHIG'S ON THE PLAY-OFFS
(Wednesday 10th June 2020)
The Club continued their #ChairboysLive feature via their official YouTube channel on 10th June 2020 where Wanderers' Head of Media Matt Cecil was joined by Rob, Missy and Pete Couhig to look ahead to the play-offs.

WANDERERS BEST EVER FINISH
(Tuesday 9th June 2020)
Wanderers' final placing of 3rd place in the 3rd tier of English football is the highest ever in the 133 year history of the Club and sets up a chance to reach the 2nd tier for a first time. The achievement comes 25 years after Wycombe missed out on a play-in chance at the end of the 1994/95 season, when Martin O'Neill's side finished 6th but were not granted a play-off spot due to re-structuring of numbers of clubs competing in a reduced Premier League.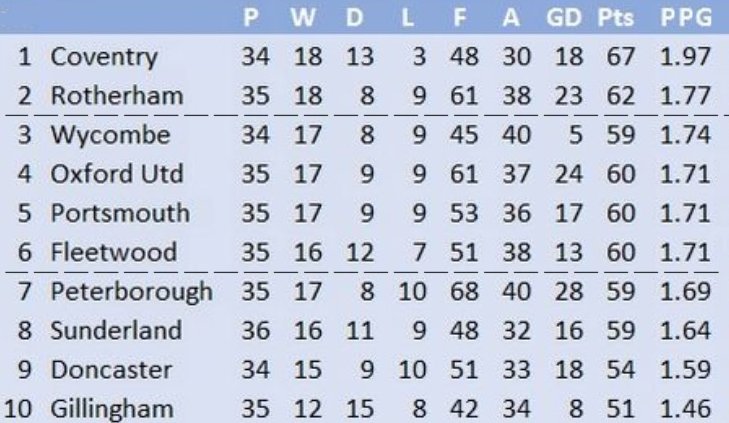 WANDERERS CONFIRMED 3rd
(Tuesday 9th June 2020)
Wycombe Wanderers were confirmed as finishing in 3rd place in League One for the curtailed 2019/20 season following the outcome of the Extraoridinary EFL meeting on 9th June 2020. A statement from the EFL said: "League One Clubs have voted by an overwhelming majority to formally end the 2019/20 season."
It's understood the only clubs to vote against the proposals were Peterborough United, Portsmouth, Ipswich Town, Sunderland and Tranmere Rovers. The decision means that Wycombe will travel to 6th placed Fleetwood Town in the 1st leg of the Play-Off Semi-Final, with the winners taking on the victors of the Portsmouth (5th) v Oxford United (4th) Semi-Final. Dates for the ties had yet to be decided at the time of EFL statement.
Full statement via the EFL website
EFL UPDATE
(Wednesday 3rd June 2020)
The FFL released a statement on 3rd June 2020 confirming the end of consultation with Clubs over varying proposals to determine what will happen in the event the 2019/20 season is curtailed in any EFL Division. A formal meeting is scheduled for Tuesday 9th June 2020.
Full statement via the EFL website
NEW LOOK TRUST WEBSITE
(Monday 1st June 2020)
Wycombe Wanderers Trust launched a new look website on 1st June 2020, with a revised 'Mission Statement' of 'To protect the "supporter quarter" and keep Adams Park 100% Trust-owned.
Trust Chairman Nigel Kingston commented: "Wycombe Wanderers Trust is a vital link for supporters to be able to have their say about the way our Club is run and we need to preserve that influence. Following the sale of 75% of the Club to Rob Couhig and Feliciana, it is vital that we protect and safeguard the remaining 'supporter quarter' – and keep Adams Park 100% Trust-owned. In order to do that, we need to raise money for the Club through the Trust – now more than ever and this new website will play a central role in the new campaign."
Read more at wycombewandererstrust.com
EFL UPDATE
(Friday 29th May 2020)
A statement from the EFL Board on Friday 29th May 2020 indicated that a date of 15th June 2020 would be the earliest a decision would be made on the outcome of the 2019/20 season. Indications from member clubs suggest that Championship clubs would prefer to complete the season, while the majority of League One and League Two clubs are likely to opt to curtail the season, while still retaining the play-offs and relegation.
Full statement via the EFL website
REMEMBERING 1963
(Sunday 24th May 2020)
As the COVID-19 situation continued to halt the 2019/20 season, the @GasManCOTN Twitter feed recalled the day of 24th May 1963 when Wycombe Wanderers completed an Isthmian League season that saw 54 days lost due to bad weather. The situation was described in the local press as: "The most awkward situation the Club has ever had to face."
EFL UPDATE
(Friday 22nd May 2020)
The EFL confirmed on Friday 22nd May 2020 that Championship clubs would return to training on Monday 25th May 2020 in conjunction with the introduction of new protocols for the testing of players and staff for COVID-19. No testing programme for League One or League Two clubs was confirmed, hence for Wycombe Wanderers, only small group training would be permitted.
Full statement via the EFL website
AINSWORTH - GIVE US THE 10 GAMES
(Friday 22nd May 2020)
Wycombe Wanderers Manager Gareth Ainsworth was a guest on Sky Sports news on the morning of 22nd May 2020 to discuss the proposals to finalise the 2019/20 season. The Wycombe boss said: "PPG only puts [Wycombe] into the Play-Offs when we think we had a good chance of automatic promotion." Meanwhile, fellow guest Joey Barton (Manager of potential play-off opponents Fleetwood Town) commented: "We started out the season intending to play 46 games," and concluding "The only fair way is to finish the season." Ainsworth added: "We still have plenty to play for on the pitch. From a competitive point of view, give us the 10 games remaining because I believe we'll finish in at least the play-offs, if not in the automatics."
UPDATE ON EFL MEETING
(Thursday 21st May 2020)
The Club provided an update on 21st May 2020 following an EFL Board meeting the previous day to discuss the route to a conclusion of the 2019/20 season.
The key points were:
The vote to curtail the 2019/20 season would require 51% of all clubs in that division to vote in favour
If curtailed, placings will be decided on unweighted points per game (PPG)
Play-offs, promotion and relegation would be retained
No was date given on when Clubs will vote.
Read more details via @GasManCOTN on Twitter
WANDERERS SET TO FINISH 3rd?
(Friday 15th May 2020)
The EFL issued a statement at 4pm on Friday 15th May 2020 that confirmed should a curtailment of the season be agreed, final league positions would be determined by an unweighted points per game (PPG) calculation but the Play-Offs would continue in both divisions to determine the final promotion place. That situation would see Wycombe finish in 3rd spot in the table, with Coventry City 1st and Rotherham United in 2nd spot. Wycombe would therefore play Fleetwood Town in any play-off, with Portsmouth and Oxford Untied contesting the other semi-final. Meanwhile, The Championship looks likely to continue, albeit behind closed doors on dates to be determined.
Full statement via the EFL website
AINSWORTH - PROUD OF BOYS
(Friday 15th May 2020)
Wycombe Wanderers Manager Gareth Ainsworth spoke to BBC 5 Live on 15th May 2020 regarding the halt to the season due to COVID-19. He said: "Financially, continuing the season would be a real stretch for us. I feel guilty even talking about football coming back when there are still 500 people dying every day. My job as a manager is to keep my players safe." Wycombe had dropped to 8th in the table at the point the season was stopped but had a game in hand, meaning a Points Per Game scenario would push Wanderers back to 3rd. He added: "We're ready for anything and we're very adaptable to whatever situation comes our way. We've had a great season and I'm really proud of what the boys have achieved. With our game in hand I'd be confident we'd be right back in the mix."
POSH CHAIRMAN 'RELAYS MESSAGE'
(Thursday 14th May 2020)
Peterborough United Chairman Darragh MacAnthony claimed via his Twitter account that he had been asked to relay a message on behalf of Oxford United, Fleetwood Town, Sunderland, Ipswich Town and Posh ahead of a meeting between League One and Two Clubs and the EFL on Thursday (14th May 2020). The statement read: "We have no desire for voiding the season, PPG scenario's/letting a computer decide our footballing fate. For our fans/staff and for the integrity of our sport we are all looking forward to completing our pending Fixtures/season under guidance from the EFL at a time it is deemed safe to do so. Thank you for your time."
The Posh Chairman with a reputation for online arrogance made the statement at a point his team would miss out on a play-off position should the season finish on points per game (PPG).
FA TROPHY FINAL 1993
(Saturday 9th May 2020)
Sunday 9th May 1993 was the day Wycombe Wanderers took on Runcorn in the FA Trophy Final at Wembley – and for another lockdown special the COTN archives were duly raided, a VHS tape found, converted and uploaded to YouTube. More great memories via the @GasManCOTN Twitter feed

LINCOLN 1999 MEMORIES
(Friday 8th May 2020)
On Saturday 8th May 1999 Wycombe Wanderers escaped relegation to the bottom tier of the Football League thanks to a late winning goal from Paul Emben in a 1-0 victory at Lincoln City. For the 2020 annual nostalgia trip of this memorable day, COTN reunited for the first time the 1170AM commentary from Alan Hutchinson with existing video footage.

LOAKES PARK MEMORIES
(Tuesday 7th May 2020)
7th May 2020 marked the 30th anniversary of Wycombe Wanderers playing their final game at Loakes Park. The link below is to an article written on the 25th anniversary, while there are video memories via the embedded @GasManCOTN Twitter feed.
Last game at Loakes Park - archive feature from COTN
TORQUAY MEMORIES 2014
(Friday 3rd May 2020)
As we tried to keep ourselves amused during lockdown, I managed to find an archive of the BBC news feed from the day of the Torquay v Wycombe game on Saturday 3rd May 2014 and posted this via Twitter below.
LONGEST PEACETIME BREAK
(Thursday 23rd April 2020)
23rd April 2020 marked the longest 'peace time' break during a season in the 132-year history of Wycombe Wanderers - 54 days, no games. The previous longest break was during the 1962/63 'big freeze' when there were no games played from 27th December 1962 until 18th February 1963. With no return imminent, it looks likely the break will approach in excess of 100 days.
BACK TO TRAINING 16th MAY 2020?
(Friday 17th April 2020)
A letter sent to all EFL Clubs on Thursday 16th April 2020 was leaked online and stated that details of how the 2019/20 season would be concluded were expected to be resolved with the following two weeks. A recommended return to training date of 16th May 2020 ('at the earliest') was also stated but it was also made clear that a date of returning to play had yet to be agreed.
Read complete letter via @GasManCOTN on Twitter
FA TROPHY S/FINAL 1991
(Monday 13th April 2020)
It was back to the video archives again on Easter Monday 2020 via the @GasManCOTN Twitter feed for a complete re-run of the Altrincham v Wycombe FA Trophy Semi-Final 2nd Leg on Saturday 13th April 1991.
Wanderers were aiming to reach Wembley for this first time in 34 years. The outcome became what is arguably the most significant game in Wanderers' modern day history. The full match is available via YouTube in two parts with full commentary and post-match interviews.
1st half

2nd half



FA TROPHY S/FINAL 1993
(Friday 10th April 2020)
As a Good Friday lockdown 'treat', COTN dug into the video archives to find a complete recording of the Saturday 10th April 1993 FA Trophy Semi-Final 2nd Leg clash between Sutton United and Wycombe Wanderers at Gander Green Lane.
Wanderers trailed 3-2 from the 1st Leg at Adams Park but this proved to be a memorable day for Martin O'Neill's team and the travelling fans.
Available via YouTube in two parts with full commentary and post-match interviews.
1st half

2nd half



"THE CLUB WILL SURVIVE"
(Monday 23rd March 2020)
Wanderers major new shareholder Rob Couhig published an open letter via the official website on 23rd March 2020 explaining the current situation at the Club and insisting that "The Club will survive this crisis." Adding: "It's our intention to come out the other side in a better position and financially able to survive long into the future." Couhig also explained the desire not to take on loans in order to alleviate the downfall in income: "I am not going to request a loan that will only allow us to return to where we were before the interruption. If we are to borrow money, it must produce the revenue necessary to pay back the loan plus a reasonable return for the risk involved in borrowing the money."
Full statement via wycombewanderers.co.uk
"SEASON EXTENDED INDEFINTELY"
(Thursday 19th March 2020)
The Football League (EFL) issued a statement on Thursday 19th March 2020 that indicated the the 2019/20 season would be "extended indefinitely." The statement added: "The professional game in England will be further postponed until no earlier than 30 April." The previous occasion that Wanderers played no First Team games at all during March and April was 1918
Full statement via @EFL_Comms Twitter
FA CUP SEMI-FINAL 2001 RE-RUN
(Saturday 14th March 2020)
With live football taking a back seat for at least a few weeks, there was a great initiative from Wanderers' BBC 3 Counties reporter Phil Catchpole on Saturday 14th March 2020. He organised to re-live the 2001 FA Cup Semi-Final between Wycombe and Liverpool at Villa Park via his @bluntphil Twitter feed while watching a full re-run of the tie via YouTube.
GAMES HALTED DUE TO COVID-19
(Friday 13th March 2020)
After much speculation on the morning of 13th March 2020, the news was finally confirmed at around 11am that all professional football matches in the UK were to be postponed (until 3rd April 2020 at the earliest) due to the COVID-19 pandemic. This news has meant the postponement of Wycombe's trip to Burton Albion (Saturday 14th March 2020), followed by the games scheduled against Oxford United (home), Coventry City (away) and Shrewsbury Town (away). The EFL added that they would provide a further update following a Board meeting expected to be held on Wednesday 18th March 2020.
Full story via Wycombe Wanderers official website
NEWPORT PAGNELL IN B&B
(Thursday 12th March 2020)
Wanderers were drawn away to Newport Pagnell Town in the Semi-Final of the Berks & Bucks Senior Cup after the draw was made on 12th March 2020. It will be the first ever meeting between the two sides and follows Wycombe's victory over Hungerford Town in the previous round. The date for the tie is to be decided.
NEW CONTRACT FOR GAPE
(Tuesday 10th March 2020)
The Club confirmed on 10th March 2020 that Dominic Gape had signed a new deal with Wycombe Wanderers running until June 2022. Gareth Ainsworth commented: "Dominic has been one of the best signings we've made during my time at the Club and is always one of the first names on the team sheet. He's developed both as a player and a person in his four years with us, and I now see him as one of our Generals because of his influence around the place and the respect he's earned from his team-mates. I'm delighted that we've agreed this new contract with him and I believe he will continue to go from strength to strength for us in this exciting new era at the Club."
Dominic Gape - Player Profile updated
WANDERERS DOWN TO 8th
(Saturday 7th March 2020)
Results in League One on Saturday 7th March saw Wanderers drop down to 8th place but Wycombe are now one of five teams on 59 points and with a game in hand over both Sunderland (5th) and Peterborough (4th). Second placed Rotherham are three points ahead of Wycombe having played a game more and are due to visit Adams Park on Saturday 4th April 2020.
WEEKEND BREAK FOR WANDERERS
(Friday 6th March 2020)
Wanderers will be without a League fixture on the weekend of Saturday 7th March 2020 due to the demise of Bury at the start of the 2019/20 season. Wycombe enter the weekend in 4th spot in League One with the worst case scenario seeing a drop to 8th place. However, that would still leave games in hand of most of the teams above as Wanderers go into an away game at Burton Albion on Saturday 14th March 2020.
ROB COUHIG INTERVIEW
(Thursday 5th March 2020)
Rob Couhig gave his first interview since his company completed the takeover of Wycombe Wanderers. Speaking in a video interview via the official Club media channels, Couhig summarised his hopes and expectations for the remainder of the 2019/20 season. He said he was looking at 3 or 4 sell outs at Adams Park before end of season and expected Wanderers to be in the Play-Off's as a minimum. He added that ensuring players contracts were resolved as soon as possible and that Season Tickets for the 2020/21 campaign would be 'affordable as possible'. Ground maintenance at Adams Park was also considered a priority.
View video via - @wwfcofficial - Twitter feed

COVENTRY BLOCK LIVE STREAM
(Thursday 5th March 2020)
The Club reported on 5th March 2020 that Coventry City had opted NOT to allow UK iFollow coverage of the rearranged game with Wycombe on Tuesday 24th March 2020. The decision has come in for criticism from fans of both clubs unable to attend the match at St.Andrews and the decision could well be reversed nearer the date of the game.
OXFORD SELL-OUT
(Thursday 5th March 2020)
Oxford United reported on 5th March 2020 they had sold out their 1,800 allocation in the away end at Adams Park for the League One meeting with Wanderers on 21st March 2020. Once again the allocation is in a stand officially designed to accommodate just over 2,000 supporters. Bristol Rovers, April 2014, were the last club to be allocated that figure but COTN understands that Police advice since then has restricted the number of tickets sold because of reasons relating to persistent standing in the seated areas.
CONCERTS FOR ADAMS PARK?
(Wednesday 4th March 2020)
The owners of Wycombe Wanderers are planning music concerts at Adams Park according to an interview with Rob Couhig in the March 2020 issue of FC Business magazine. The magazine said "A vigorous campaign to attract significantly more sponsors is already planned, as are moves to engage with the local authority and the town's residents. Plans to stage end of season concerts by some of music's superstars are also on the 'to do' list."

COMMERCIAL APPOINTMENT
(Wednesday 4th March 2020)
The Club announced more backroom appointments on 4th March 2020 with the news of the return of Neil Peters as 'Chief Commercial Officer'. Peters, a long-time Wanderers supporter, had previously been employed by the Club as 'Head of Sales' and has been brought back to the Club by the new owners, with Rob Couhig saying: "We are making positive and rapid progress both on and off the field, and have no plans to slow down."
Full story via Wycombe Wanderers official website
ANDREW HOWARD RETURNS
(Tuesday 3rd March 2020)
It was announced on 3rd March 2020 that former Club Chairman Andrew Howard had returned to Wycombe Wanderers in a role described as "relating to the football side of the business." Rob Couhig explained: "I have asked Andrew Howard to join Pete Couhig, Gareth Ainsworth and Richard Dobson as they work on plans to expand the squad and widen the pool of players that are available to the club, so that it can be sustained at the highest possible level in a fiscally responsible manner."
Howard originally joined the Wycombe Wanderers Board of Directors in June 2014, acting as Chairman from the summer of 2014 until October 2017. He resigned from the Board in October 2018.
Full story via Wycombe Wanderes official website
MORE ACCOUNTS INFO
(Tuesday 3rd March 2020)
Slightly more detail of Wycombe Wanderers FC accounts were made available to Trust members on 3rd March 2020. Turnover for the 2018/19 season in League One was £4.08m - up 11.4% from £3.75m the previous season in League Two. The Club's highest turnover as a Football League Club came in 2009/10 with £4.92m coming in as average attendances grew to 5,545 (compared to 5,331 in 2018/19). 'Profit on disposal of players' was recorded as £200,000 - equating mainly to the balance of Luke O'Nien being sold to Sunderland and Jason McCarthy bought from Barnsley.
Earlier News >>>>>