All the news stories from July 2020
WEDNESDAY DEDUCTED 12 POINTS
(Friday 31st July 2020)
It was confirmed on 31st July 2020 that Sheffield Wednesday will be deducted 12 points for the 2020-21 season for breaking spending rules as determined by an independent disciplinary panel. The ruling says Wednesday breached rules by including the sale of their Hillsborough Stadium home in their 2017-18 accounts despite the ground being sold a year later. However, they were cleared of "breaching its duty of utmost good faith to the EFL by deliberately concealing information". More via BBC website.
CARDIFF AND SWANSEA CONFIRMED
(Thursday 30th July 2020)
Wycombe Wanderers will meet Welsh clubs Cardiff City and Swansea City in the Championship during 2020/21 after both clubs failed in their bid for promotion to the Premier League.
Cardiff City will face Wycombe for first time since 2003 in League football and it will be also be the first visit to the CC Stadium for Wanderers. Player connections include: Gareth Ainsworth, Kadeem Harris, Joe Jacobson and Roger Johnson.
For Swansea it will be a first League meeting since 2005. Player connections between Wanderers and The Swans include: Adebayo Akinfenwa, John Cornforth, Jermaine Easter, Alfie Mawson, Stuart Roberts and John Williams.
Cardiff City - Quick Guide Swansea City - Quick Guide
£5m EXTRA INCOME FOR WANDERERS
(Monday 27th July 2020)
Wanderers' estimated financial reward for reaching the Championship is estimated at £2.3m basic award plus £4.5m solidarity. This compares to the League One basic award of £732,000 and a solidarity payment of £675,000 per season – equating to an increase of £5.4m of income over the season. This compares to Wanderers' estimated turnover for the 2019/20 campaign of around £4m, with a players wage bill estimated at £2m.
Meanwhile, the parachute payments to relegated Premier League clubs Bournemouth, Norwich and Watford provide eye-watering reading. A tweet sent from the @GasManCOTN account highlighting the figures picked up a lot of interest.
PREMIER LEAGUE SIDES RELEGATED
(Sunday 26th July 2020)
Bournemouth, Norwich City and Watford will meet Wycombe Wanderers in the Championship in the 2020/21 following the conclusion of the Premier League season. All three have played previously played Wycombe in the Football League – Bournemouth (most recently 2012), Norwich (2010) and Watford (1997).
Bournemouth - Quick Guide
Norwich City - Quick Guide
Watford - Quick Guide
FOREST RETURNING TO WYCOMBE
(Wednesday 22nd July 2020)
A bizarre sequence of the results at the end of the 2019/20 Championship season means that Nottingham Forest will meet Wycombe Wanderers for the first time in League competition during the 2020/21 campaign. Forest missed out on a play-off place by goal-difference. In 1990 Forest were the first side to play at Adams Park. The previous season Forest had finished 9th in the top tier, while Wycombe ended 10th in the Conference.
Nottingham Forest - Quick Guide
DERBY AND BORO CONFIRMED
(Saturday 18th July 2020)
Results in the closing stages of the Championship season 2019/20 have confirmed that Wycombe Wanderers will meet Derby County and Middlesbrough in league competition next season for the first time. It will also be a first ever competitive meeting with Derby, while the games with Boro will evoke memories of the FA Cup Third Round meeting between the two sides in January 1975 when Wycombe were in the Isthmian League and Boro joint top of the old 'First Division' with Jack Charlton as Manager.
Derby County - Quick Guide Middlesbrough - Quick Guide
RETAINED & RELEASED
(Thursday 16th July 2020)
The Club confirmed their retained and released list on 16th July 2020 as follows:
'Multi-year deals' were confirmed for Matt Bloomfield (including coaching duties), Joe Jacobson and Anthony Stewart.
A new one-year deal was agreed with Adebayo Akinfenwa, while an appearance clause triggered a one-year extension for Alex Pattison.
The players released were Sido Jombati, Jamie Mascoll, Jacob Gardiner-Smith and Craig Mackail-Smith. Jombati finished his spell at Wanderers with 185 First Team appearances and seven goals.
STEWART NEW DEAL
(Wednesday 15th July 2020)
It was revealed on 15th July 2020 that Wanderers central defender Anthony Stewart had signed a 'multi-year' deal with Wycombe with a 'Premier League' clause. Wanderers Financial Director Pete Couhig confirmed the news on the 'League One Lowdown' podcast recorded shortly after the League One Play-Off Final. Stewart played every single minute of Wycombe Wanderers' League and major cup campaigns in 2019/20 and scored the first goal in the Play-Off Final.
BLACKBURN FOR FIRST TIME
(Tuesday 14th July 2020)
Blackburn Rovers' defeat in the Championship on Tuesday 14th July 2020 confirms they will face Wycombe Wanderers for the first time at any level during the 2020/21 season. Amongst the connections between the two clubs, Wanderers Manager Gareth Ainsworth was a former Rovers Youth Teamer before being released, while Simon Garner scored close to 200 goals in around 500 appearances for Rovers before his time at Adams Park under Martin O'Neill between 1993 and 1995.
Blackburn Rovers - Quick Guide
OXFORD UNITED 1 WYCOMBE 2
(Monday 13th July 2020)
As far as emotional evening's go watching your team via a satellite dish or internet connection, then Monday 13th July 2020 is unlikely to surpassed in the history of being a supporter of Wycombe Wanderers Football Club. At around 9.40pm UK time the final whistle at Wembley signaled a 2-1 victory for Wanderers over Oxford United and confirmation the Club would play in the second tier of English football for the first time in its 133 history.
Victory came after Anthony Stewart had headed Wycombe into an early lead before Mark Sykes equalised for The U's just before the hour mark. However, the historic victory for Gareth Ainsworth's side was secured when Fred Onyedinma was pole-axed by U's 'keeper Simon Eastwood with just over ten minutes remaining and Joe Jacobson cooling converted the resulting spot-kick.
Oxford United 1 Wycombe 2 - match details, stats, reaction & highlights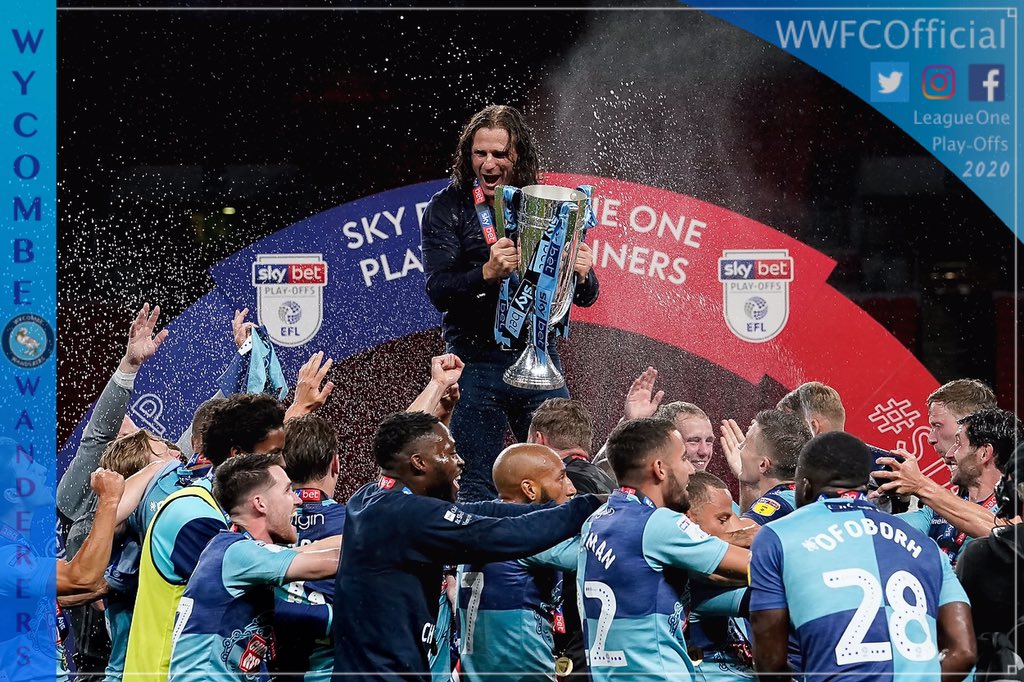 WYCOMBE 2 FLEETWOOD 2
(Monday 6th July 2020)
Wycombe Wanderers left themselves one game from reaching the second tier of English football for the first time ever after completing a 6-3 aggregate play-off semi-final victory over Fleetwood Town. The 2nd leg at Adams Park ended 2-2 after the visitors had given Wycombe a brief scare by leading 1-0 and 2-1 before a stoppage time goal from Fred Onyedinma sealed a visit to Wembley Stadium on Monday 13th July 2020 where Oxford United will be the opposition following their semi-final victory over Portsmouth earlier the same evening.
Wycombe 2 Fleetwood 2 - match details, stats, reaction & highlights
FLEETWOOD 1 WYCOMBE 4
(Friday 3rd July 2020)
Wycombe Wanderers took a huge step to securing a place in the Championship Play-Off Final after an exhilarating 4-1 away victory in the 1st leg played behind closed doors at Fleetwood Town. Goals from Nnamdi Ofoborh, Joe Jacobson, David Wheeler and Alex Samuel gave Wycombe a huge advantage ahead of the return leg at Adams Park on Monday 6th July 2020.
Fleetwood 1 Wycombe 4 - match details, stats, reaction & highlights

Previous month ||| Latest news from chairboys.co.uk