Getting there
By car: (approx. 35 miles from High Wycombe)
.
Train: Nearest stations Watford Junction (main-line), Watford High Street (main-line), Watford (Underground).


KNOW YOUR HISTORY

Press cutting from 1959 FA Cup tie at Vicarage Road between then Isthmian League Wycombe and Football League Fourth Division Watford.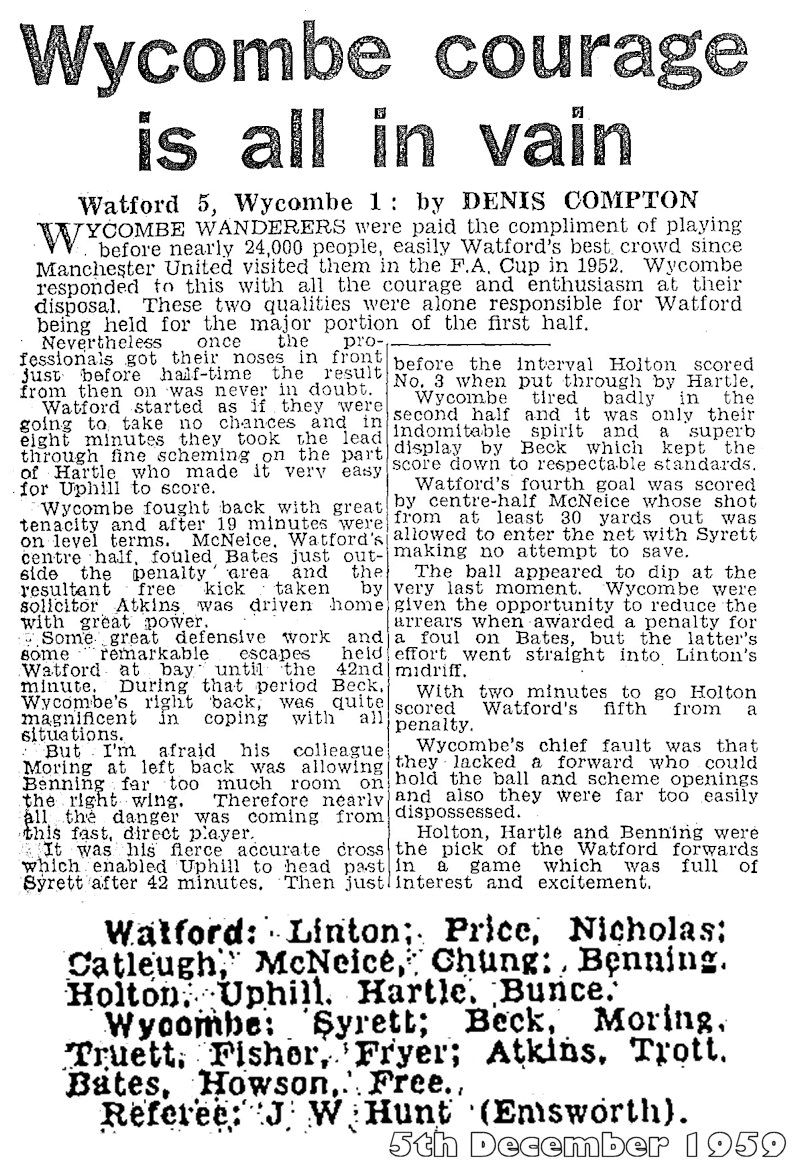 Wanderers' 15-0 loss away to Watford in the Bucks & Contiguous Counties League in September 1998 is the joint record highest defeat for the Club. An indentical loss away to Grays in the Southern League, during the 1900/01 season, was the other occasion that Wanderers shipped 15 goals in one match.
Chairboy Connections
A selection of players who have played for both Clubs.


Indicates profile available by clicking name.

Ikechi Anya - Former youth team player with Wanderers who was given his First Team debut by Manager Tony Adams in October 2004 at the age 16 years and 279 days - the youngest ever at the time for Wycombe. Made 26 First Team apps for Wycombe before being released by then Wycombe Manager Paul Lambert in May 2007. Subsequently moved into non-League football before a brief spell with Northampton Town during the 2008/2009 season - making 14 League appearances and scoring 3 times before earning a contract with Seville in the summer of 2009 at the Glenn Hoddle run accademy. Subsequently returned to the UK to play for Watford and made his Scotland debut in September 2013.



Clint Easton - Former trainee with Watford who moved to Norwich City in June 2001 in a deal said to be worth £100,000. Made 50 League appearances for The Canaries in a three year spell before moving on free to Wycombe in the summer of 2004 during Tony Adams reign as Wanderers boss. Made 97 First Team apps for Wycombe before being released by John Gorman at the end of the 2005/2006 campaign. Went on to play for Gillingham and Hereford United after his time at Wycombe.



Tommy Mooney - Joined Wanderers in the summer of 2005 from Oxford United. Had previously spent seven years with The Hornets, where he netted close to 100 goals in just short of 300 appearances. Other clubs include Southend United, Birmingham City, and Swindon Town



Luke O'Nien - Midfielder who joined Wycombe on a free transfer from Watford in July 2015. Made 119 appearances for Wycombe in a three year spell before switching to Sunderland in July 2018 for a fee believed to be in the region of £350,000.



Keith Scott - A Wycombe legend during two spells with Wycombe. Played briefly on loan for Watford from Norwich City during the 1996/97 season before returning on loan from the Canaries to Wycombe during the same season.



Mike Williamson - A former trainee with Torquay United who was snapped up by Southampton in November 2002 aged 18. Failed to make the first team with The Saints and returned for a brief loan spell with the Gulls in 2003. Spent the 2004/5 season on loan at Wycombe signing before permanetly in the summer of 2005. Totalled 167 First Team apps for The Wanderers before a £150,000 move to Watford in January 2009. Went on to make a £2m move to then Premier League Portsmouth in September 2009 resulting in a £400,000 sell-on cheque being passed to Wanderers. Amazingly never made a First Team appearance for Pompey prior to signing for Newcastle United in January 2010.

Other player connections include:
Lionel Ainsworth, Adebayo Akinfenwa, Joel Grant, Trevor How, Uche Ikpeazu, Alex Jakubiak, Gerard Lavin, Yves Ma-Kalambay, Alan Mayes, Neil Price, Randell Williams

Also remembering:
Mike Keen: High Wycombe born footballer who played and managed Watford before a spell as Manager of the Wanderers between 1980 and 1984. Made 126 Football League appearances for The Hornets between 1972 and 1975 after started his professional footballer as a youth player with Queens Park Rangers when he went on to clock up more than 400 apps. Later played for Luton Town before ending his playing career at Vicarage Road where he was originally Player/Manager until his departure in 1977.
While Manager for Wycombe he led the team to a FA Trophy Semi-Final in 1982 and an Isthmian League title in 1983.
Chairboys all-time record against The Hornets
DATE
COMP
V
R
SCORE
ATT
Sep 14, 1898
BCCL
A
L
0-15
Dec 5, 1898
BCCL
H
L
1-2
Jan 21, 1899
SL2
A
W
3-1
Mar 4, 1899
SL2
H
D
2-2
Nov 25, 1899
SL2
H
W
2-1
Sat, Mar 10,1900
SL2
A
L
0-1
Sat, Sep 26,1903
SL2
A
L
0-9
Sat, Mar 5,1904
SL2
H
L
0-5
Sat, Mar 25,1905
SL2*
A
D
1-1
Sat, Apr 1,1905
SL2*
H
W
2-0
Sat, Sep 30,1905
SL2*
H
W
2-1
Sat, Apr 7,1906
SL2*
A
L
1-2
Sat, Dec 4,1909
FAC
H
L
0-4
4,500
Sat, Dec 5, 1959
FAC 2
A
L
1-5
23,907
Tue, Nov 19,1996
FL2
A
L
0-1
7,657
Sat, Feb 22,1997
FL2
H
D
0-0
8,438
Sun, Sep 7,1997
FL2
A
L
1-2
12,100
Fri, Dec 26,1997
FL2
H
D
0-0
8,090
Sat, Aug 11,2012
FLC1
A
L
0-1
5,343
Tue, Oct 27, 2020
Ch
H
D
1-1
BCD
Wed, Mar 3, 2021
Ch
A
L
0-2
BCD
Key:
BCCL = Bucks & Contiguous Counties League
SL = Southern League - * v Watford Reserves
FAC = FA Cup
FL2 = Football League Division Two/'League One'
FLC = Football League Cup
Ch = Championship
Where available click date for match report