Getting there
By Car: (approx 90 miles from HW)
M40 west to junction junction 3A. Join M42 northbound. Exit M42 at junction 4 and continue on A34 (signposted Shirley). Continue through Sparkbrook where the A34 becomes the A41. At the Camp Hill roundabout take the 3rd exit (s/p Ring Road and North) to join A4540 Sandy Lane. At the next roundabout go straight on (s/p Small Heath) for St.Andrews. Parking is mainly street parking but make sure that valuables are kept of out sight due to some problems with car crime.
Train: Birmingham New Street station is approx 2 miles from St.Andrews with trains served from London, Euston or from High Wycombe via Banbury. Birmingham Snow Hill Station has direct connections from High Wycombe (journey time just under 2 hours) and is approx 2.5 miles from St Andrews. Bear in mind that returning from evening fixtures is not really practical. Check www.nationalrail.co.uk for specific times and connections.
KNOW YOUR HISTORY
The first time that the Wanderers met City was during Wycombe's first ever Division Two campaign. City had just been relegated from Division One but they were in for another shock when a Cyrille Regis goal was enough for a 1-0 victory for Martin O'Neill's side.
By the time City travelled to Adams Park for the return fixture they were promotion bound and gained revenge with a 3-0 victory but we don't talk about that.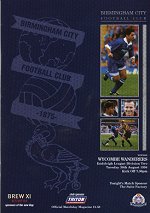 Chairboy Connections
A selection of players who have played for both Clubs.

Gary Ablett - loan spell at Wycombe in December 1999 from City. Four years with City after long spells with Liverpool and Everton. Moved on to Blackpool after Wycombe but left the full-time game in May 2000.

Trevor Aylott - Spent time with Millwall, Crystal Palace and Bournemouth before moving to Birmingham in October 1990. Made three Conference appearances for Wycombe in March 1993 on loan from Gillingham.

John Cheesewright - Goalkeeper who spent a short spell at Wycombe under John Gregory - making 18 apps during the 1996/97 season having joined from Colchester United. Made a single appearance for Birmingham City as a teenager during the 1991/92 season.




Steve Claridge - Nomadic striker who had a successful spell at Birmingham City in the mid 1990's and played for Wycombe towards the tail end of his career during the 2004/5 season. Born in Portsmouth, he played for Pompey during the 1998/9 season during a loan spell from Leicester City. He later joined on a permament basis, going on to make more than 100 League appearances and scoring 34 times. Originally joined Wycombe on loan from Brentford in January 2005 when John Gorman was Manager. The deal was made permanent in February 2005 and he went on to total 15 apps, scoring four times.

Mark Cooper - Former City midfielder who spent a very brief spell at Wycombe on non-contract during January 1994. Moved to Exeter City after Wycombe and eventually found his way to Hednesford for season 2000/2001.

John Cornforth - Joined Wycombe from Birmingham during the 1996/97 campaign but left in May 1999 after failing to regain the form that gave him Welsh International honours. Was briefly at Scunthorpe in 1999/2000 before moving to Exeter City in February 2000.

Miquel DeSouza - Scored 29 League goals in three seasons at Wycombe after an unsuccessful spell at City between 1993 and January 1995. Has since played for Peterborough United and Rusden and Diamonds. Joined Conference side Boston United in 2000/2001.



Jordon Ibe - Former Centre of Excellence player for Wanderers who grabbed the headlines when he became the youngest ever scorer for Wycombe when he netted against Sheffield Wednesday at Adams Park in October 2011 aged 15 years and 244 days. Moved to Liverpool from Wycombe for a fee of around £0.5m in December 2011. Made 11 appearances for City on loan from Liverpool during the second-half of the 2013/14 season. Signed for Bournemouth in the summer of 2016 for a reported £15m fee - a deal which netted Wanderers an estimated £2m sell-on. Joined Derby County in September 2020 having been released by Bournemouth.



Roger Johnson - Former Youth Team player for Wanderers who progressed to First Team football - making his debut aged 17 in May 2000. Made 183 apps for Wycombe before signing for Cardiff City for a fee of £275,000 in July 2006. Transferred to then Premier League Birmingham City in June 2009 for a reported £5m fee and thus netting Wycombe close to £700,000 in sell-ons. Spent two years at St.Andrew's - making 88 apps before spending four years at Wolves where he also played on loan at Sheffield Wednesday and West Ham. Later spent time at Charlton Athletic, Pune City in the Indian Super League and then time with Bromley in the National League.



Steve McGavin - short spell with City after Barry Fry took him from Colchester. Wycombe paid £140,000 for his services in March 1995 but eventually returned to Colchester via a short spell at Southend United.



Tommy Mooney - Had a two year spell with City after moving from Watford in the summer of 2001. Scored League 13 goals in 33 games for City during 2001/2 but was loaned out to Stoke City, Sheffield United and then Derby County during an unsettled season. Left City in the summer of 2003 for Swindon Town. Moved to Wycombe in the summer of 2005 from Oxford United and scored 32 times in just over 100 appearances before a move to Walsall.

Graham Potter - Left back who appeared three times for Wycombe as an 18 year old during the 1993/94 season while on loan from Birmingham City. Went on to spend time with Stoke City, Southampton, West Brom and on loan at Northampton Town. Appeared on loan for Reading during the 1999/2000 season before an extended period with York City. Started the 2003/4 season playing for Boston United in Conference.

Darren Rogers - A substitute appearance at Scunthorpe in November 1993 while on loan from Birmingham City was his solitary League game for Wycombe. Moved to Walsall in the summer of 1994 and made 54 League apps before joining Stevenage.

Danny Wallace - made one substitute appearance for Wycombe at the end of the 1994/95 season after 18 months with City. Best remembered for his times at Southampton and Manchester United.

Tom Williams - City paid out £250,000 in March 2002 to Peterborough United for the Welshman but he made just four First Team appearances and after loans spells at QPR and back at Posh left St.Andrews at end of the 2003/4 season for Barnsley. Joined Wycombe in the summer of 2007 from Swansea City but fell out of favour and eventually returned to Peterborough later that season having made just 13 appearances in a Wycombe shirt.

Other players to play for both clubs include:

John Deakin, Kevin Dillon, Jason Kavanagh, Rob Kiernan, Dan Scarr, Paul Shepstone and David Stockdale
Chairboys all-time record against The Blues
DATE
Comp
V
Res
SCORE
Att
Tue, Aug 30, 1994
FL2
A
W
1-0
14,305
Sat, Mar 18, 1995
FL2
H
L
0-3
7,289
Tue, Jul 30, 1996
Fr
H
L
1-2
1,736
Tue, Sep 19, 2000
LC2-1L
H
L
3-4
2,537
Tue, Sep 26, 2000
LC2-2L
A
L
0-1
8,960
Wed, Aug 13, 2008
LC1
H
L
0-4
2,735
Wed, Nov 4, 2020
Ch
A
W
2-1
BCD
Tue, Feb 2, 2021
Ch
H
D
0-0
BCD
Key:
FL2 = Football League Division Two
Fr = Friendly
LC = Football League Cup
Ch = Championship
Click date for match report where available