BRENTFORD
Ground:
Brentford Community Stadium,
Lionel Road,
Brentford,
Middlesex, TW8 0JA
Google map
Former ground:
Griffin Park,
Braemar Road,
Brentford,
Middlesex, TW8 0NT
Google map
Tel:
020 8847 2511
Websites:
Official website
Fans website:

griffinpark.org
Getting there
By Car: (approx 29 miles from HW)
M40 east to join M25 south. Join M4 at junction 15 and continue to junction 2. Continue on the A4 beneath the M4 until you reach the Chiswick roundabout. At the roundabout take the exit to return back up the A4. Stay on the A4, (signposted Staines), passing Griffin Park on your left. After 1.5 miles turn left at the traffic lights into Boston Manor Road (A3002). This is the recommended area for parking. See the map above for exact ground location. Check www.rac.co.uk for specific or more detailed directions.
Train: Nearest station Brentford (about 0.5 miles). Trains run from Waterloo. From High Wycombe go to Marylebone and take the Bakerloo line Southbound to Waterloo. Alternatively travel from Paddington mainline station to Ealing Broadway (about 2 miles from ground) and then walk south down the High Street (B455) towards Brentford or catch a No.65 bus that stops close to the ground.
The most convenient Underground Station travelling from Wycombe is to head for South Ealing on the Piccadilly Line, about a mile from the ground. Turn right out of the station and head down South Ealing Road. Griffin Park is about 400 yards on the right after you pass under the M4. This is also on the No.65 bus route. Check www.nationrail.co.uk for specific times and connections of trains.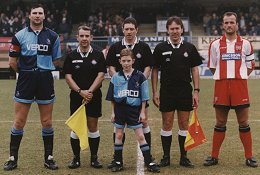 Captain Connections: Terry Evans and Jamie Bates meet prior to the game at Adams Park in March 1996.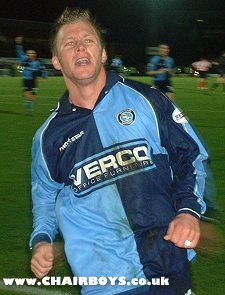 Classic Match: Danny Bulman celebrates his goal during Wanderers 5-3 victory over Brentford in December 2001. Match report
Chairboy Connections
Players who have played for both Clubs include the following:


Indicates profile available by clicking name.
Ijah Anderson - Defender who spent two months on loan at Wycombe from Brentford during the 2002/2003 season under Manager Lawrie Sanchez. The former Spurs trainee made more than 200 appearances for The Bees during an eight year spell at Griffin Park. Left Brenford in the summer of 2003 and went on to play for Bristol Rovers and Swansea City.
John Akinde - Striker who spent three months on loan for Wanderers from Bristol City at the end of the 2008/9 season, scoring twice on his debut against Brentford in the 3-3 draw at Griffin Park in March 2009. Went on to score 7 times in 11 apps for Wanderers and returned briefly the following season but scored just once in 6 games during an injury and suspension hit spell. Moved to Brentford on loan in February 2010 - making his debut in their 4-0 victory over Gillingham. Formerly with Ebbsfleet before a £140,000 moved to Bristol City in September 2008..


Jamie Bates - More than 500 appearances for Brentford before three memorable years at Adams Park between March 1999 and May 2001 under Lawrie Sanchez. Also played on loan for Wycombe as a youngster back in the 1986/97 season.
Alec Blakeman - Played for the Wanderers just after the Second War as right back. Signed for Brentford in 1946 from Oxford City. Made 42 League appearances for The Bees, scoring 7 times before moving to Sheffield United and then Bournemouth.
Drewe Broughton - Striker who joined Brentford in November 1998 for £100,000 from Wigan Athletic but after just three weeks and one appearance he didn't settle and joined Peterborough United for the same amount. His time at Wycombe came during a three month loan from Southend United during the 2004/5 season but he made just three appearances before signing for Rushden & Diamonds. Went on to play for Chester City, Boston United (loan), MK Dons, Wrexham (loan) and started the 2008/9 season with Rotherham.
Paul Buckle - Made three appearances for Wycombe during the 1992/93 season while on loan from Brentford. Went on to make 57 League appearances for The Bees before moving on to Torquay United and then Exeter City.


Steve Claridge - Nomadic striker who played for Brentford and Wycombe towards the tail end of his career during the 2004/5 season. Made four appearances for The Bees during December and January of that season before initially going on loan to Wycombe when John Gorman was Manager. The deal was made permanent in February 2005 and he went on to total 15 apps, scoring four times before taking the Millwall Manager post in the summer of 2005 - a position that lasted just 39 days.


Jason Cousins - Former trainee with Brentford who made 21 Football League appearances before switching to Wycombe under Manager Martin O'Neill in the summer of 1991. Went on to clock up more than ten years service with The wanderers before bowing out of the playing side following spells with Aldershot and Windsor & Eton.
Dennis Edwards - Striker who left Wycombe in 1958 to join Charlton Athletic where he went on to score 61 times in the Football League. Made 11 Football League appearances for Brentford in 1967 while on loan from Portsmouth and scored twice.


Terry Evans - Captain at both Clubs. Originally clocked up more than 250 appearances for The Bees before Martin O'Neill signed the central defender for £40,000 in August 1993. Four successful memorable years playing at Wycombe before moving into non-League football with Kingstonian. Eventually returned to Wycombe as physio and then switched codes to work with London Wasps in the summer of 2008.


Matt Harrold - Brentford pulled the former Southend United trainee out of non-League football in the summer of 2003 to give him his start in the full-time game. Eventually moved on to Yeovil Town and then back to Southend United before signing for Wycombe on transfer deadline day in September 2008.
Mark Hill - Left-back who spent a short time with Brenford in the early 1980's before switching to Wycombe where he made 97 appearances, scoring five times during a two year spell.


Scott Marshall - Former Gunner who joined Wycombe in November 2003 following a three year spell at Griffin Park. Announced his retirement from the playing side in November 2004 and went on to work with the Wanderers Youth set-up.


John Mousinho - Signed for Brentford by Martin Allen in October 2006 following time playing football in the USA. Originally played local to Wycombe for Chesham United and returned to the Club he watched in the 1991 FA Trophy Final during the summer of 2008 when he became one of Peter Taylor's first signings as Wycombe Manager.


Barry Silkman - Had a brief spell with Brentford in the early 1980's - making 14 League appearances. Played for Wycombe at the start of the 1986/87 season having been signed by Alan Gane.


Steve Jones - Loan spells at both Brentford and Wycombe in 2000 while he was at Bristol City. It was while playing for Wycombe against Brentford at Griffin Park that Jones broke his foot and would eventually return to City.
Niall Thompson - Canadian international striker who made 8 appearances for Brentford during the 1997/98 season. Went on to play for Vancouver before time in the Scottish League with Airdrie. Joined Wycombe in October 2000 and made 12 appearances, including a substitute appearance against Exeter City in the LDV Trophy where he scored his only goal for the Club.

Other player connections include...
Lionel Ainsworth, Paul Barrowcliff, Grant Basey, Marcus Bean, Alan Bennett, Nicholas Bignall, Gary Blissett, Dean Bowditch, Jon Brady, Nikki Bull, Adrian Caceres, Stuart Cash, Darius Charles, Tony Craig, Kevin Dillon, James Ferry, Danny Foster, Alan Gane, Terry Glynn, Nigel Gray, John Halls, Kadeem Harris, Paul Hayes, Richard Kennedy, Rob Kierman, Alfie Mawson, David McCracken, Fola Onibuje, Jo Kuffour, Adrian Pettigrew, Aaron Pierre, Reuben Reid, Fred Rouse, Sam Saunders, Courtney Senior, Tony Sorrell, Ben Strevens, Adam Thompson, Marcello Trotta, Jermaine Udumaga, Myles Weston, Sam Wood, Craig Woodman and Nico Yennaris.

Not forgetting other connections
Junior Lewis - Made 15 appearances for Brentford during the 2005/6 season. Joined Wycombe as Coach in the summer of 2008 to renew his previous connection with Peter Taylor who he had worked with at Leicester, Brighton, Hull City and Stevenage.
Martin Rowlands - Youth teamer with Wycombe released by John Gregory and went on to become a key member of the Bees line-up between August 1998 and July 2003 when he joined QPR.
John Saloko - Best know for his time with Crystal Palace and Coventry City, Salako made 45 appearances for The Bees during the 2004/5 season. Played briefly for Wycombe during the following pre-season under John Gorman but left to pursue media work before the season started.
Neil Smillie - Played briefly for The Bees back in 1977 near the start of the long playing career. Went to become Youth Team and First Team Manager at Wycombe in the mid to late 1990's.


Chairboys all-time record against The Bees
DATE
Comp
V
Res
SCORE
Att
Sat, Oct 15, 1898
SL2
A
L
2-9
Sat, Jan 28, 1899
FAAC1
H
L
2-3
1,200
Sat, Apr 22, 1899
SL2
H
D
1-1
Sat, Sep 9, 1899
SL2
A
L
0-1
Mon, Apr 30, 1900
SL2
H
D
2-2
100
Sat, Nov 24, 1900
SL2
H
L
1-4
1,000
Sat, Feb 16, 1901
SL2
A
L
1-11
1,000
Sat, Nov 28, 1903
FAC5q
H
L
1-4
2,250
Sat, Dec 9, 1905
FAC4q
A
L
0-4
4,000
Tue, Apr 9, 1968
WyHC
H
W
2-1
Thu, May 12, 1988
PC Fin
H
D
1-1
Wed, Dec 19, 1990
PC 1
A
L
0-2
Tue, Nov 9, 1993
AT 1
A
W
3-2
3,165
Sat, Sep 10, 1994
FL2
H
W
4-3
6,847
Tue, Mar 21, 1995
FL2
A
D
0-0
9,530
Tue, Jan 30, 1996
FL2
A
L
0-1
4,668
Sat, Mar 16, 1996
FL2
H
W
2-1
4,912
Sat, Sep 21, 1996
FL2
H
L
0-1
5,330
Tue, Mar 4, 1997
FL2
A
D
0-0
5,375
Fri, Sep 19, 1997
FL2
A
D
1-1
3,695
Sat, Feb 7, 1998
FL2
H
D
0-0
6,328
Tue, Jan 5, 1999
AWS2
H
L
1-4
2,010
Sat, Nov 27, 1999
FL2
H
W
2-0
5,879
Sat, Feb 19, 2000
FL2
A
D
0-0
5,981
Sat, Sep 2, 2000
FL2
A
D
0-0
4,699
Sat, 3 Feb, 2001
FL2
H
D
0-0
6,604
Wed, 17 Oct, 2001
LDV1
H
W
1-0
2,051
Sat, 1 Dec, 2001
FL2
H
W
5-3
8,013
Sat, 16 Mar, 2002
FL2
A
L
0-1
7,165
Sat, 21 Sep, 2002
FL2
A
L
0-1
6,172
Sat, 16 Nov, 2002
FAC1
H
L
2-4
5,673
Sat, 8 Mar, 2003
FL2
H
W
4-0
5,930
Sat, 15 Nov, 2003
FL2
H
L
1-2
6,445
Sat, 24 Apr, 2004
FL2
A
D
1-1
7,145
Sun, 9 Sep, 2007
FL3
H
W
1-0
4,711
Wed, 26 Dec, 2007
FL3
A
W
3-1
5,841
Sat, 13 Sep, 2008
FL3
H
D
0-0
5,779
Sat, 14 Mar, 2009
FL3
A
D
3-3
10,642
Tue, 24 Nov, 2009
FL3
H
W
1-0
5,181
Sat, 13 Feb, 2010
FL3
A
D
1-1
5,740
Sat, 10 Sep, 2011
FL2
H
L
0-1
5,045
Sat, 28 Jan, 2012
FL2
A
L
2-5
5,560
Sun, 6 Sep, 2020
FLC1
A
D
1-1*
BCD
Sat, 21 Nov, 2020
Ch
H
D
0-0
BCD
Sat, 30 Jan, 2021
Ch
A
L
2-7
BCD
Key:
SL2 = Southern League Division Two
FAAC = FA Amateur Cup
FAC = FA Cup
WyHC = Wycombe Hospital Cup
PC = Capital League Presidents Cup
FL2 = Football League Division Two/'League One'
FL3 = Football League Division Three/'League Two'
AT = AutoGlass Trophy/Football League Trophy
AWS = AutoWindscreens Sh./Football League Trophy
LDV = LDV Vans Trophy/Football League Trophy
FLC = Football League Cup
Ch = Football League Championship
* = lost on spot-kicks
Where available click date for match report