Brentford 1
Wycombe Wanderers 0
Tuesday 30th January 1996
Football League Division Two
Wycombe turned in a performance at Brentford described as 'inept' in the COTN archives. With Terry Evans missing through injury, Alan Smith's failed to register one shot on target in 90 minutes as Brentford dominated. The hosts secured all three points when Robert Taylor slotted home from the edge of the box in the 46th minute.

Talking points for the Wanderers fans that evening at Griffin Park included Wycombe's choice of kit - yellow shirts with white shirts. Even more bizzare was Wycombe's change to yellow shorts for the second half. However, there was little change in fortune on the pitch and even the introduction of Keith Ryan and John Williams could not prevent a very dissapointing defeat with crys of "What a load of rubbish" at the final whistle coming from some of the Wycombe fans at the final whistle - some of whom had paid £13 for the privilege of sitting behind the goal, as well as £1.50 for a match day programme re-issued from the postponed match a month earlier.

Reporting for the Bucks Free Press, Claire Nash wrote: 'Wycombe Wanderers failed to get beyond starter's orders at Brentford on Tuesday night. A 1-0 defeat after a leaden performance was all the more disappointing after recent labours had fashioned a deserved sense of confidence and optimism in Blues being able to pull together a run of winning results.

A handy jump up the Division Two table was on the cards if they could negate Brentford's threat. But it was their hosts' desire to pull themselves out of relegation trouble that dictated fortunes in the end.

Whereas a weather-induced break had previously preceded a good run of form by Blues after New Year, last weekend's postponement of the Brighton game saw Wycombe look decidedly wild and woolly at Griffin Park.


The early danger signs were there when Brentford's kick- and-rush tactics had Wycombe's usually cool defence, in a new formation with Jason Cousins replacing injured skipper Terry Evans, flapping. The hosts, who were unlucky to lose out on promotion last season, tried to get the ball to their strike-pairing of young hotshot Nicky Forster and wily old combatant Robert Taylor at every given opportunity. Both players have struggled with injury this season. But on Tuesday night, they looked well on the way to rediscovering their formidable form from last term.

Brentford, however, did not markedly look that much the better side, Wycombe were just worse. Dave Carroll had two good chances just before the break, but he was denied by excellent goal- keeping from Kevin Dearden who belied his stocky frame to get a hand to the Wycombe midfielder's shots. Up to that point, Blues struggled to proffer anything in the attacking build-up department except a disappointing regression to long-ball play. It has looked unlikely to work, with Miquel Desouza's and Steve McGavin's confidence in what to do if they win the ball heading for an all-time low. Both have had their good moments in Wycombe's more positive performances against Blackpool and Notts County, but the pair struggled to find the target even when they had better supply lines.

There was no such problem for the Forster/Taylor combination. It was Taylor who took advantage of Wycombe's abysmal sluggishness after the break when he was left with plenty of time and space to fire home a low shot after Forster knocked a cross back to him in the centre of the box on 46 minutes.

Wanderers' attacking play improved after Keith Ryan replaced Gary Patterson on 53 minutes. Alongside the latter, Steve Brown also suffered a 'mare in central midfield. Another booking has left him well on his way his third suspension this season. Blues were unable to stretch Dearden despite Alan Smith throwing on a third striker, in John Williams, with 20 minutes to go.'


Wycombe: Roberts, Rowbotham, Bell, Howard, Cousins (sub 70 Williams), Brown, Carrot, Patterson (sub 53 Ryan), McGavin, Desouza, Farrell - sub not used: Soloman
Scorers: none
Bookings: Brown 53 (obstruction), Bell 70 (off the ball incident)
Brentford: Dearden, Harvey, Grainger, Hutchings, Bates, Ashby, Canham, Smith, Forster, Bent (sub HT Martin), Taylor - subs not used: Fernandes. Anderson
Scorers: Taylor 46
Bookings: Taylor 70 (off the ball incident)
Referee: Mr Graham Pooley (Bishop's Stortford)
Attendance: 4.668 (away 816)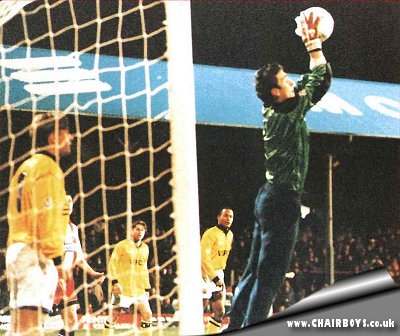 The mystery of Wycombe's kit choice was partly explained after the match. Wanderers had turned up at Griffin Park without their matching yellow shorts and Groundsman/Kitman Jim Gardner was set back to Adams Park to retrieve the forgotten shorts. However, Gardener was unable to complete the 60-mile round trip between Brentford and High Wycombe in time, so Wanderers were forced to use a set of Brentford's white shorts instead. Gardener explained: "It was my fault though. I went back to get the shorts when we realised we hadn't got them. But I didn't get back in time. God knows why they changed into them at half time though."

The game at Brentford also saw speculation increase of the departure of Wycombe players to Martin O'Neill's new side at Leicester. The former Wycombe boss was in the crowd at Griffin Park to see his first Wanderers game since his departure in the summer of 1995. Press reports linked O'Neill's scouting mission to possible moves for Keith Ryan and Dave Carroll but no bids were forthcoming.

Meanwhile, the defeat to Brentford saw Wanderers miss out on the chance to climb to 7th spot in the table - instead remaining in 12th place ahead of the weekend visit to 8th place Bournemouth.



Next game - Bournemouth v Wycombe - Saturday 3rd February 1996