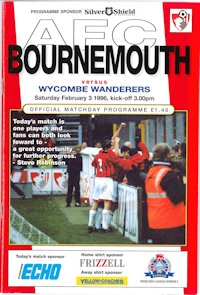 Bournemouth 2
Wycombe Wanderers 3
Saturday 3rd February 1996
Football League Division Two
With a the previous Tuesday's disappointing reverse at Brentford fresh in the mind, a vastly readjusted Wycombe line-up at Bournemouth saw Wanderers collect a first away win since the previous November.

With Terry Evans back after injury, the Blues played five across the back with Keith Ryan and John Williams playing up front. Wycombe had more chances in the first 10 minutes than the entire 90 at Brentford but still fell behind when Jason Brissett's cross was headed home by ex-Enfield striker John Bailey after just 11 minutes. However, John Williams levelled for Wanderers on 15 minutes from a Mickey Bell through ball.

The home restored their lead a few minutes before the break when Matt Holland headed past a stranded Ben Roberts. Wycombe levelled again four minutes in the second-half when a Dave Carroll corner was headed on by Ryan and Gary Patterson burried the chance with a right foot drive to make the score 2-2. It was then Williams who grabbed the winner with just 4 minutes remaining to restore some confidence to the Wycombe side and their supporters and lift Alan Smith's side to seventh in the table.

Reporting for the Bucks Free Press from Dean Court, Claire Nash wrote: 'Wycombe Wanderers enjoyed basking in the unfamiliar after-glow of a win when .4hey squeaked home for a much-needed three points at Bournemouth on Saturday.

John Williams secured victory three minutes from time for Blues' first win in seven games and their first away from home since November 4. Wycombe moved up five places from 12th to seventh as a result and are again well-positioned to mount a strong bid for a play-off place. A few more wins and the challenge will be well and truly on, their next game being against Rotherham at Adams Park tonight (ko 7.45pm). By the same token, however, one defeat will drop them back down to mid-table with the battle behind top two Swindon and Crewe getting ever tighter.

Such manoeuvres do not concern boss Alan Smith who is taking each encounter as it comes. He changed the team around after last Tuesday's disappointing 1-0 defeat at Brentford -hence his delight at seeing the reshuffle pay off. After Williams scored the winner, the Wycombe manager ran part of the way onto the pitch and punched the air with emphatic and jubilant staccato jabs.


Although Blues were part of a refreshingly open and entertaining spectacle at Dean Court, Saturday's performance was not wholly convincing. But with both teams fashioning plenty of chances, and with five goals on the scoreboard, there was enough to leave most spectators feeling they had got their money's worth.

Williams' two-goal contribution, although the first received a helping foot from Bournemouth, was a significant one to reward Blues' team effort. It was about time too after a lot of good work in previous matches against Crewe and Notts County had been wasted. It also doubled the striker's goal-tally during five months with Wycombe over the course of one game and should give him some much needed confidence as Blues continue to chop and change their strikers with each match. "Football's all about getting your confidence in good shape. I was pleased to get the winner. I just hope we can keep getting i three points."

The return of captain Terry Evans in the centre of Blues' defence after missing the match against Brentford with a poisoned foot and Keith Ryan's first full first team game since returning from injury three weeks ago bolstered Wycombe's mental as well as physical approach to the match. Where the team's attitude was way off the dial against Brentford, the players tuned in well to their task against a side they had never previously beaten in three earlier league encounters.

A new formation saw Evans as the anchor in a three-man defence with Jason Cousins and Terry Howard alongside him, while full backs Jason Rowbotham and Mickey Bell fulfilled 'wing-back' roles. Steve Brown, Gary Patterson and Dave Carroll occupied their usual midfield positions with Ryan and Williams playing up front.

Williams' header which was tipped over following a good build-up from Carroll and Ryan was part of a lively start. But it was Bournemouth who went in front after 12 minutes, with John Bailey running in to head home a deep cross to the far post from Jason Brissett. Wycombe hit back four minutes later when Bell fired in a first- time cross which Williams went to meet with a Bournemouth defender who played some part in guiding the ball home.

With the opening 20 minutes being so fast and furious, it wasn't surprising the game went off the boil. Wycombe were caught napping somewhat before the break when Bournemouth regained the lead with Matt Holland rising well to send a deft looping header over a transfixed Ben Roberts' head.

Blues responded in resolute fashion after the break. Gary Patterson equalised when he ghosted in behind Bournemouth's defence to drill in a Carroll cross which was flicked on across the box. Bournen1outh were impressively unbowed at having their lead extinguished for the second time. Neat attacking moves put pressure on Wycombe's goal. But Roberts and Blues' defence really proved to be the difference between the teams. Bournemouth's defence had looked vulnerable throughout and did so once again when Williams went on his own merry way for Blues' winner. The gangly striker picked up an Evans clearance from defence and weaved his way to the edge of the box before unleashing a drive which evaded Ian Andrews in the Bournemouth goal to settle in the bottom corner and cue delirious celebrations from Wycombe's players at the final whistle.'


Wycombe: Roberts, Rowbotham, Bell, Howard (sub 64 Desouza), Evans, Brown, Carroll, Patterson, Ryan, Williams, Cousins - subs not used: Farrell, Hardyman
Scorers: Williams 15, 87, Patterson 52
Bookings: none
Bournemouth: Andrews, Young, Beardsmore, Morris, Casper, Bailey, Holland, Mean, Jones, Robinson, Brissett - subs not used: Oldbury, Saritos, Victory
Scorers: Bailey 12, Holland 41
Bookings: none
Referee: Mr Richard Poulain (Huddersfield)
Attendance: 4,447 (away 749)

Speaking after the game Manager Alan Smith said: "We had to make adjustments after Tuesday [away to Brentford]. It was very disappointing, but we don't have a divine right to go everywhere and win. "I think it was unfortunate from Bournemouth's point of view today. It was a really good game of football, a credit to the division. Both teams gave it a go, but one had to lose out in the end."

Other news in the week of the Bournemouth game had seen Slough Town try to sign Wanderers' out of favour midfielder Brian McGorry. Rebels boss Dave Russell was looking to plug gaps in his injury hit team by signing the 25 year old signed by Alan Smith the previous August.

Meanwhile, work on Wanderers new stand was set to commence. The £1.7m scheme would see the Woodlands Terrace replaced with a 5,000 capacity all seater two tiered structure. Preliminary work would start in April 1996 with completion planned for the start of the following season.



Next game - Wycombe v Blackpool - Saturday 10th February 1996