Getting there
By Car: (approx 100 miles from HW)
M40 east to join M25 northbound - clockwise. Continue on M25 to junction 21A and join the A405. After approx 2 miles join the A414 and continue to join the A1(M). Stay on this road for approx 60 miles and 2 miles after the Norman Cross junction exit onto the A1139 (signposted Peterborough). Continue on the A1139 (Fletton Parkway) to junction 3 (s/p City Centre, Sleaford A15).
At roundabout take exit signposted City Centre A1260 and then follow signs to Woodston Industry eventually turning left into Shrewsbury Avenue (s/p Woodston, Orton Longueville). At the junction by turn right onto the A605 Oundle Road. The Football Ground is approx 1 mile along this road.
There is a large car-park at the ground but this is usually full an hour before kick-off. There is an alternative car-park off Oundle Road next to The Cherry Tree pub. There is also some street parking near the ground for early comers.
Train: Peterborough station is just under a mile from the ground. Connections from London via Kings Cross - Great North Eastern Railway. Allow 2 and a half hours travelling time from High Wycombe via Marylebone. Check www.nationalrail.co.uk for specific times and connections.
KNOW YOUR HISTORY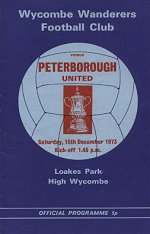 Wycombe first met The Posh on Saturday 15th December 1973 when the then Fourth Division leaders visited Loakes Park for a FA Cup Second Round tie. Ishtmian League Wycombe had beaten Newport County in the previous round but on this day The Posh eventually proved too strong for Brian Lee's non-League side - Larry Pritchard equalising on the stroke of half-time after John Couzens had opened the scoring for the visitors on 35 minutes, only for Couzens (62 minutes) and Jim Hall (72) to net in the second-period to seal the visitors passage to the Third Round. For Wanderers, their first ever venture into the Third Round would come 12 months later.
Line-ups
WYCOMBE WANDERERS: J.Maskell; R.Williams, P.Wood, D.Bullock, R.Grant, T.Reardon, L.Pritchard, M.Holifield, A.Horseman, D.Evans. S.Perrin - sub not used: A.Brothers
PETERBOROUGH UNITED: M.Drewery; K.Bradley, C.Turner, M.Jones, J.Carmichael, B.Murray. F.Hill, P.Walker, J.Cozens, J.Hall. T.Robson - sub not used. K.Oakes
Official attendance:10,200 (unofficially, a lot more)

Wycombe also took United to a replay in a FA Cup Second Round tie during the first season at Adams Park (1990/1). The first game was originally postponed with the famous 'John Motson standing in the snow', the abiding memory.
Chairboy Connections
A selection of players who have played for both Clubs.



Guy Branston - Defender who made 9 Football League appearances for Wycombe on loan from Rotherham United during the 2003/04 season. Also spent time on loan at Peterborough during the same season before a permanent move to Sheffield Wednesday.
John Cornforth - Loaned from Wycombe to Posh in Feb/Mar 1998 but returned to Wycombe before departing in May 1999. Was briefly at Scunthorpe in 1999/2000 before moving to Exeter City in February 2000. Originally joined Wycombe from Birmingham City.
Miquel DeSouza - Scored 35 goals in three seasons at Wycombe before moving to The Posh in February 1997 for £50,000. Has since played for Rushden and Diamonds and joined Conference side Boston United in 2000/2001 before moving to St. Albans City.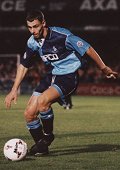 David Farrell - Joined Wycombe in 1995 but after 6 goals in 60 League apps moved on a free to Posh during the summer of 1997. Originally moved to Wycombe for £100,000 from Aston Villa in September 1995.
Mark Foran - Former loan defender with Wycombe spent three seasons with Posh but made just 25 League appearances before moving to Crewe and then Bristol Rovers in the summer of 2000.


Russell Martin - Former Youth Teamer at Wycombe who switched to The Posh at the end of the 2006/2007 season.
Brian McGorry - Made over 50 apps for Posh before moving to Wycombe during the 1995/96 season. Made just 4 apps in over a year at Wycombe before moving on to Hereford and then Torquay.
Micky Nuttell - Boston born striker who played at Peterborough and Cheltenham before moving to Wycombe in 1991. Since moved on to play for his home town side Boston United.
Jason Soloman Former England Youth International who Martin O'Neill paid £10,000 to Watford for in March 1995. Scored one goal in his 13 Second Division games for Wycombe before being released at the end of following season. Played on loan for Peterborough United during the 1994/95 season. Joined Wrexham at the start of the 1996/97 season, playing two games before joining Fulham on a non-contract basis.


Sergio Torres - Argentinian midfielder who moved from Wycombe to Peterborough in the summer of 2008 for a fee in the region of £150,000. Originally joined Wycombe from Basingstoke Town in August 2005.
Tom Williams Midfielder who made 10 Football League and 3 cup appearances for Wycombe during the 2007/08 season before switching to Peterborough, initially on loan and then permanently. Originally a trainee at West Ham but played for Posh in two earlier spells and has also played for Birmingham City, QPR (loan) and Barnsley. Joined Wycombe in the summer of 2007 from Swansea City.

Other players include:
Lee Angol, Grant Basey, Andre Boucaud, Drewe Broughton, Nick Cusack, Hogan Emphraim, Anthony Grant, Peter Johnson, Dean Keates, John Kerr, Josh Knight, Richard Logan, Alex Lynch, Craig Mackail-Smith, Scott McGleish, Junior Morais, Fola Onibuje, Reuben Reid, Scott Rendell, Barry Richardson, Tony Sorrell, Ryan Tafazolli, Steven Taylor, David Tuttle, Chris Westwood and Guy Whittingham.
Chairboys all-time record against The Posh
DATE
Comp
V
Res
SCORE
Att
Sat, Dec 15, 1973
FAC 2
H
L
1-3
10,200
Wed, Dec 12, 1990
FAC 2
H
D
1-1
5,695
Mon, Dec 17, 1990
FAC 2R
A
L
0-2
5,692
Sat, Oct 22, 1994
FL2
A
W
3-1
5,924
Tue, Mar 28, 1995
FL2
H
W
3-1
4,590
Sat, Sep 9, 1995
FL2
H
D
1-1
5,637
Tue, Feb 27, 1996
FL2
A
L
0-3
3,670
Sat, Sep 28, 1996
FL2
A
L
3-6
5,580
Tue, Feb 25, 1997
FL2
H
W
2-0
4,001
Sat, Sep 23, 2000
FL2
H
W
2-0
4,980
Sat, Feb 24, 2001
FL2
A
L
2-3
4,731
Sat, Nov 10, 2001
FL2
H
W
3-0
6,025
Sat, Mar 30, 2002
FL2
A
L
1-2
4,926
Sat, Oct 19, 2002
FL2
H
W
3-2
5,539
Tue, Mar 18, 2003
FL2
A
W
2-1
3,627
Sat, Nov 29, 2003
FL2
H
L
1-2
4,669
Sat, May 8, 2004
FL2
A
D
1-1
6,398
Sat, Oct 29, 2005
FL3
H
D
2-2
5,214
Sat, May 6, 2006
FL3
A
W
2-0
5,376
Sat, Oct 21, 2006
FL3
H
W
2-0
4,924
Sat, Mar 31, 2007
FL3
A
D
3-3
6,061
Sun, Oct 14, 2007
FL3
A
L
1-2
4,584
Sat, Apr 5, 2008
FL3
H
D
2-2
6,202
Tue, Aug 11, 2009
FLC
H
L
0-4
2,078
Sat, Nov 2, 2018
FL2
H
W
1-0
5,225
Sat, Mar 2, 2019
FL2
A
L
2-4
6,484
Sat, Oct 5, 2019
FL2
H
D
3-3
5,083
Tue, Jan 21, 2020
FL2
A
L
0-4
3,851
Sat, Oct 15, 2022
FL2
H
W
3-1
5,085
Tue, Oct 18, 2022
FLT1
H
D
1-1*
567
Mon, Jan 1, 2023
FL2
A
W
3-0
7,483
Sat, Oct 12, 2023
FL2
A
D
2-2
8,665
Key:
FAC = Football Association Challenge Cup
FL2 = Football League Division Two/League One
FL3 = Football League Division Three/League Two
FLC = Football League Cup
FLT = Football League Trophy
* = won on spot-kicks
Where available, click date for match report