The making of an iconic moment in time
Saturday 8th December 1990
Adams Park, Snow, John Motson, Shepskin Coat, Marvellous!
(First published 8th December 2015 - memories by Paul Lewis)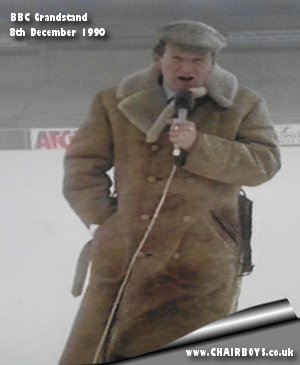 Saturday 8th December 1990 may not register in the playing records of Wycombe Wanderers but this was the date that turned from a potential giant-killing moment to one that created an iconic moment in time, with Adams Park as the back-drop - John Motson in his sheepskin coat.

The incident came about after Wanderers, playing in their first season at the newly built Adams Park, had battled through the qualifying round of the FA Cup under Martin O'Neill (beating Maidenhead United, Trowbridge Town, Wokingham Town and Basingstoke Town) before being drawn away to fellow Conference side Boston United. The first game at York Street ended 1-1. The replay at Adams Park four days later saw Wanderers triumph 4-0 and set-up a home tie with Peterborough United. It was a tie that immediately caputured the imagination locally and also took the attention of the national media.

BBC's Match of the Day chose the game for extended coverage on its evening programme. Commentator John Motson was assigned to the game and had arranged a pre-match interview with Wycombe Manager Martin O'Neill a couple of hours before the scheduled 3pm kick-off. Motson recalled the day in his 2010 autobiography, 'Motty', saying: "A shock result seemed quite a possibility when I left home in bright sunshine that morning, preparing to interview Martin O'Neill for Football Focus. As I turned off the M40 in the Thames Valley and started my descent down the hill that leads to Wycombe's ground, it started to snow. So heavily, that within five minutes there was a covering on the road. But that was nothing compared with the Adams Park pitch half an hour later. It was in three or four inches of snow and the referee took one look and postponed the game. Grandstand told me to forget the interview with with O'Neill, and record a piece to camera explaining the sudden change in weather conditions."

The image of Motson talking to camera with snow blowing around is now a famous one thanks to the BBC coverage and photographer Stuart Clarke. Clarke had made a name for himself for taking spectacular photos of the changing face of British football in the late 1980's and early 1990's. Those photos and many more since have been curated by Clarke at his Homes of Football exhibitions (visiting High Wycombe in 1994) and website. Clarke took a wide angle photograph of Motson and the BBC camera crew that has added to the legend of Motson's sheepskin coat. Clarke also recalled the moment he took the photograph in a recent blog, saying: "I was arriving by car when snow swept in across the Chilterns. Parked-up, instead of going to the office to get my Press Pass, I instinctively sneaked a look at the green pitch turning rapidly white and saw John all set to broadcast. I prized open the 'Exit' Gate and sneaked in ...to get the photograph." He added: "John claims that his now famous sheepskin coat was not well-known prior to this moment and that the still-photograph I took helped to make him a household name - indeed he uses it on his business cards - you may have one?".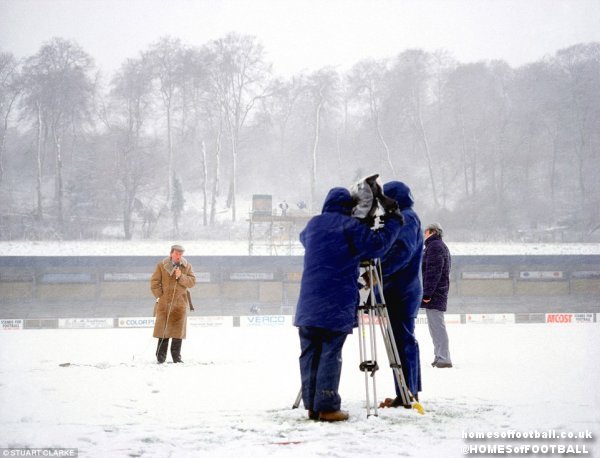 Motson returned to Adams Park the following Wednesday (12th December 1990) to see Wanderers battle to 1-1 draw with Posh - Martin Blackler giving Wycombe the lead before Boro substitute Paul Culpin grabbed an equaliser for the visitors before a then sell-out crowd of 5,695. Martin O'Neill's side but up a gallant display in the replay the following Monday but were defeated 2-0 - both goals coming in the opening 15 minutes. So no FA Cup glory that season for Wanderers but still a vivid memory of Motson and his now trademark sheepskin.

Motson had worn his sheepskin for many years before that day at Adams Park, but it was the image of him standing in the snow at Adams Park that made it famous. He says: "If I had a pound for every time someone has asked me 'Where's the sheepskin Motty?' I'd be as rich as the magnates who have bought their way into the Premier League. I lose count of the times people ask me: 'Where was that picture taken of you in the snow?'"

Also see:


The Adams Park sell-outs - www.chairboys.co.uk

Homes of Football - homesoffootball.co.uk


@HOMESofFOOTBALL - Stuart Clarke on Twitter