THE ADAMS PARK SELL-OUTS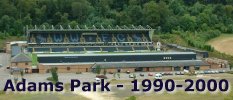 The FA Cup Fever that swept High Wycombe in the 2000/2001 season led to some crass statements about a 'first ever Adams Park sell-out'. The Fourth Round tie with Wolves on Saturday 27th January drew the biggest ever gate at the time Adams Park (9,617) and this was quickly broken again for the visit of Wimbledon when 9,650 packed in. Both these cup ties produced record receipts of around £97,000 and £135,000 respectively. However, before these games there have been at least three other sell-outs since the move to Hillbottom Road in August 1990.

It was less than six months after Loakes Park was vacated that the Adams Park Box Office was first under siege. After beating Boston United in a FA Cup First
Round replay, tickets went on general sale the next day for the resulting Second Round home tie with Peterborough United due to be played on Saturday 8th December 1990. Amid scenes of complete chaos all tickets were sold within 90 minutes. Season Ticket holders weren't given priority and anybody could buy up to ten tickets. The capacity in those days was 6,000, although some say the Boston replay far surpassed this figure, despite the official figure of 4,954.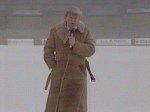 The Peterborough game saw the national media descend on Adams Parks but a freak snow storm on the day of the match caused a postponement and the
vision of John Motson in a sheepskin coat to live forever. When the game was played the following Wednesday not all the ticket holders turned out but the official figure of 5,695 set a new ground record at the time. Martin Blacker thumped home a second-half goal to give Wycombe the lead but Paul Culpin equalised for Posh to take the tie back to London Road. Two early goals from the home side in the replay squandered hopes of Third Round tie with Port Vale but the second-half performance from The Wanderers was one of passion, fight and a sign of things to come for Martin O'Neill's side.

It would be two years before that figure was broken as another FA Cup tie
captured the imagination of the Wycombe public.

The Adams Park sell-outs - part two >>>
---
---
---

THE GAS
ROOM
Leave your own stories and comments via the Message Board
---