CHAIRBOYS.CO.UK
MATCHDAY GUIDE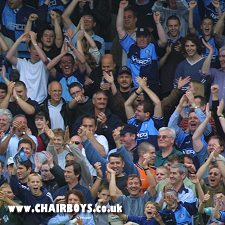 Welcome:
At the start of the 2004/5 season chairboys.co.uk dropped any attempt to preview the forthcoming games in too much detail. Our opinion was that there are plenty of commercial sites who take on this mundane task and we feel our efforts are better served on events that have actually happened rather than what has become an ad nauseam recycling of team speculation, dated injury news and innacurate waffle. In another excuse ridden move, as from the start of the 2006/7 season, we dropped our detailed match reports for much the same reasons but brief match reports we reinstated for the 2007/8 season and can be accessed via the Latest news page and indexed via the Results and Fixtures page.

Opponents: For more on the opposition check out the 'League One (LFKA Division Two) links. This includes links to relevant websites and our own 'Quick Guides' which include directions to the opponents ground, relevant links, previous meetings and a look at those players who have played at both clubs.

About us: Elsewhere on this page you'll find links to what we regard as the most useful matchday services plus all the vital information on Wycombe. If you're a first time visitor to Wycombe you may find our Rough Guide useful. It's probably out of date but not that much changes in High Wycombe.

Matchday: For those online during the game, note that BBC Three Counties now has a streaming audio link with matchday updates throughout the ninety minutes plus post match interviews. On Friday's there is a sports show between 6pm and 8pm that features Wanderers news and interviews. Full match commentary to all League and Cup games is available as a subscription service through Wanderers World. This service gives access to all Football League games and allows choice of commentary between the home and away club. Wanderers World login >>>

Want the result? If you've come to this page hoping to find the result of today's match, then basically you've come to the wrong place. We are either still at the game, travelling back or more likely, decided to go down the pub (to drown our sorrows or celebrate). Having said that, our matchday stats page will carrying the result as soon as possible along with an updated league table. All the match results are indexed via this link

Of course, for those with a strong stomach, there's always the message board at www.gasroom.co.uk where can you leave you own match preview and real time comments or just simply read what others have to say.
---
---
---
---