Adams Park- The First Game
Thursday 9th August 1990
Wycombe Wanderers 1
Nottingham Forest 1
(First published 7th August 2015)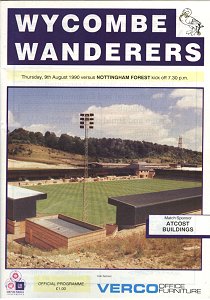 Three months after Wanderers played their final game at Loakes Park, Nottingham Forest provided the opposition for the first ever game at the newly built 6,000 capacity Adams Park. On a warm Thursday evening a crowd approaching 5,000 made their way to the end of the industrial estate in Sands to see Martin O'Neill's side pit their wits against his former club - a side still managed by the legendary Brian Clough and holders of the Football League Cup.

O'Neill, appointed in February 1990, was now working full-time for the Wanderers having previously worked part-time for an insurance company. Wanderers had preceded the meeting with Forest with away friendlies at Corby Town, Boreham Wood and Chertsey but the Wycombe boss had been quiet on the transfer front ahead of the opening Conference games away to Runcorn on Saturday 18th August 1990 and Macclesfield the following Saturday. Wanderers had finished 10th in the Conference the previous season (1989/90), with Darlington promoted as Champions. Favourites for the title for the forthcoming season were 2nd place Barnet, who finished a point behind Darlington but 15 points clear of 3rd placed Runcorn. Colchester United, relegated from the 4th Division at the end of 1989/90 also fancied their chances of an immediate return to the Football League. Wanderers' fancied their chances too with the first competitive match at Adams Park scheduled to be the Conference meeting with Welling United on Bank Holiday Monday 27th August 1990. O'Neill said: "I want the players to enjoy themselves against Forest, play well against Southampton and do well in the match with Reading. But the games at Runcorn and Macclesfield are still more important".

First Division Forest, meanwhile, would include stars from the England side that reached the semi-final of the 1990 World Cup just a few months previous. Steve Hodge, Stuart Pearce and Des Walker all appeared in Italia 90 and travelled to Wycombe for Forest's first game on home soil having flown in from a tour of Sweden the day before the meeting at Adams Park.

Ticket prices for the Forest game were £5 to stand and £7 to sit in the 1,200 capacity 'Main Stand'. No concessions for juniors or seniors were offered. The tickets were being sold as a combined entry for the friendly with Southampton the following Saturday (11th August 1990). Further pre-season friendlies would follow at home to Reading (Tuesday 14th August 1990) and home to Queens Park Rangers (Tuesday 21st August 1990).



The new site, at the end of an industrial estate off Hillbottom Road in Sands, had taken around 18 months to build but was the culmination of years of mooted moves for the Wanderers from their Loakes Park home of 95 years. Suggestions of a move from Loakes Park, gifted to the Club in 1947 by Frank Adams, first came to prominence in 1956 when the neighbouring Wycombe General Hospital discussed plans for an extension. However, it would not be until March 1963 when formal plans by the Hospital prompted more serious thoughts of an alternative home for the Wanderers. On/Off talks between the Health Authority and the Club followed but these were always linked to finding the Football Club a suitable new home. Talks eventually became more serious in October 1971, culminating in a planning application submitted in January 1973 for a new ground at Rockall Farm, Four Ashes, two miles north of High Wycombe town centre and close to Hazlemere. Plans were recommended for approval by Wycombe Rural Council but turned down later in 1973 by Bucks County Council and with no further pressure put on by a fund starved Health Authority, Wanderers continued at Loakes Park through a hugely successful period under the Managership of Brian Lee.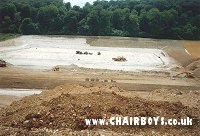 It would be Lee who would head up the Club's own intentions to move from Loakes Park, when plans to move to Sands were submitted to Wycombe District Council in the first week of January 1986. The plans for a 6,000 capacity stadium were drawn up alongside an agreement with developers Westbruton Ltd and Sir Francis Dashwood, the owner of the site at Sands. Westbruton had approached the Club with a 'tempting' deal and with no approach from the Hospital since 1973, the Trustees of the ground agreed to the deal. However, the plans to build retail warehousing and a garden centre on the 9 acre site of Loakes Park did not include room for Hospital expansion and were subsequently met with outcry from the Health Autority and the general public. A public petition of around 30,000 signatures led to alternative plans for the site being submitted by the Hospital and within a few months a compromise joint application had been made - this time with the Hospital using half the site for proposed car parking and a unit for the elderly.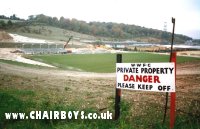 But now it was objections to a football ground being built in an area of Green Belt and Outstanding Natural Beauty that caused a stir and led to Wycombe District Council refusing permission in July 1986. An appeal to the Department of the Environment followed by Westbruton, with a four day public inquiry taking place in July 1987. A decision was finally released on 11th March 1988 with the news that the move could go ahead. Brian Lee was appointed full-time Director to oversee the construction of the ground and one of his first tasks was to pull the project within budget. The sale of Loakes Park had generated around £3m but the deal had been struck with Westbruton back in December 1985 at a fixed price. And while Wanderers gained no advantage from rocketing land prices they had to build a stadium originally costed two years previous. In the end, compromises were made on the elaborate style of the stands, rather than any functionality and work commenced in April 1989 on excavating the chalk based fields close to Sunters Woods Sands.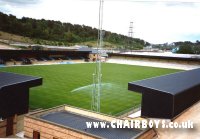 The pitch, with five miles of drainage pipes was the first task and completed in July 1989. Structural work on the stands and terraces using pre-cast concrete, commenced in August 1989 and the basic shell of the ground was completed by January 1990. Internal work had begun early but was still in progress by the time the Club left Loakes Park in May 1990. The facilities included 300 car-parking spaces, while the capacity of 6,000, with a potential for 10,000 was deemed more than adequate for a Club who averaged crowds of around 800 at the time of the original application but had grown to around 2,000 at the time of the opening of Adams Park.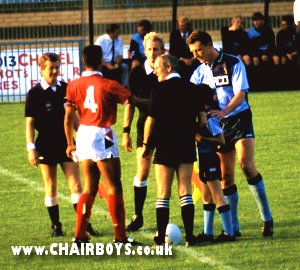 An expectant crowd saw the Wycombe starting line-up include former Chelsea and Oxford United winger Peter Rhodes-Brown. The only other new face in the Wycombe team was summer signing Steve Whitby. However, O'Neill had a number of other squad members and trailists up his sleeve and eventually used 23 different players against his former club. Meanwhile, Brian Clough fielded a more or less full strength side, including his son Nigel. The only noteable absence was the injured Stuart Pearce.

The new look ground was matched by a new look kit as Wanderers returned to their more traditional light and dark blue quartered shirt. The shirt was produced by Brooks Sports with Verco (Office Furniture) continuing their sponsorship on the front. Although quartered shirts were used in the final game at Loakes Park in May 1990, this was the first time a quartered design would be used for regular games since the late 1960's.

The 4,810 crowd didn't have long to wait for the opening goal and it was fitting it was goalscoring legend Mark West who was on hand to nod the ball home from close range in the 8th minute after Dave Carroll's corner from the left was headed back across the face of the goal by Simon Stapleton. Forest responded but 'keeper John Granville denied efforts from both Nigel Jemson and Terry Wilson. West went close again for Wanderers but Forest drew level moments later in the 41st minute when England U21 Franz Carr powered in from the right channel before drilling the ball past low past Granville and into the far left corner of the Valley End net.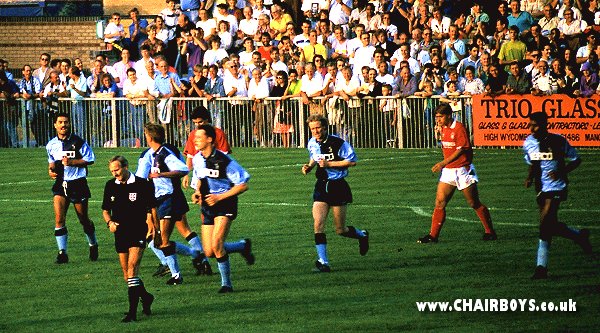 Half-time saw Martin O'Neill change his entire starting XI - bringing on trialists including Morrocan goalkeeper Chuck Moussadik, former Watford midfielder Martin Gardiner, Sutton FA Cup goalscoring hero Matt Hanlon, Jerry Gill (ex-Orient), Colin Smith (ex-Aldershot) and cousin of new signing Steve Whitby, a youthful Keith Ryan. Despite the changes, Wycombe kept Clough's men at bay with Moussadik impressing between the sticks and keeping the final score to Wycombe 1 Forest 1.


Wycombe 1st half: J.Granville, S.Whitby, M.Rhoades-Brown, A.Kerr, G.Creaser, G.Smith, S.Stapleton, D.Carroll, M.West, A.Robinson, S.Guppy
Wycombe 2nd half: C.Moussadik, M.Gardiner, J.Gill, M.Crossley (sub J.Blencowe), C.Smith, M.Blackler, M.Hanlon, K.Ryan, M.Lambert, R.Thorpe, K.Durham
Scorer: West 8

Forest: S.Sutton, B.Laws, B.Rice, D.Walker, S.Chettle, S.Hodge (sub T.Orlygsson) F.Carr, T.Wilson, N.Clough, N.Jemson, G.Parker (sub T.Gaynor) - sub not used: D.Currie
Scorer: Carr 41

Referee: Mr Alan Gunn
Attendance: 4,810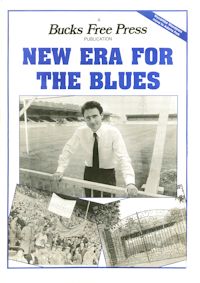 Speaking after the game both Managers had surprisingly little to say, Martin O'Neill commented: "We were generally pleased with everything with the crowd and Forest bringing their first team. It was excellent."

Meanwhile, Forest boss Brian Clough said: ""I talked to Martin (O'Neill) and he was absolutely delighted with the game. There is nothing worse than playing in front of empty stadiums. it was an honour for us to open the ground."

Below is a specially scanned supplement that was published by the Bucks Free Press on the Friday before the opening game with Nottingham Forest.
If you can't see the link due to broswer compatibility, you can download the PDF directly from this this link.