The start of the Martin O'Neill Years
Wednesday 7th February 1990
(First published 6th February 2015)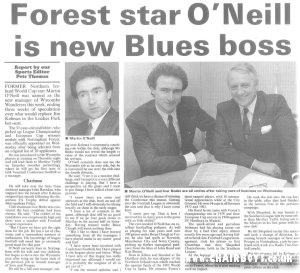 On Wednesday 7th February 1990 Martin O'Neill was appointed as the new Manager of Wycombe Wanderers and so began a period of huge success at the Club. O'Neill's five year stint would see a move to a new ground in Sands, three Wembley appearances, promotion to the Football League and a host of happy memories along the way.

The 37 year old former Northern Ireland and Nottingham Forest midfielder was appointed following three weeks of searching for a new boss since Jim Kelman 'resigned' following a home 3-1 defeat to Metropolitan Police in The FA Trophy three weeks previous on 13th January 1990.

Since retiring from the playing side in 1985, he went on to manage on a part-time basis at Southern League side Grantham, guiding them to third place in the table for the 1987/88 season. He also plucked winger Gary Crosby from park football - and then sold him on to Nottingham Forest for £15,000 plus add-ons. He resigned from Grantham at the end of the following season in favour of taking on the Manager's job at Shepshed Charterhouse, also in the Southern League. However, his time there was not all together happy and he stepped down after four months to concentrate on his insurance business.

The lead up to O'Neill's appointment as Manager at Wycombe is well documented - a quick internet search for 'Alan Parry and Toilets' leads straight to another chairboys.co.uk article reviewing an O'Neill Biography published in 2003. In summary, O'Neill had not even applied for the job with the Wanderers. O'Neill had been on a short list of two for the vacant Wanderers job in January 1988 following the sacking of Peter Suddaby. However, only two of the seven Club Directors at the time voted for the Irishman - the other five favouring FA Coach Jim Kelman. After his Norwich toilet meeting with Parry in January 1990, O'Neill is on record as saying he didn't want to be turned down again so had thought twice about applying again. Meanwhile, the Club were progressing with interviews and had settled for former Wanderer Kenny Swain to take over in the hot-seat at Loakes Park. 37 year old Swain, coach to Dario Gradi at Crewe, was offered the job but was persuaded to stay at Crewe in an upgraded role of Assistant Manager. By this time O'Neill had decided travelled down to High Wycombe for an interview, this time impressing the Board, including traditionlist Brian Lee. No other people were interviewed and was offered and accepted the job for a later reported annual salary of £25,000 plus bonuses.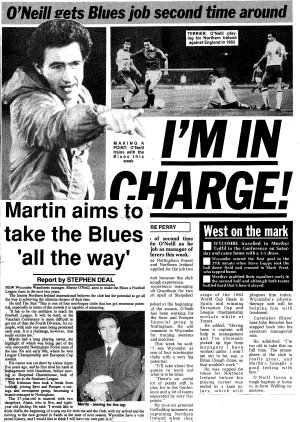 Commenting on his move to Wycombe he said: "I see it as a massive challenge, and I accept it is a very different challenge to playing. But I have a perspective on the game and I want to put things I have talked about into practice. I know there are some real stalwarts at the club, both on and off the field and I will obviously be relying heavily on them in the early stages. I have a lot of contacts in the game, although that will be no good to me if we go four goals down to Merthyr in the second half on Saturday." He added: "Having trained under Brian Clough will mean nothing then. But I like to think I have learned something from all the managers I have played under in my career good and bad. I have never been involved with Conference football, but I have played in the leagues above and below. What I have seen of this league has really impressed me, although I would say it is probably the toughest of all to get out of. I am the eternal optimist and I still think we have a chance of winning the Conference this season. Getting into the Football League is obviously the aim and that is why I have come here. I never give up. That is how I survived for so many years in the game with so little ability!"

O'Neill's first game in charge of the Wanderers was on Saturday 10th February 1990 - an away Conference trip to Merthyr Tydfil ending in a 1-1 draw. Mark West opened the scoring for Wycombe with a 36th strike - meeting a low cross from the left by Steve Guppy. However, the home side equalised three minutes into the second-half when Dave Webbley fired an effort into the corner of the net past Wycombe 'keeper John Granville. It's worth noting the Wycombe line-up that day: John Granvile, Steve Abbley, Matt Crossley, Glynn Creaser, Andy Kerr, Simon Stapleton, Dave Carroll, Andy Robinson (sub 75 Gary Smith), Mark West, Kevin Durham, Steve Guppy - sub not used: Martin Lambert

The majority of those would go on to stay with the Club for a number of years and become part of the Martin O'Neil era. O'Neill got his first win with the Wanderers the following Saturday when a Dave Carroll goal on 28 minutes helped beat 5th placed Welling at Loakes Park in another Conference game. Attendance 1,745

In further interviews shortly after his appointment O'Neill added: "We've a tremendous set-up here that is geared to professional football. The new ground will be the envy of most Third and Fourth Division clubs. I want to see Wycombe a [Football] League team and I think we have the resources here to do it." Just a few hours before he told the quotes to the press, Millwall manager John Docherty and his assistant Frank McClintock were sacked because the team was near the bottom of Division One [what is now the Premier League]. Their dismissal came despite the fact they had taken the club into the elite of English football for the first time in its history and served as a reminder of football's fickle hand of fate. O'Neill said: "That is just terrible. It makes you think about this game long and hard. But, I know all about it and I still want a crack at management. I believe this is my big chance."

And predicting what he might achieve said: "This is one of the four non-League clubs that has got enourmous potential, especially in terms of the crowds it is capable of attracting." A look at the Conference table at the time suggests O'Neill was referring to Darlington (eventual winners of the Conference at the end of the 1989/90 season), Barnet and Yeovil as the clubs in question. He concluded: "I would like to think this is the beginning of a new era for both me and the Club, with my arrival and the moving to the new ground in Sands at the start of next season. Wycombe have a very proud history, and I would like to think I will have my own part in it." An understatement at the very best.