Brentford 2
Wycombe Wanderers 3
Tuesday 9th November 1993
Auto Glass (Football League) Trophy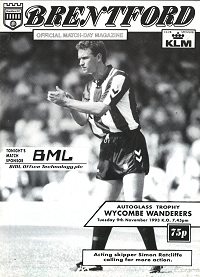 Former Brentford Captain Terry Evans made an emotional return to Griffin Park as Wanderers travelled to play the Second Division side for the completion of the initial group stage of the Autoglass Trophy. Goals from Keith Scott and Glynn Creaser in the opening 30 minutes put Wanderers in the driving seat but with The Bees already down to ten men after Joe Allon was sent-off for stamping on Duncan Horton, it was the home side who clawed their way back into the game. A close range strike by Shane Westley on 53 minutes and a header by Paul Smith after 74 minutes levelled the scores at 2-2. However, it was left to Glyn Creaser to celebrate with his first goal since the West Brom game in December 1992 when he headed in the winner four minutes from time when he met Simon Hutchinson's right wing cross. The victory set up a Second Round home tie with Cardiff City.
Speaking after the game, Terry Evans said, "I was a little bit emotional coming back here and I'd been thinking about it all day. It was great to be welcomed back like that after so many years here".
Wanderers would continue the cup action the following Sunday when they travelled to another Second Division side, BristoL Rovers, in the First Round of the FA Cup. The game would be played at Rovers temporary home at Bath City FC.

Wycombe: Hyde, Cousins, Horton,Creaser, Evans, Hutchinson, Rogers (sub 15 Ryan), Langford, Hayrettin, Scott, Guppy (sub HT Hemmings) - sub unused: Moussaddik (GK)
Scorers: Scott 10, Creaser 30, 86
Bookings: Hayrettin 36 (foul), Creaser 75 (kicking the ball away)
Brentford: Dearden, Morgan, Hutchings, Millen, Westley, Stephenson, Smith, Ratcliffe, Metcalf (sub HT Ravenscroft), Peters (sub HT Mundee), Allan - Sub unused: P Williams (GK)
Scorers: Westley 53, Smith 74
Bookings: Allan 29 - red card (stamping on player)
Referee: Mr G Willard
Attendance: 3,165
What the papers said:
Bucks Free Press - Claire Nash reporting from Griffin Park: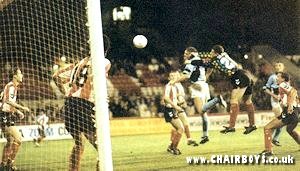 Wycombe Wanderers illustrated that Second Division football should hold no fears for them if promotion is gained this season, after convincingly ending Brentford's eight-match unbeaten run on Tuesday night.
Blues' Auto glass Trophy victory maintained their magnificent away record to ensure a home tie against Cardiff City in the second round of the competition which has a Wembley finale.
Goals by Keith Scott and Glyn Creaser forced the Bees to claw their way back, which they did more effectively after their leading marksman Joe Allon was sent off for inexplicably and brutally stamping on Duncan Horton. Brentford reasserted their restricted resources to draw level, having to score at least one goal to go through to the next round after drawing with the third group member Barnet. But Creaser stepped up to head home the winner with just four minutes left.
Wycombe started the match like a house on fire, forcing six corners in ten minutes. And they punished Brentford for poor marking at set pieces when Scott rose unmarked to head home a Steve Guppy corner in the tenth minute. Moments later, on-loan Darren Rogers, playing in the injury plagued left-back spot, limped off with a hamstring strain and was replaced by Keith Ryan. Wycombe's rhythm was barely disrupted and they proceeded to run their hosts, who were awful in the first half, completely ragged.
Allon's 29th-minute sending off conceded the free kick from which Blues scored their second goal. He became entangled with Horton as the Wycombe defender fell to the ground after both went for the ball. Allon followed through and stamped on him to prompt a near mass punch-up. Bees boss Dave Webb said afterwards he would take disciplinary action against the striker and added: "What I saw I did not like." Martin O'Neill remarked: "It was right that Joe Allon was sent off. He was trying to decapitate our players." After Allon left the field, Creaser received his cue to race forward to connect his head to ex-Bees player Jason Cousins' sweetly struck free kick.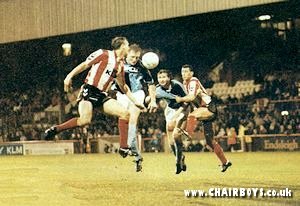 Wycombe helped Brentford get back into the match by taking their foot off the gas after the interval. Guppy, still suffering from a cold virus, had to be substituted by Tony Hemmings. But Webb's half-time substitutions, replacing forwards Matthew Metcalf and Robert Peters with Craig Ravenscrott and former Blues trialist Denny Mundee also played a part in the comeback.
Brentford's first goal came amid a goalmouth scramble from Paul Stephenson's 53rd-minute free kick. Mundee's initial shot was blocked by Paul Hyde, but the rebound was headed back across goal by Simon Ratcliffe and touched in on the line by Shane Westley. Their second was a crisply taken header at the far post by Paul Smith from Mundee's cross. Blues picked up their momentum towards the end. Tim Langford helped set up their winning goal when his pass sent Simon Hutchinson down the right wing to force a corner. Brentford clearly had not learned from the first half, when the winger's cross was met with a second powerfully accurate Creaser header.