Getting there
By Car: (approx 143 miles from HW)
M40 west, then M42 to join M6 (or M6 toll road). At junction 11 take the A460 to join M54 and continue until becomes the A5. Keep on the A5 and follow signs for Shrewsbury Town FC. Parking is restricted at the new ground and supporters are being advised to use the park and ride services. Check the Club's official website for the latest details. Also see the Travel Plan below. Check Google maps for specific or more detailed directions.
Train: Shrewsbury station is about 2 miles from the New Meadow. Connections from High Wycombe via Birmingham.
Check www.nationalrail.co.uk for specific times and connections of trains.
There are special matchday bus services to the ground from the main bus station.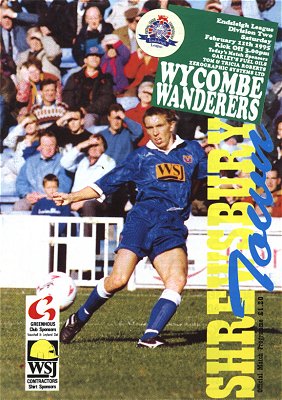 Chairboy Connections
A selection of players who have played for both Clubs.



Indicates player profile available

John Cornforth - Welsh international midfielder who made 3 League appearances for Shrewsbury Town during the 1989/1990 season while on loan from Sunderland where he was an apprentice. Best remembered for his time with Swansea City during the early 1990's. Spent two and a half years with Wycombe following a £50,000 move from Birmingham City in December 1996. Made 55 apps for Wanderers, scoring 8 times. Other clubs include Doncaster Rovers, Scunthorpe United, Lincoln City, Peterborough United and Cardiff City before ending his professional career with Exeter City.



Darren Currie - Originally played for Shrewsbury while on loan from West Ham United during the 1994/95 season. Joined them on a permanent basis the following season before a short spell at Plymouth Argyle at the end of the 1998/99. Then spent three years at Barnet before joining Wycombe in the summer of 2001 for £200,000. Left in the summer of 2004 and eventually joined Brighton before a move to Ipswich Town. Has the unfortunate record of being involved with Shrewsbury, Plymouth, Barnet and Wycombe when they were relegated.



Joe Jacobson - Welsh born defender who joined Wanderers in the summer of 2014 following a successful three year spell with The Shrews where he made more than 100 appearances and picked up the Player of the Season award in 2013/14. Originally a trainee with Cardiff City before time with Bristol Rovers, Oldham Athletic and Accrington Stanley.

Gary Patterson - Midfielder who moved to Wycombe from Shrewsbury Town for £30,000 in December 1994 - scoring two goals in 59 Second Division appearances. Loaned out to Chesterfield in February 1997 where he made nine appearances for The Spireites. Also spent time on loan at Barnet before joining Kingstonian on a free transfer in July 1997 along with Terry Evans and Matt Crossley.

Graham Potter - Left back who appeared three times for Wycombe as an 18 year old during the 1993/94 season while on loan from Birmingham City. Went on to spend time with Stoke City, Southampton, West Brom and on loan at Northampton Town. Appeared on loan for Reading during the 1999/2000 season before an extended period with York City. Started the 2003/4 season playing for Boston United in the Conference.

Mark Stallard - Former trainee with Derby County who moved to Wycombe from Bradford City in March 1997 for £100,000. Scored 25 goals in 78 apps for Wycombe before moving to to Notts County in March 1999 for around £20,000. Went on to make over 200 apps for County in a five year spell - scoring more than 70 goals. Moved on a free to Barnsley in January 2004 but only made a handful of appearances, going out on loan to Chesterfield and back to Notts County before a permanent move to Shrewsbury in the summer of 2005 at the age of 30.



Dave Winfield - Defender who joined The Shrews from Wycombe in the summer of 2013 following three successful years at Adams Park. Originally signed by Gary Waddock for Wycombe from Aldershot in the summer of 2010 - a fee of £25,000 eventually being determined by a tribunial. Left Shrewsbury after just one season to join York City.

Other player connections include:
Lionel Ainsworth, Steve Arnold, Scott Bevan, Stuart Cash, Lance Cronin, Adam El-Abd, Paul Frankin, Scott Golbourne, Anthony Grant, Jack Grimmer, Matt Harrold, Aaron Holloway, Sullay Kaikai, Ben Kaninda, Andy Kerr, Luke Leahy, Richard Logan, Stephen McGinn, Bryn Morris, Fola Onibuje, Killian Phillips, Aaron Pierre, Ron Rafferty, Jason Rowbotham, Scott Shearer, Gozie, Ugwu, Richard Walker.
Chairboys all-time record against Shrewsbury
| | | | | | |
| --- | --- | --- | --- | --- | --- |
| Sat, Oct 30, 1993 | FL3 | H | D | 1-1 | 5,064 |
| Sat, Jan 29, 1994 | FL3 | A | L | 0-1 | 5,967 |
| Tue, Nov 1, 1994 | FL2 | H | W | 1-0 | 4,626 |
| Tue, Nov 29, 1994 | FLT2 | A | L | 0-2 | 1,785 |
| Sat, Feb 11, 1995 | FL2 | A | D | 2-2 | 3,945 |
| Sat, Dec 23, 1995 | FL2 | H | W | 2-0 | 4,131 |
| Sat, Mar 9, 1996 | FL2 | A | D | 1-1 | 2,866 |
| Sat, Aug 18, 1996 | FL2 | A | D | 1-1 | 3,440 |
| Sat, Mar 29, 1997 | FL2 | H | W | 3-0 | 6,562 |
| Tue, Dec 8, 1998 | FLT1 | A | W | 1-0 | 1,033 |
| Sat, Oct 2, 2004 | FL3 | H | D | 1-1 | 4,634 |
| Sat, Jan 29, 2005 | FL3 | A | W | 1-0 | 3,884 |
| Sat, Aug 27, 2005 | FL3 | A | D | 1-1 | 3,533 |
| Sat, Mar 11, 2006 | FL3 | H | W | 2-0 | 5,035 |
| Sat, Nov 4, 2006 | FL3 | A | D | 0-0 | 4,116 |
| Sat, Apr 7, 2007 | FL3 | H | D | 1-1 | 5,299 |
| Sat, Sep 22, 2007 | FL3 | H | D | 1-1 | 4,936 |
| Sat, Dec 29, 2007 | FL3 | A | W | 1-0 | 6,208 |
| Tue, Oct 7, 2008 | FLT2 | H | L | 0-7 | 1,730 |
| Sat, Dec 20, 2008 | FL3 | A | W | 1-0 | 6,160 |
| Sat, Mar 28, 2009 | FL3 | H | D | 1-1 | 4,803 |
| Sat, Sep 25, 2010 | FL3 | H | D | 2-2 | 4,208 |
| Sat, Mar 19, 2011 | FL3 | A | D | 1-1 | 5,886 |
| Sun, Dec 28, 2014 | FL3 | A | D | 0-0 | 7,239 |
| Sat, Mar 14, 2015 | FL3 | H | W | 1-0 | 4,697 |
| Sat, Nov 24, 2018 | FL2 | H | W | 3-2 | 4,598 |
| Sat, Mar 16, 2019 | FL2 | A | L | 1-2 | 6,001 |
| Sat, Nov 2, 2019 | FL2 | H | W | 1-0 | 4,826 |
| Tue, Sep 28, 2021 | FL2 | A | W | 2-1 | 4,510 |
| Tue, Feb 8, 2022 | FL2 | H | D | 0-0 | 3,871 |
| Sat, Aug 13, 2022 | FL2 | H | L | 1-2 | 4,489 |
| Sat, Feb 25, 2023 | FL2 | A | L | 0-2 | 6,918 |
Key:
FL3 = Football League Division Three/'League Two'
FL2 = Football League Division Two
FLT = Football League Trophy/AutoWindscreens Shield
Where available click date for match report