Shrewsbury Town 1
Wycombe Wanderers 0
Saturday 29th January 1994
Football League Division Three
Wanderers had to negotiate a game at a windy Gay Meadow as they took on 5th placed Shrewbury Town on Saturday 29th January 1994. The game was all-ticket for Wanderers 1,000 travelling fans amongst the 5,967 crowd and they saw Lee Turnbull miss a chance to give Wycombe the lead when he missed a 21st minute penalty following a foul on Steve Guppy by Mark Williams. Then after Terry Evans had seen a header saved early in the second-half it was the home side that began to gain the upper hand. However, there were just six minutes remaining when Dean Spink turned and shot past Paul Hyde from the right side to claim all three points for The Shrews. Wanderers remained 2nd in the table, despite the defeat. However, Shrewsbury moved up to third and were now just two points behind the Wanderers, with two games in hand. The leaders were still Crewe, four points ahead of Wycombe.
Other news in the same week saw Mark West score on his debut for Aylesbury United after he had joined The Ducks on a month's loan. Meanwhile, a Wanderers XI, including seven from the squad that had travelled to Shrewsbury, beat Thatcham 4-1 away from home in the Berks & Bucks Senior Cup. Paul Shepstone opened the scoring for Wycombe after seven minutes and Hakan Hayrettin made it 2-0 from the penalty spot in the 32nd minute. Tim Langford added a third on the hour mark, before the home side pulled a goal back through Andy King on 65 minutes. Wycombe scored their fourth when Alec Norman headed on at the centre circle for Langford to run on, beat two defenders and then round the 'keeper before netting. Marlow at home in the next round was Wycombe's reward.

Wycombe: Hyde, Cousins. Horton, Crossley, Evans, Ryan. Carroll (sub 87 Cooper), Thompson (sub 87 Langford), Stapleton, Turnbull, Guppy. Sub used: Moussaddik (GK)
Scorers: none
Bookings: Guppy 62 (dissent)
Shrewsbury: Edwards, Lynch, Withe. Taylor, Williams, Walton, Brown. Clarke, Spink, Patterson, Donowa - subs unused: Smith, Gallen, Clark (GK)
Scorers: Spink 84
Bookings: none
Referee: Mr K Hackett
Attendance: 5,967
What the papers said:
Bucks Free Press - Claire Nash reporting from Gay Meadow: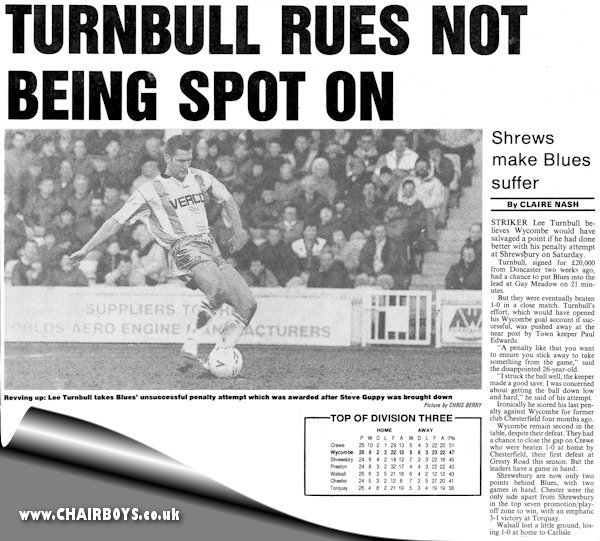 Young Chris Hatt showed Wycombe striker Lee Turnbull the way to score a penalty at Gay Meadow on Saturday. The eight-year-old, from Loudwater, brought the biggest cheer of the day from Wycombe's 1,000 strong support when he was the only one of ten junior Blues, and the only striker all day, to put a goal past a Shrewsbury Town goalkeeper in a half-time spot- kick competition. Admittedly, the youngster's opponent was a few years younger than the Shrews' number one Paul Edwards who became Wycombe's nemesis. But the audience participation was one of the afternoon's high spots.
It was Edwards's fine performance in saving Turnbull's first-half penalty and Terry Evans's second-half header which proved decisive in destroying Wycombe's hopes of salvaging a point from a tough promotion tussle. Shrewsbury took heart from Blues' disappointment — Wycombe having to rely on goalkeeper Paul Hyde and resolute defending by skipper Evans, Matt Crossley and Jason Cousins to keep them in with a shout. Shrewsbury put Wycombe under intense pressure in the second half with captain Dean Spink scoring a finely executed winner on 84 minutes when something had looked likely to give. The hosts had played with admirable finesse in horrendous blustery conditions to equal their 12-game unbeaten record. It looked like blow football in the first half with aerial passes returning to the striker of the ball with a boomerang-like tendency. But it soon appeared to be the near- side channel the Shrewsbury right and the Wycombe left — where the wind was less unpredictable and the players the complete opposite. Right winger Mickey Brown, who scored against Blues in the Shrews' 1-1 draw last October, was chopped down by Wycombe full back Duncan Horton during one scything run. Wycombe, though, returned the threat in kind through left winger Steve Guppy. It was his tricky run which forced the penalty on 21 minutes. Chris Withe allowed Guppy to steal into the box where central defender Mark Williams clumsily upended him. Turnbull, who caught O'Neill's eye when he scored a penalty against Blues for former club Chesterfield, didn't mess about with his effort. But Shrews keeper Paul Edwards was wise to the less-than-emphatic shot's trajectory at the near post and palmed it away for a corner. Guppy escaped Withe's attentions again on the half hour to launch a fierce cross which Keith Ryan just missed connecting his head with. Spink illustrated ominous skill with a swift turn in the box as he wound up to let rip on Louie Donowa's 34th- minute cross. But Evans and Cousins nicked in to snuff out the danger.
Wycombe opened the second half brightly, Evans heading down Carroll's cross. Edwards saved well again. Crossley followed up but his effort went over. Steve Thompson, who replaced striker Tim Langford, was a lone force up front. Wycombe ran themselves ragged in their third game in seven days as Shrewsbury, playing their first match in two weeks, settled into a daunting display of possession passing. Dowowa, a new signing from Birmingham City. became the force to reckon with on the left wing. Hyde pulled off a fine reflex save from Spink's venomous shot from Gary Patterson's 65th-minute free kick. But Blues were still in trouble. Crossley took the bail out of Hyde's hands as he tried to gather Dowowa's cross. Shrewsbury wound up the pressure. Tommy Lynch drove a free kick through the wall on 80 minutes, Hyde doing well to get down to it. But Spink finally made their dominance tell four minutes later. He received Withe's pass from 20 yards out and swiftly chipped home in one movement. The strike prompted a double substitution by Martin O'Neill. Mark Cooper and Langford replaced Carroll and Thompson. A late revival looked unlikely, and so it proved.