Wycombe Wanderers 1
Shrewsbury Town 1
Saturday 30th October 1993
Football League Division Three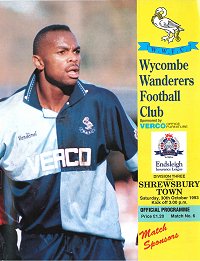 Wanderers ended October 1993 with another relatively disappointing result against Shrewsbury Town at Adams Park. Keith Scott chipped Wycombe into the lead on 23 minutes when he latched onto Steve Guppy's through ball. However, the visitors equalised through Mickey Brown on 67 minutes when he beat Paul Hyde from a narrow angle on the right after a one-two with Dean Spink.
The Shrews had gone into the game having knocked Premiership Southampton out of the Football League Cup at the Second Round stage and in the Tuesday leading up to the game with Wycombe, held Blackburn Rovers 0-0 at Ewood Park in the next round to earn a replay at Gay Meadow.
Meanwhile, other Wanderers news that week had seen the FA Cup meeting with Bristol Rovers scheduled for Sunday 14th November 1993 had been made 'all-ticket', with Wycombe allocated 1,125 tickets amongst a 8,800 capacity at Bath City's Twerton Park ground. The tickets would be distributed via a ballot for season-ticket holders only, priced at £6.50 each. A further 188 seat tickets would also eventually be made available imn order to cater for the demand from Wanderers 2,500 plus season ticket holders.

Wycombe: Hyde, Cousins, Horton, Crossley, Evans, Ryan. Carroll, Hutchinson (sub 78 Hemmings), Thompson, Scott, Guppy - subs unused: Creaser, Moussaddik (GK)
Scorers: Scott 23
Bookings: none
Shrewsbury: Edwards, Hockaday, Withe, Taylor, Lynch. Blake, Brown Summerfield, Donaldson, Spink, Patterson - subs unused: Evans, Seabury, Clarke (GK)
Scorers: Brown 67
Bookings: none
Referee: Mr R Bigger
Attendance: 5,064
What the papers said:
Bucks Free Press - Claire Nash reporting from Adams Park:
Martin O'Neill was shown the yellow card as he galvanised his players to dig deeper for their first win in four games against Shrewsbury Town at Adams Park on Saturday. O'Neill was booked for dissent while he was marshalling his side from the touchline as they teetered on the brink of surrendering a third League match at home, after taking an early lead. His booking was the only caution of a game which the visitors wrestled from Wycombe Wanderers' grasp after Keith Scott put them in front in the 23rd minute. Skilful winger Mickey Brown wiped out Blues' advantage in the second half.
O'Neill said the booking was a case of mistaken identity after the near-touchline linesman had repeatedly asked him and first-team coach Paul Franklin to sit down. "The linesman seemed to enjoy waving his flag and telling us to sit down. It wasn't me standing up at the time. It was Paul Franlin, and we both went in to see the referee afterwards to tell him that," he said. O'Neill could be charged with misconduct pending the referee's report to the Football Association. He has previously been banished to the stands during a game.
Wycombe's point should be a satisfactory conclusion against Fred Davies' men, who are currerently the scourge of Premiership clubs in the Coca-Cola Cup, having knocked out Southampton and held Blackburn Rovers to a 0-0 draw. "We were outplayed, but we got something out of the match. Shrewsbury were no mugs. They looked as good as anybody we have played," said O'Neill, who has admitted that Wycombe will not win promotion this season if their current form continues. "Three points from four games suggests we are finding it hard work. But that underlines all the things I said in July. We will find it hard work. We have never deluded ourselves."
Shrewsbury were without their leading scorer Carl Griffiths who was signed by Manchester City for £500,000 on Friday, but there was plenty of class left. Wanderers had the better of the first 35 minutes and did well to keep their 1-0 advantage intact at half time. A Wycombe goal seemed most likely to come from a series of Steve Guppy corners which the winger consistently curled in viciously to spark confusion in Shrewsbury's goalmouth. But it was Guppy's deep 23rd minute pass intended for Scott which reaped reward. Scott pounced when the ball was inadvertently played on by Shrewsbury defender Tom Lynch and deftly lobbed his shot over keeper Paul Edwards. The striker then made a defensive contribution as vital as scoring his 12th goal of the season when he blocked O'Neill Donaldson's point-blank header on the line after Hyde was beaten just before half time.
Shrewsbury earned their equaliser with Brown, Mark Taylor, who thundered down the left flank during the second half, and central midfielder Kevin Summerfield, particularly, playing some stylish football.
Wycombe were trapped in their own half for around 15 minutes after the interval before Brown, who scored Shrewsbury's winner against Southampton, carved his chance with a neat one-two with Dean Spink before blasting his 67th-minute shot, which hit the underside of the bar on its way in.
Summerfield came close to scoring their second in the 76th minute when his chip bounced off the crossbar. Donaldson almost got his head to the rebound before Jason Cousins cleared the danger. Wycombe's tendency to lose possession in the midst of their attacks, with some players holding onto the ball when a prompt release beckoned, did not help their cause. Shrewsbury were alert to every lapse and the game ended with them climbing all over Wanderers' goal.