Getting there
By Car: (approx 225 miles from HW)
A404 to join M4 west. M4 to junction 20 to join M5. M5 to junction 38 and then A38 toward Plymouth. Continue on the A38 (s/p A38 West, also Home Park, Plymouth Argyle, Cornwall, Liskeard A38). After a further 2.4 miles exit A38 at the Manadon junction (s/p Home Park). At roundabout take 2nd exit (s/p Home Park) onto Outland Road A386. The ground and car parking are on the left after approx one mile.
Train: Plymouth station is situated around 1 mile from Home Park. The mainline connection from the south is served from London Paddington. You connect from High Wycombe via London Marylebone or join the service at Reading.
Check www.nationarail.co.uk for specific times and connections of trains.
KNOW YOUR HISTORY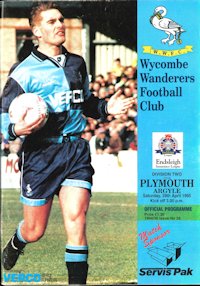 The first League meeting between the two sides at Adams Park came on 29th April 1995 and turned out to be the last game in charge for the Wanderers at Adams Park for Martin O'Neill. The Irishman had joined Wycombe in February 1990 and by the time The Pilgrims travelled to High Wycombe, O'Neill had led Wanderers to successive promotions and to the edge of a play-off spot in the third tier of English football.
However, the visitors 2-1 victory that day mathematically ended Wycombe's hopes of continuing O'Neill's 'little dream' and the aftermath was a summer exit to Norwich City.
A crowd of 6,850 turned up for the meeting with Plymouth, with the visitors looking to avoid relegation to the bottom division for the first time in the their history. They took the lead in controversial circumstances after just five minutes. Paul Dalton set off on a good run the left flank and unleashed a cross which Wycombe's defence struggled to clear. It came back out to Dalton who played in a cross that found Keith Hill. The latter happily stabbed home to the delight of Plymouth's impressive 1,000 strong support in the Hillbottom Terrace.
O'Neill had to step in to prevent off-side protests from Paul Hyde and Terry Howard getting out of control. Meanwhile, Wanderers struggled for the remainder of the half. However, Wanderers were back in the game two minutes into the second-half when Mickey Bell fired home after Matt Crossley's header had been scrambled off the line.
It was Wycombe who then looked the side more likely to snatch the points but Argyle threatened on the break and it was on such a counter-attack that they regained the lead after 65 minutes. Kevin Nugent found Richard Landon unmarked with a neat chipped cross behind Terry Evans and he drilled shot past Hyde.
After the final whistle, hearing that play-off rivals Crewe and Bristol Rovers had also won, took some of the disappointment away for Wanderers followers but O'Neill still couldn't hide his feelings, saying: "We're devastated. We thought we could make it [to the play-offs] and after that anything could have happened."
For Plymouth, the reprieve from relegation was temporary as they fell to the bottom division along with Cambridge United, Cardiff City, Chester City and Leyton Orient following results not in their favour on the final day of the season.

Wycombe: Hyde, Cousins, Howard, Crossley, Evans, Brown, Carroll, Bell, McGavin, Hemmings, Thompson (sub 60 Garner). - subs not used: Skiverton, Moussaddik (GK).
Plymouth: Dungey, Patterson, Naylor, Hill, Edworthy, Barlow, Skinner (sub 60 M Evans 60), Castle, Nugent, Landon, Dalton - subs not used: Burnett, Osman (GK)



Chairboy Connections
Players who have played for both Clubs.



Indicates player profile available

Jason Banton - Signed for Wanderers in the summer of 2015 following a season and a half with Argyle - making 42 apps and scoring twice, including one against Wycombe in the 2014/15 League Two Play-Off Semi-Finals. Originally made his senior debut at Burton Albion in September 2011 while on loan from Leicester City.
Paul Barron - Goalkeeper who made just two apps for Wycombe in the 1973/74 season before moving into League football with Plymouth via Slough Town. Other clubs included Crystal Palace West Brom, QPR and a short loan spell at Reading.


Paris Cowan-Hall - Nippy midfielder who joined Wanderers on a free transfer from Argyle in June 2013, making 53 appearances and scoring 11 times before a move to 'Championship' side Millwall in December 2014 for a fee believed to be in the region of £200,000. Scored 3 League goals in 40 appearances for The Pilgrims before Wanderers kick-started his football career again.


Darren Currie - Had a short spell at Argyle at the end of the 1998/99 season as a non-contract player, making six appearances. Spent three years at Barnet before joining Wycombe in the summer of 2001 for £200,000.
'Rab' Douglas - Former Scottish International Goalkeeper who had brief loan spells at both Wycombe and Plymouth during the 2007/8 season while on the books of Leicester City. His Scottish spells earlier in his career included time at Livingston, Dundee and Celtic. Former Celtic player Paul Lambert bought him to Wycombe in October 2007 as additional cover for Frank Fielding. Went on to make three League appearances before departing at the end of January 2008. Joined The Pilgrims in March 2008, making one appearance as cover for the suspended Luke McCormick. Returned to Scotland to play for Dundee and then Forfar, where he was still playing aged 43 at the start of the 2015/16 season.


Jermaine Easter - Scored 28 times for the Wanderers during a two year spell following a move from Stockport County in January 2006. Moved to Plymouth Argyle from Wycombe in a £215,000 deal in January 2008 but failed to make an impact at Home Park and eventually moved to MK Dons in the summer of 2009 following loans spells with Millwall and Colchester United.


Paul Hayes - Travelled striker who had a relatively unhappy month on loan at Plymouth from Brentford during the 2013/14 season, failing to score in seven games before returning to Griffin Park. Joined Wanderers permanently from The Bees in the summer of 2014 having previously had a short loan spell in the 2011/12 campaign.
Lee Hodges - Forward who was loaned to Plymouth from Spurs during the 1992/93 season, scoring twice in seven appearances. Made two loan apps for Wycombe the following season while still at Spurs. Later spent time at Barnet before a £250,000 move to Reading. Returned to Plymouth in August 2001 on a free.
Jason Rowbotham - Right-back who played 27 times for Wycombe between September 1995 and October 1996. A former Welsh Youth International who started his pro career at Plymouth in 1987 but made just 8 Second Division apps before joining Shrewsbury in March 1992. Moved to Wycombe from Raith Rovers for £40,000. Returned to Plymouth after leaving Wycombe.


Michael Simpson - Simpson spent a short loan spell at Plymouth in 1996 prior to joining Wycombe from Notts County. Left Wanderers in June 2004 for Leyton Orient having made 339 appearances and scoring 20 goals.
Ian Pearson - Prolific scorer for Wycombe during the 1976/77 season in the Isthmian League following a move from Plymouth. Moved back into the Football League the following season after a £10,000 move to Millwall. Returned to Plymouth via Bideford Town in August 1983. Scored 24 goals in 41 League games for Wycombe.
Neil Price - FA Cup Finalist with Watford in 1984 who had a loan spell with Plymouth in February 1984, making just one appearance. Joined Wycombe in February 1986 and as left-back was key figure in the 1986/87 side that won promotion to the Conference - scoring twice in 46 League games. Also played on loan at Blackpool during his time with Watford.


Barry Silkman - Played for Plymouth during the 1978/79 season after following boss Malcolm Allison from Crystal Palace. Scored twice in 14 Third Division apps before following Allison to Man City for £60,000 in March 1979. His short spell at Wycombe in 1986/87 season came after his Football League career concluded with Crewe. Made 8 apps in a Wycombe shirt.


Steve Perrin - 70's hero for Wycombe whose performances saw him move to Crystal Palace during the summer of 1976. Moved onto to Plymouth during the 1978/79 season and eventually returned to Wycombe during the early 1980's
Reuben Reid - Striker who made his Football League debut while at Argyle in 2006. Joined Wanderers on loan from Plymouth in August 2007 but his loan spell was ended early and he returned to Home Park in December 2007. Later had permanent spells with Rotherham, West Brom, Oldham and Yeovil before returning to The Pilgrims on a two year deal in the summer of 2014.
Mark Robson - Midfielder who made 7 League apps for Plymouth during the 1989/90 season while on loan from Spurs. His career took him to West Ham and then Charlton where he was loaned to Wycombe during the 1998/99 season.


Ian Stonebridge - A former Spurs trainee who joined Wycombe in the summer of 2004 from Plymouth for a 'nominal fee'.


Chris Zebroski - Striker who originally made his Football League debut while at Plymouth in 2005. A prolific scorer for Torquay while on loan from Millwall during the 2007/8 season. Netted 18 Conference goals and prompted then Wycombe Manager Peter Taylor to sign him following his release from Millwall in the summer of 2008. Scored a relatively disappointing 9 goals in 55 apps for Wycombe before returning to The Gulls in November 2009 on loan and then permanently in the January 2010 transfer window.

Also:


John Gregory - The former Wycombe Manager played three times for Plymouth during the 1989/90 season and also had a short spell as Manager.

Do you know any more connections? Please e-mail us at clubguide@chairboys.co.uk
Chairboys all-time record against Plymouth
| | | | | | |
| --- | --- | --- | --- | --- | --- |
| DATE | COMP | V | R | SCORE | ATT |
| Sat, Oct 15, 1994 | FL2 | A | D | 2-2 | 6,864 |
| Sat, Apr 29, 1995 | FL2 | H | L | 1-2 | 6,850 |
| Sat, Nov 9, 1996 | FL2 | H | W | 2-1 | 5,456 |
| Sat, Feb 1, 1997 | FL2 | A | D | 0-0 | 5,024 |
| Tue, Nov 4, 1997 | FL2 | A | L | 2-4 | 2,993 |
| Sat, Mar 14, 1998 | FL2 | H | W | 5-1 | 5,508 |
| Sat, Dec 5, 1998 | FAC2 | H | D | 1-1 | 3,493 |
| Tue, Dec 15, 1998 | FAC2r | A | L | 2-3 | 4,304 |
| Sat, Sep 28, 2002 | FL2 | H | W | 2-1 | 6,708 |
| Sat, May 3, 2003 | FL2 | A | L | 0-1 | 10,129 |
| Sat, Oct 4, 2003 | FL2 | H | D | 0-0 | 5,780 |
| Tue, Nov 4, 2003 | LDV2 | A | D | 2-2* | 4,298 |
| Sat, Apr 10, 2004 | FL2 | A | L | 1-2 | 14,806 |
| Tue, Oct 2, 2012 | FL3 | H | D | 1-1 | 3,161 |
| Sat, Dec 29, 2012 | FL3 | A | W | 1-0 | 6,983 |
| Sat, Sep 14, 2013 | FL3 | A | W | 3-0 | 6,702 |
| Tue, Mar 11, 2014 | FL3 | H | L | 0-1 | 3,042 |
| Tue, Sep 16, 2014 | FL3 | A | W | 1-0 | 5,657 |
| Tue, Feb 10, 2015 | FL3 | H | L | 0-2 | 3,078 |
| Sat, May 9, 2015 | FL3-POSF1L | A | W | 3-2 | 14,175 |
| Thu, May 14, 2015 | FL3-POSF2L | H | W | 2-1 | 7,750 |
| Sat, Sep 12, 2015 | FL3 | H | L | 1-2 | 4,223 |
| Sat, Jan 30, 2016 | FL3 | A | W | 1-0 | 8,458 |
| Mon, Dec 26, 2016 | FL3 | A | D | 3-3 | 12,210 |
Key:
FL2 = Football League Division Two
FL3 = Football League Division Three/'League Two'
FAC = Football Association Challenge Cup
LDV = LDV Vans Trophy
* = won on penalties
Click date for match report where available.