Getting there
By Car: (approx 26 miles from HW)
M40 east to join A40 into London. At Northholt take the 1st exit onto A312 (Church Road). Continue to to Harrow then take the second exit at roundabout, right turn onto A404 (Lowlands Road). At the large roundabout, take the second exit, straight on, to join A4006 (Kenton Road). Continue for 1.4 miles before taking left turn into Charlton Road. After 0.6 miles, take 3rd exit at roundabout onto Taunton Way. Follow the road around to join Camrose Avenue and then take signs for parking at ground. Take note of parking charges at ground and strict parking regulations close to ground. Check www.rac.co.uk for specific or more detailed directions.
Train/Underground: Nearest station Canons Park Underground and Queensbury Underground on the Jubilee Line (both around 10 mins walk to the ground). Check www.nationrail.co.uk for specific times and connections of trains.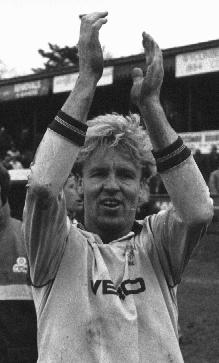 Nicky Evans salutes the Wycombe fans after making his debut at Loakes Park in March 1989.
Picture: Paul Lewis
Chairboy and Bee Connections
Players who have played for both Clubs


Indicates profile available by clicking name.
John Akinde - Two loan spells at Wycombe during the 2009/10 season from Bristol City - scoring 8 goals in 17 League appearances. Joined Barnet in the summer of 2014 after dropping down into non-League football with Alfreton Town the previous summer.


Noel Ashford - God like for both sides


Matt Brady - better luck at Wycombe via Boreham Wood
Adam Birchall - Made a dozen League appearances for Wycombe during the 2004/5 season while on loan from Arsenal. Moved to Mansfield in May 2005 before joining Barnet in January 2007 following an earlier loan spell.
Matt Carmichael - 80's loan spell at Wycombe
Geoff Cooper - briefly on loan at Wycombe in 1994
Steve Cox - on loan at Wycombe 1987/88
Glyn Creaser - captained both sides


Darren Currie - Summer 2001 signing fo Wycombe


Sean Devine - The Goal Machine
Kevin Durham - tragically died while at Barnet


Nicky Evans - worshipped at Underhill
Ian Ferguson - also on loan at Wycombe 1987/88
David Gipp - Early 1990's loan at Wycombe
Paul Hardyman - Spent 1995/96 with The Chairboys
Hakan Hayrettin - Remember that goal at Preston?
Carl Hoddle - brother of Glenn - loan spell at Wycombe 1987
Lee Hodges - Loan spell at Wycombe Dec 1993
Duncan Horton - 1993/94 at Wycombe


Scott McGleish - Made more than 150 apps for Barnet between September 1997 and January 2001. Made his way to Wycombe after spells with Colchester United and Northampton Town. Scored 26 League goals for Wycombe during the 2007/8 season - a Club record.
Gary Patterson - On loan at Barnet in 1997 after Wycombe
Barry Little - also sadly no longer with us
Keith Searle - short spell at Barnet in late '60s


Gary Silk - Made one League appearance for Barnet on loan from Portsmouth during the 2003/2004 season. Loaned from Pompey to Wycombe for the 2004/5 season - making 28 apps before an early return in March 2005.


Barry Silkman - Started out at Barnet before club hopping.
Gary Smith - A couple of seasons at both clubs in the 1990's
Tony Sorrell - One infamous app for Wycombe in 1993
Sam Togwell - Made four loan appearances for Wanderers from Chesterfield towards the end of the 2013/14 season. Switched to Barnet in the summer of 2014 following his release from the Spireites. Previously played more than 160 times for Scunthorpe.


Magno Vieira - Signed for Wycombe in the summer of 2008 from Crawley Town made 21 League appearances for Barnet during the 2006/7 season.
Graham Westley - Brief loan spell at Wycombe in 1987
Chairboys all-time record against The Bees
DATE
Comp
V
Res
SCORE
Att
Sat, Jan 15, 1921
FAAC2
H
W
4-3
-
Sat, May 11, 1935
WyHC
H
L
1-3
-
Sat, Feb 23, 1952
FAAC4
A
L
0-2
11,026
Sat, Jan 24, 1953
FAAC2
H
W
2-1
9,000
Sat, Feb 7, 1959
FAAC3
A
D
2-2
8,500
Sat, Feb 14, 1959
FAAC3 R
H
L
0-1
11,000
Sat, Oct 19, 1963
FAC 4Q
A
L
3-6
3,500
Sat, Nov 1, 1969
FAC 4Q
H
D
0-0
4,200
Tue, Nov 4, 1969
FAC 4Qr
A
L
0-3
2,956
Sat, Jan 15, 1977
FAT 1
A
W
1-0
1,541
Sat, Nov 3, 1979
FAC 4Q
A
W
2-0
1,028
Tue, Dec 15, 1981
FAC 2
A
L
0-2
2,015
Mon, Aug 26, 1985
GL
A
W
1-0
1,081
Sat, Dec 21, 1985
FAT 1
A
W
1-0
882
Sat, Mar 15, 1986
GL
H
W
2-0
832
Mon, May 4, 1987
PC F 1L
A
W
1-0
609
Fri, May 8, 1987
PC F 2
H
D
2-2
1,157
Tue, Sep 15, 1987
GMVC
H
L
0-7
1,606
Sat, Apr 9, 1988
GMVC
A
D
1-1
2,956
Mon, Apr 18, 1988
PC S/F
H
D
5-5
647
Tue, Sep 6, 1988
GMVC
H
L
2-3
1,815
Sat, Dec 10, 1988
GMVC
A
L
0-1
2,434
Sat, Dec 16, 1989
GMVC
H
W
1-0
2,128
Tue, Mar 27, 1990
GMVC
A
L
0-2
3,707
Tue, Sep 18, 1990
GMVC
A
L
2-3
4,579
Mon, Apr 29, 1991
GMVC
H
L
1-3
4,402
Tue, Sep 10, 1991
JTCC
H
W
1-0
3,461
Tue, Sep 28, 1993
AT 1
H
W
1-0
2,323
Sat, Dec 7, 1996
FAC2
A
D
3-3
3,176
Tue, Dec 17, 1996
FAC2r
H
W
3-2
3,851
Tue, Aug 22, 2000
WC1R-1L
A
L
1-2
1,741
Tue, Sep 5, 2000
WC1R-2L
H
W
3-1
2,205
Sat, Sep 17, 2005
FL3
H
W
1-0
4,994
Sat, Jan 21, 2006
FL3
A
D
0-0
3,602
Sat, Dec 9, 2006
FL3
H
D
1-1
4,711
Sat, May 5, 2007
FL3
A
L
1-2
2,707
Tue, Oct 2, 2007
FL3
A
L
1-2
2,023
Tue, Jan 1, 2008
FL3
H
D
0-0
4,818
Tue, Oct 21, 2008
FL3
A
D
1-1
2,258
Tue, Mar 31, 2009
FL3
H
D
1-1
4,066
Tue, Sep 28, 2010
FL3
H
W
4-2
3,518
Tue, Mar 8, 2011
FL3
A
W
1-0
1,520
Tue, Oct 23, 2012
FL3
H
D
0-0
3,244
Sat, Apr 20, 2013
FL3
A
L
0-1
6,001
Sat, Nov 8, 2014
FAC1
A
W
3-1
2,410
Sat, Aug 15, 2015
FL3
A
W
2-0
2,563
Sat, Apr 16, 2016
FL3
H
D
1-1
3,715
Sat, Oct 22, 2016
FL3
H
L
0-2
3,596
Mon, Apr 17, 2017
FL3
A
W
2-0
2,507
Key: FAAC = FA Amateur Cup
WyHC = Wycombe Hospital Cup
FAC = FA Challenge Cup
FAT = FA Challenge Trophy
GL = Gola League GMVC = Conference
PC = Capital League Presidents Cup
JTCC = Jim Thomspon Championship Shield
AT = AutoGlass Trophy/Football League Trophy
FL3 = Football League Division Three/'League Two'