Getting there
By Car: (approx 64 miles from HW)
M40 east to junction 10. Take A43 signposted Northampton. Continue to join A45 and follow signs for Coventry, Market Harborough and Sixfields Leisure. At the large roundabout near the leisure complex turn right and double back into a large car-park which is towards the away end of the ground. Check www.rac.co.uk for specific or more detailed directions.
Train: Nearest station Northampton - approx 1.5 miles from ground. Buses No.27 and 28 go to Sixfields. If you feel like walking go across car park and up steps onto main road. Turn right and go over the bridge past the 'Thomas A Becket pub'. After about ½ mile bear left into Weedon Road. Go past Rugby Ground and straight over at roundabout. Sixfields is left at the next roundabout. Check www.nationrail.co.uk for specific times and connections of trains.


KNOW YOUR HISTORY
Wanderers took on Football League opposition in a competitive fixture for only the second time in their history when they travelled to Fourth Division Northampton Town on Saturday 15th November 1958 in a FA Cup First Round tie. An estimated 4,000 Wanderers fans travelled to the game via two special trains, dozens of coaches, as well as private cars. They saw then Isthmian League Wycombe give the professionals a real fright on a the muddy surface at Town's ground on the Abington Road.

The tie, played before an attendance of 12,934, bringing Wycombe around £600 from their share, saw the Bucks Free Press correspondent, 'Argus', comment: The mud and glory heroes of Wycombe Wanderers played their hearts out on Northampton Town's glue-pot pitch and fought their professional rivals to a breathless standstill.

Until stamina and superior finishing told in the last 20 minutes it was the Cobblers who had to hold in desperation to prevent the gallant amateurs from clinching a win.

A strange reluctance to shoot, some great goalkeeping by veteran Reg Elvy, the former Blackburn Rovers goalkeeper, and the worst of luck - these were the main factors that foiled Wycombe's gallant giant-killing bid.

After the thrill-a-minute game there were many a partisan Cobbler willing to agree that the Wanderers were unlucky losers of the finest game seen on the Abington Road ground this season.

Northampton had all their work cut out to hold the Wanderers for 70 minutes, before they managed to change the pattern of the game with a surprise goal.

The report goes on to describe a first-half chance for Wycombe that saw Cliff Trott, Paul Bates and Len Worley all have shots charged down in the home penalty area, while Mickey Rockell was denied by Elvy. 'Chalfont Wonder', Worley was also said to have a 'compartively easy chance to score' in the second-half before the Cobblers broke the deadlock when Tommy Fowler sped down the wing and centred for Brian Kirkup to glance a header past Dennis Syrett in the Wanderers goal.

The report continues: Still undeterred, the Wanderers hit back with redoubled energy in a bid for an equaliser - and they so nearly succeeded when Trott's shot cannoned off a post and rolled along the goalline before sticking in the mud. In the melee which followed, the ball was sent over the Northampton line, only for a free-kick to be awarded for a foul on Elvy.

The home side then clinched their victory when Fowler ran down the wing in the closing minute before finishing his solo effort with a strike past Syrett and send Sid Cann's Wanderers side out of the competition. For Northampton they progressed to Round Two but lost to Isthmian League Tooting & Mitcham.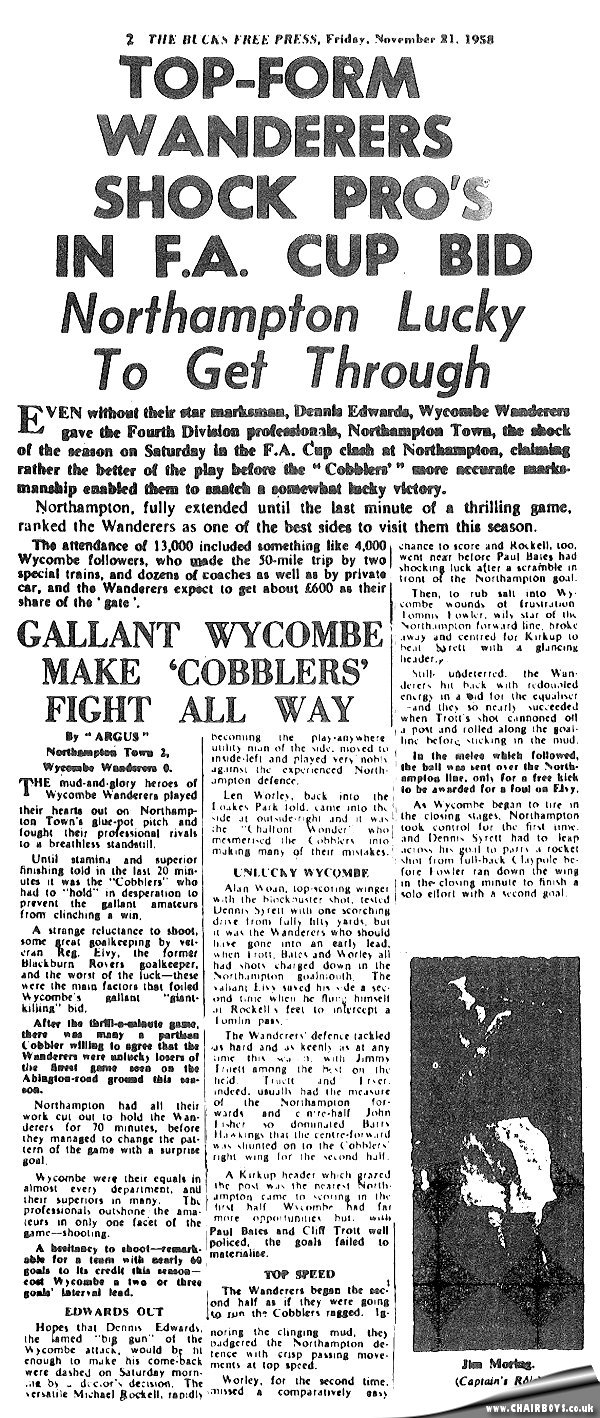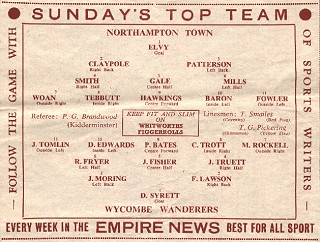 Team line-ups from the Northampton Town v Wycombe Wanderers FA Cup clash in December 1958.
Chairboy Connections
Players who have played for both Clubs


Indicates profile available by clicking name.



Ikechi Anya - Youth Teamer with the Wanderers who, in October 2004, became the youngest ever player at the time to make a Football League appearance for Wycombe at 16 years and 279 days. Released by Paul Lambert at Wycombe in May 2007. Joined Town in January 2009 - making 14 League appearances and scoring 3 times before earning a contract with Seville in the summer of 2009 at the Glenn Hoddle run accademy. Has since returned to the UK to play for Watford and made his Scotland debut in September 2013.

Jordan Archer - Goalkeeper who made 27 League appearances for Wanderers during the 2012/13 season while on loan from Spurs. His recall by Spurs in March 2013 led to Matt Ingram's debut for Wanderers. Made 13 loan appearances for The Cobblers the following season but was released by Spurs in June 2015 and eventually joined Millwall.

Michael Barnes - Central defender who appeared for Reading in their 1983/84 promotion season. Moved to The Cobblers in August 1984. Made one appearance for Wycombe under Jim Kelman in February 1988 versus Dagenham.



Mickey Bell - Joined Wycombe for £45,000 from Town in October 1994 having made 153 League apps in a four year spell for The Cobblers. Quickly became a regular at Wycombe, making 136 apps before a controversial move to Bristol City in the summer of 1997. Made more than 300 apps for City before shorter spells at Port Vale and Cheltenham Town.

Nicholas Bignall - Forward who scored one goal (against Leeds United) in five loan appearances for The Cobblers in the 2008/9 season. After numerous other loans, he made a single loan appearance for Wanderers in October 2001 (against Charlton Athletic) but returned within a week due to injury. Released by Reading in June 2013 and subsequently played non-League football.

Dean Bowditch - A former trainee with Ipswich Town who made 11 League apperances for the Wanderers during the 2005/06 season under John Gorman. Also played on loan for Burnley and Brighton before playing 10 League games on loan at The Cobblers during the 2008/9 season. Later played on loan for Brentford before a permament move to Yeovil Town in the summer of 2009. A regular for The Glovers in a two year spell - making 71 League apperances and scoring 25 times. Moved to MK 'Franchise' in the summer of 2011 after rejecting a new contract offer from Yeovil.

Keith Bowen - A former trainee with Town who went on to make 70+ First Team appearances during a five year spell before moving to Brentford in 1981. Made a solitary appearance for Wycombe in the August 1987 Vauxhall Opel Charity Shield match versus Bognor, scoring the opening goal in the 3-0 victory.

Guy Branston - Defender on loan at Wycombe from Rotherham United during the 2003/4 season - making 9 League appearances under Lawrie Sanchez. Made four loan appearances at Northampton during November and December 2007 while on the books of Peterborough United. The former Leicester City trainee in the late 1990's has a host of other Football League clubs under his CV before moving into non-League football with Kettering Town in February 2008. Spent time at Burton Albion at the start of their promotion season of 2009/10 before moving on loan to Torquay United in the January 2010 transfer window and made the move permanent in the summer of 2010. Moved to Bradford City in the summer of 2011 and made a brief return on loan to The Millers later that season. Signed for Aldershot Town in the summer of 2012.



Steve Brown - Spent most of his early career with Northampton - making close to 200 appearances - before being signed by Martin O'Neill at Wycombe in February 1994. Went on to clock up 443 First Team apps for the Wanderers as he became a firm favourite with the Adams Park faithful. As of the start of the 2015/16 season was the record Football League appearance maker for Wanderers with a total on 371 during a ten year spell.



Joe Burnell - Midfielder who made 62 appearances and scored once for Wanderers in a two season spell under Tony Adams and John Gorman. Joined The Cobblers on a free from Wycombe in the summer of 2006 and made 67 apps and scored twice before moving to Oxford United in the Conference in the summer of 2008. Switched to Exeter City in July 2009.

Matt Duke - Goalkeeper originally on the books of Sheffield United before spending four years with Burton Albion after joining The Brewers at the start of the 2000/1 season. After more than 100 apps, switched to Hull City in the summer of 2004 for a £20,000 fee (rising to £60,000 depending on appearances). Made 5 appearances on loan with the Wanderers, while still at Hull, after being brought in by John Gorman in January 2006. Later moved to Bradford City where he spent time on loan with The Cobblers during the second-half of the 2011/12 season. Made a permanent move to Town in June 2013 and made 76 League appearances before being released by new Manager Chris Wilder in May 2015.

Frank Fielding - Former Blackburn Rovers trainee goalkeeper who made his senior debut while at Wycombe during a loan spell from Ewood Park that lasted for the majority of the 2007/8 season. Made 12 loan appearances for The Cobblers at the start of the following season and went though a number of other loan spells before a permanent move to Derby County in May 2011 for a £400,000 fee. Moved to Bristol City in the summer of 2013.

Chris Hackett - Winger who appeared on loan for Wycombe during the 2011/12 season while on the books of Millwall. Originally with Oxford United where he made close to 150 apps in a seven year spell before a brief spell north of the border with Hearts. Moved to Milwall in August 2006. Made five League apps for Exeter City in November and December 2011 before spending the remainder of the season at Adams Park, making 8 League appearances. Moved to The Cobblers in the summer of 2012 where he had totalled more than 100 appearances by the end of the 2014/15 campaign.



Ben Harding - Midfielder who had a fairly unhappy spell at Wycombe following a free transfer from Aldershot Town in the summmer of 2011. Made just 5 starts for Wycombe under Gary Waddock before moving to The Cobblers on loan in early January 2012, with the deal becoming permament on deadline day at the end of the same month. Originally played as a youngster with Wimbledon.

Gerard Lavin - Spent a very short spell at Wycombe in January 2001 on loan from Bristol City. Former Millwall and Watford right-back who fell out of favour with City boss Danny Wilson. Moved to The Cobblers during 2001/2 but made just three First Team appearances in two years before moving to Farnborough Town.

Adrian Mann - Youngest ever player for Cobblers at 16 years and 297 days in May 1984. Made more than 100 appearances before time with Torquay United and Newport County. Made 8 appearances, scoring three times for Wycombe during the 1987/88 season. Subsequently played for Aylesbury United and Barnet.



Chris Marsh - Former Walsall defender who made over 450 appearances for The Saddlers in 13 seasons. Made 12 appearances for Wycombe towards the end of the 2000/1 season under Lawrie Sanchez after arriving for a £30,000 fee. Moved to The Cobblers in September 2001 for £10,000 - making 43 League apps in two seasons before retiring from the playing side.

Alan Mayes - Former Queens Park Rangers trainee who made ten Football League appperances for The Cobblers in the 1975/76 season on loan from Watford. Went on to have two spells at Swindon in the 1980's netting a total of 65 goals in 151 League games either side of a three year stint at Chelsea (66 apps - 19 goals). Also played for Carlisle United and Blackpool before his time with Wycombe where he made ten Conference appearances for Wycombe during the 1987/88 season.



Steve McGavin - Striker who spent nearly four years at Wycombe - making 140 appearances and scoring 17 times - following a high profile move from Birmingham City in March 1995. Moved on to Southend United following his time with Wycombe and spent two months with The Cobblers at the start of the 1999/2000 season without making an appearance before moving back to Colchester United where he had started his professional career back in 1992.



Scott McGleish - Prolific striker who joined Wycombe from Town in January 2007 having scored 42 times in the League in 111 appearances in a 2 and a half year spell. Scored 34 times for Wycombe in 75 appearances before falling out of favour with new Manager Peter Taylor and eventually being loaned back to The Cobblers at the end of 2008. Released by Wycombe in May 2009 and eventually joined Leyton Orient.

Josh Parker - Striker and former Queens Park Rangers youngster who played briefly on loan with AFC Wimbledon in the Conference in January 2010 before making his R's debut later than season. Made three loan appearances at Northampton in October 2010. The following month he made a loan move to Wycombe and debuted as second-half substitute (against Torquay United) before a stress fracture to his left foot, while on international duty with Antigua and Barbuda, cut short his loan. Left QPR at the end of the 2010/11 season following their promotion to the Premier League, having made 5 First Team apps. Went on to play for Oldham, Dagenham & Redbridge (loan) and Oxford United before moving to Slovenian side Dom˛ale in June 2013.



Sam Parkin - Former Chelsea trainee who was on loan to Wycombe during the 2000/2001 season and scored the memorable winner against Wolves in a FA CUp 4th Round tie at Adams Park. Later spent an entire season on loan at Northampton before an eventual permanent move to Swindon Town.



Steve Perrin - 1970's hero for Wycombe, scoring 67 goals in 184 appearances during the Brian Lee Management era. Moved to full time football with Crystal Palace in the summer of 1976 before spells with Plymouth Argyle, Portsmouth and Hillingdon Borough. Spent the 1981/82 season with The Cobblers (22 apps - 5 goals) before returning to Wycombe in November 1982 where he was a key member of the 1982/83 Isthmian League Championship winning side under Mike Keen.

Graham Potter - Left back who appeared three times for Wycombe as an 18 year old during the 1993/94 season while on loan from Birmingham City. Went on to spend time with Stoke City, Southampton, West Brom and on loan at Northampton Town during the 1997/98 season. Also appeared on loan for Reading during the 1999/2000 season before an extended period with York City. Started the 2003/4 season playing for Boston United in Conference.

Bas Savage - Striker who made 5 appearances for Wycombe during September 2004 while on loan from Reading but failed to score. Went on to spend time at Bury in February and March of the same season - making 5 Football League starts but again unable to find the net. Subsequently played for Bristol City and Gillingham, Brighton, Millwall, Tranmere Rovers and Dagenham & Redbridge before moving to The Cobblers at the start of the 2011/12 season. Left after four months have failed to score in 8 appearances.

David Scope - Former Cobbler who made 3 appearances for Wycombe during the 1990/91 season under Martin O'Neill. Later played for Gateshead having originally started out with Blyth Spartans.

Sam Togwell - A former Crystal Palace trainee who made nine loan appearances for The Cobblers at the end of the 2004/5 season. Went on to have permanent spells with Barnsley and Scunthorpe (more than 150 apps) before moving to Chesterfield in July 2012. Made four loan appearances for Wanderers from The Spireites towards the end of the 2013/14 season but perhaps best remembered for being sent-off on his debut away to York City. Switched to Barnet in the summer of 2014 following his release from Chesterfield.

Andy Turner - Midfielder who played for Wycombe at the start of the 1994/95 season on loan from Tottenham Hotspur where he was an apprentice. His long list of clubs includes Doncaster Rovers, Huddersfield Town, Southend United, Portsmouth (signing from Spurs for £250,000 in September 1996), Crystal Palace and Rotherham, the latter club also seeing a short loan spell at Boston United. Joined Yeovil Town following his release from Rotherham, making 21 Conference appearances during 2001/2 season. His very brief time with The Cobblers came in 2003 when he made three Football League appearances.



Magno Veira - Made 17 appearances for Wycombe (12 as substitute) during the 2008/2009 season after being signed from Crawley Town by Peter Taylor. A former Wigan Athletic trainee who spent time on loan at Northampton during 2003 but failed to make a First Team appearance. Went on to play for Carlisle United and Barnet before moving into non-League football with Crawley in the summer of 2006. Released by Wycombe in May 2009 and subsequently played for Ebsfleet United in the Conference and then part of the Fleetwood Town squad that won promotion to the Football League in 2011.

Richard Walker - A former youngster with Aston Villa who scored 3 goals for Cambridge United in 21 League appearances during the 1998/99 season while on loan from Villa Park. Also spent time on loan at Blackpool before a three month loan spell at Wycombe during the early part of the 2001/2 season. Scored four goals in eleven games for Wanderers before opting to join Blackpool on a permanent basis in preference to Wycombe. Made 12 loan appearances for The Cobblers from Blackpool during the 2003/4 season, scoring four times. Later had a short loan spell at Oxford United before joining Bristol Rovers at the start of the 2004/5 campaign, going on to score more than 50 goals in just over 150 appearances. Spent the 2007/8 season on loan with Shrewsbury Town before a permanent move to League newcomers Burton Albion in the summer of 2009.

Also
John Gorman - Briefly managed The Cobblers after departing the Wanderers in May 2006.
John Gregory - 70's player for The Cobblers. Managed Wycombe between 1996 and 1998 before being poached by Aston Villa.
Richard Hill - Top scorer for the Cobblers in 1986/7. Assistant to John Gregory at Adams Park.
Mike Keen - Manager of The Cobblers in 1978/79 before four years at Wycombe between 1980 and 1984 where he led the side to the Isthmian League Championship in 1982/83.
Barry Richardson - Goalkeeping coach appointed at Wycombe in January 2014 who made more than 150 appearances between the sticks for The Cobblers between 1991 and 1994. He was in goal for Town's first ever visit to Adams Park in January 1994

Chairboys all-time record against The Cobblers
DATE
Comp
V
Res
SCORE
Att
Sat, Nov 15, 1958
FAC 1
A
L
0-2
12,934
Sat, Oct 9, 1993
FL3
A
D
1-1
5,197
Sat, Jan 22, 1994
FL3
H
W
1-0
6,737
Sat, Aug 16, 1997
FL2
H
D
0-0
5,130
Tue, Feb 10, 1998
FL2
A
L
0-2
5,302
Sat, Nov 7, 1998
FL2
A
D
1-1
6,248
Sat, Mar 13, 1999
FL2
H
L
0-1
4,861
Sat, Aug 19, 2000
FL2
H
W
1-0
5,416
Sat, Dec 30, 2000
FL2
A
D
2-2
5,722
Sat, Nov 20, 2001
FL2
H
W
2-1
5,817
Sat, Apr 6, 2002
FL2
A
L
1-4
5,851
Tue, Aug 13, 2002
FL2
H
D
1-1
5,993
Sat, Jan 4, 2003
FL2
A
W
5-0
4,679
Sat, Aug 14, 2004
FL3
A
D
1-1
6,049
Fri, Mar 25, 2005
FL3
H
L
0-1
7,417
Fri, Sep 2, 2005
FL3
H
D
1-1
5,650
Sat, Nov 5, 2005
FAC1
H
L
1-3
3,974
Tue, Jan 31, 2006
FL3
A
D
0-0
6,438
Tue, Sep 1, 2009
FLT1
H
D
2-2*
1,035
Sat, Aug 28, 2010
FL3
A
D
1-1
4,202
Sat, Apr 16, 2011
FL3
H
D
2-2
5,161
Sat, Nov 17, 2012
FL3
A
L
1-3
4,764
Tue, Apr 13, 2013
FL3
H
D
0-0
3,615
Sat, Dec 21, 2013
FL3
A
W
4-1
4,353
Sat, Apr 18, 2014
FL3
H
D
1-1
7,004
Sat, Oct 4, 2014
FL3
H
D
1-1
3,822
Sat, May 2, 2015
FL3
A
W
3-2
5,723
Sat, Oct 3, 2015
FL3
H
L
2-3
4,227
Sat, Feb 20, 2016
FL3
A
L
0-1
5,775
Tue, Aug 30, 2016
FLT1
A
W
3-0
1,480
Tue, Aug 14, 2018
FLC1
H
D
1-1**
1,999
Tue, Sep 4, 2018
FLT1
A
W
1-0
1,053
Tue, Aug 9, 2022
FLC1
A
W
2-1
2,711
Sat, Sep 2, 2023
FL2
A
W
1-0
6,570
Key: FAC= FA Cup
FL3 = Football League Division Three/League Two
FL2 = Football League Division Two
FLT = Football League Trophy
FLC = Football League Cup
* Lost 0-3 on spot-kicks
** Won 7-6 on spot-kicks
Where available click date for match report