Getting there
By Car: (approx 101 miles from HW)
M40 east to join M25 northbound. Continue on M25 to junction 28 and then take the A12 (signposted Chelmsford). Contine on the A12 following signs for Colchester North. Exit the A12 at the junction with the A120 (signed posted Harwich/Clacton) and then onto the A1232 and back across the A12. Take the exit marked A12 London/Colchester Business Park and then take an immediate exit on the left into the Business Park. At the first roundabout turn right into The Crescent and then at the next roundabout take the third exit into Severalls Lane (signposted Boxted). Take the first exit at the next roundabout into Axial Way and straight across the next roundabout (newly built for the ground) into United Way. Note there are parking restrictions in the vicinty of the ground on First Team match days. Check www.rac.co.uk for specific or more detailed directions.
Train: Colchester North mainline station is around three miles from Colchester 2008 built Community Stadium. Connections are from London Liverpool Street (journey time approx 45 minutes on a good day). From High Wycombe travel to Marylebone and take the Underground from Baker Street direct to Liverpool Street. There are shuttle bus services from the railway station to the ground on matchdays. Check Colchester United official website for details. Check www.nationrail.co.uk for specific times and connections of trains.
Why the Wycombe-Colchester rivalry?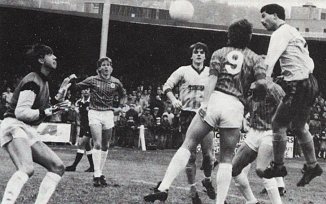 The obscure rivalry between Wycombe and Colchester sides sometimes baffles supporters of other teams. The rivalry stems back to a 1985 FA Cup meeting at Loakes Park when then non-League Wycombe humiliated Fourth Division United with a 2-0 victory. Read more on the Wycombe-Colchester rivalry >>>


Chairboy Connections
Players who have played First Team football for both Clubs


Indicates player profile available


Marcus Bean - Former QPR youngster who made 73 apps for The U's in a two and half year spell before moving to Wycombe on a free in the January 2015 transfer window. Also played for Blackpool and Brentford, plus six apperances on loan at Portsmouth while on the books of Colchester prior to his move to Adams Park. Played with Wanderers Manager Gareth Ainsworth during his spell with QPR.

Paul Buckle - Made 3 appearances for Wycombe during the 1992/93 season. Went on to make over 100 apps for United between 1996 and 1999 and subsequently moved on to Exeter City. Started his pro football with Brentford in 1987.

John Cheesewright - Goalkeeper who spent a short spell at Wycombe under John Gregory - making 18 apps during the 1996/97 season. Made 40 apps for Colchester prior to joining Wycombe and also made a single appearance for Birmingham City as a teenager during 1991/92.



Jermaine Easter - Striker who netted 28 goals in 69 appearances for Wycombe following an £80,000 move from Stockport County in January 2006. Eventually moved to Plymouth Argyle in January 2008 for a £215,000 fee but never settled and after a brief loan at Millwall was loaned to Colchester during late November and December 2008 where he scored 2 goals in 5 appearances before returning to Argyle because of injury. Joined 'MK Franchise' in the summer of 2009.



Hogan Ephraim - Former West Ham trainee who made his full senior debut during a loan spell at Colchester United in the 2006/7 season. Best known for his time at QPR where he made more than 100 apps during a seven year spell at Loftus Road. Made 18 appearances for Wycombe, scoring once, during the 2014/15 season - having been signed by Gareth Ainsworth in October 2014 following his release from QPR.



Gary Holt - Midfielder who spent two years at Wycombe after being signed by Paul Lambert from Nottingham Forest in July 2007. Made 81 apps for Wycombe, scoring once, before leaving Wycombe in the summer of 2009 and following Lambert to Colchester. However, he failed to make a First Team apperance and following Lambert's departure to Norwich City stepped down the leagues to sign for Lowestoft Town in Isthmian League Division One North.



Scott McGleish - Prolific scorer who had two spells with United during his career. Originally spent 3 months on loan at United from Peterborough United during the 1995/96 season but after time with Barnet and Leyton Orient, spent a permanent spell at Layer Road where he scored 47 goals during a 3 and half year period before switching to Northampton Town. Signed for Wycombe by Paul Lambert in January 2007 and scored 34 goals in 81 appearances before a fall out with Peter Taylor saw him eventually move back to Leyton Orient.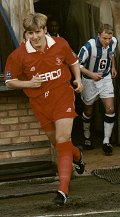 Steve McGavin - Wycombe fans have mixed feelings about McGavin. He made 140 apps in just under four years at Wycombe but netted just 17 times after a record breaking move from Birmingham City in March 1995. He was in hot form following his return to Colchester in October 1999 but eventually joined Dagenham and Redbridge at the end of the 2000/2001 season.

Sean Norman - Popular defender at Wycombe who made 78 appearances during a two year spell after joining from Colchester in October 1987 where he made 13 League apps.

Martin Rowlands - Former Wanderers Youth Teamer who was released before making a First Team appearance while at Adams Park. Brentford Went on to become a key member of the Brentford line-up between August 1998 and July 2003 before joining QPR. Returned to Wycombe on loan in 2011 and made 10 League and 1 cup appearance before returning to Loftus Road in December 2011. Released by QPR in January 2012 and signed for The U's later that month.



Keith Scott - Goalscoring legend at Wycombe sold to the Reading for £250,000 in March 1999 and spent a short spell on loan at Colchester in October 2000 before suffering an injury.

Gary Smith - 'Hardman' Smith made 87 appearances for Wycombe between January 1990 and May 1991. Made 11 First Team apps for Colchester in the Fourth Division in 1987/88.



Sam Stockley - Defender who signed Wycombe by Paul Lambert from Colchester in July 2006 having made close to 150 apps for the Essex club. Left Wycombe in May 2008 for Port Vale having made 65 apps and scoring once. A former trainee at Southampton who eventually got his break in pro football after moving to Barnet. Also played for Oxford United before his move to Colchester in October 2002.

Niall Thompson - Nomadic striker who spent time on trial at Wycombe in November 2000. Played for Colchester during the 1994/95 season where he scored 5 goals in 13 League apps.

Scott Young - Former non-contract player at Layer Road who made 25 appearances for Wycombe (13 as substitute) between March 1988 and October 1988.


Also: Goalkeeper Brian Parkin (Wycombe 1996/97) had a pre-season trial at Colchester (August 2000). Defender John Ray (Wycombe 1987/88) was a former trainee at Colchester. Former U's defender Peter Cawley moved to Wycombe as Fitness Coach in April 2002.
Former Wanderers Manager Paul Lambert was poached by Norwich City from Colchester two weeks into the 2009/10 season. Lambert also bought with him former Norwich City player and Assistant Manager at Wycombe Ian Culverhouse, along with Youth Team Manager Gary Karsa.

Chairboys all-time record against The U's
DATE
COMP
V
R
SCORE
ATT
Sat, Nov 16, 1985
FAC 1
H
W
2-0
3,089
Sat, Nov 24,1990
GMVC
A
D
2-2
2,970
Mon, Mar 25, 1991
GMVC
H
W
1-0
3,367
Sat, Sep 28, 1991
GMVC
H
L
1-2
5,184
Sat, Dec 7, 1991
GMVC
A
L
0-3
5,083
Mon, Dec 16, 1991
BLT 3
A
W
6-2
919
Tue, Oct 6, 1992
JTCC
H
W
3-0
3,309
Sat, Sep 18, 1993
FL3
H
L
2-5
6,025
Tue, Jan 11, 1994
AT 3
A
W
1-0
2,751
Sat, Mar 12, 1994
FL3
A
W
2-0
3,932
Sat, Nov 16, 1996
FAC1
A
W
2-1
4,378
Sat, Sep 26, 1998
FL2
A
L
1-2
4,205
Sat, Mar 6, 1999
FL2
H
D
2-2
4,670
Sat, Jan 18, 2000
FL2
A
L
0-1
4,075
Sat, Apr 15, 2000
FL2
H
W
3-0
4,558
Sat, Nov 25, 2000
FL2
A
D
0-0
3,646
Sat, May 5, 2001
FL2
H
D
1-1
7,516
Sat, Oct 23, 2001
FL2
A
D
2-2
5,186
Sat, Mar 23, 2002
FL2
H
D
0-0
6,737
Sat, Oct 5, 2002
FL2
A
W
1-0
3,252
Sat, Apr 26, 2003
FL2
H
D
0-0
6,283
Tue, Sep 16, 2003
FL2
H
L
1-2
4,401
Tue, Dec 9, 2003
FLT3
H
L
2-3
1,873
Tue, Mar 16, 2004
FL2
A
D
1-1
3,092
Sat, Oct 17, 2009
FL2
H
D
1-1
5,394
Sat, Mar 27, 2010
FL2
A
D
1-1
5,593
Tue, Oct 5, 2010
FLT1
A
W
2-0
2,379
Tue, Aug 9, 2011
FLC1
H
D
3-3(*)
1,430
Sat, Aug 13, 2011
FL2
A
D
1-1
3,902
Sat, Mar 10, 2012
FL2
H
D
0-0
4,838
Sat, Aug 27, 2016
FL3
H
L
0-2
3,439
Tue, Feb 21, 2017
FL3
A
L
0-1
3,031
Sat, Sep 23, 2017
FL3
A
W
2-1
3,562
Sat, Jan 13, 2018
FL3
H
W
3-1
4,386
Key:
FAC = FA Challenge Cup
GMVC = GM Vauxhall Conference
BLT = Bob Lord Trophy
JTCC = Jim Thompson Charity Shield
FL3 = Football League Division Three/League Two
AT = AutoGlass Trophy
FLT = Football League Trophy
FL2 = Football League Division Two/League One
FLC = Football League Cup
* = Wycombe won on penalties
Click date for match report where available