Wanderers beat League opposition in FA Cup
Saturday 16th November 1985
Wycombe Wanderers 2
Colchester United 0
FA Cup 1st Round Proper
(Research and memories by Paul Lewis - First published 16th November 2015)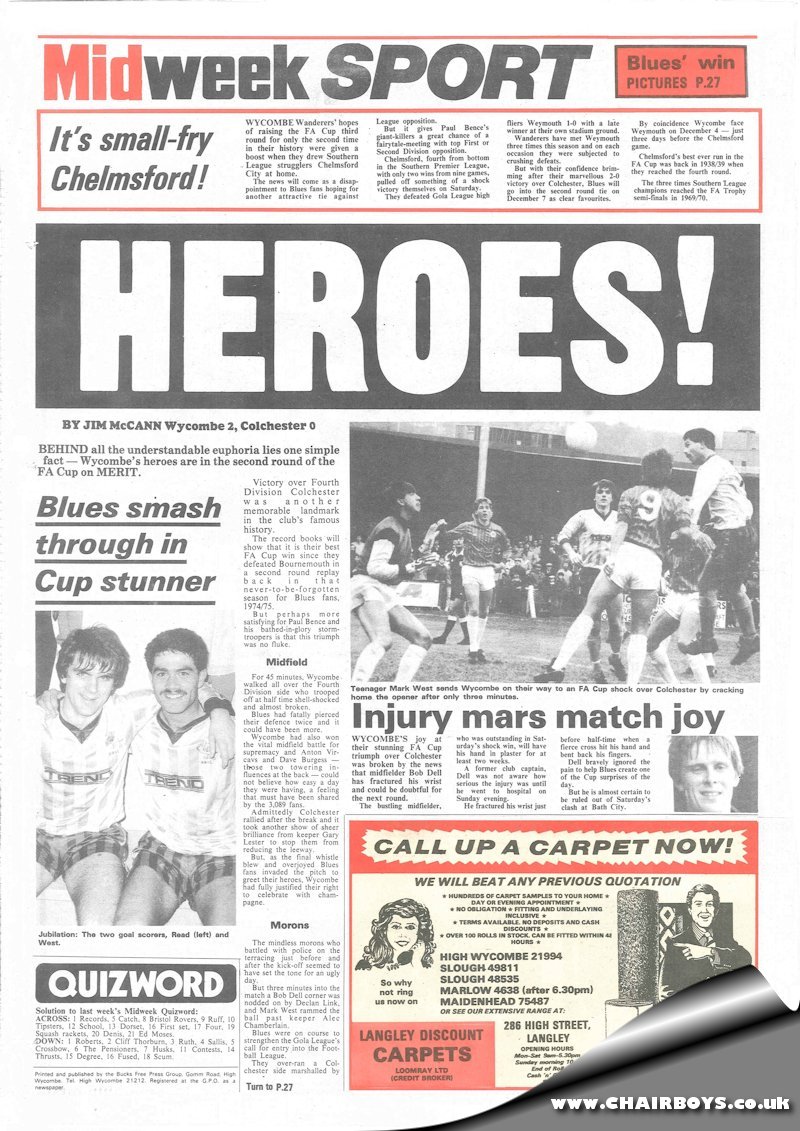 Wanderers beat Football League opposition in the FA Cup for the first time in 11 years after overcoming Fourth Division Colchester United at Loakes Park on Saturday 16th November 1985. It was also only the third occasion Wycombe could claim to be 'giantkillers' having disposed of Newport County in the First Round in 1973 and Bournemouth in the Second Round in 1974.

The tie came during Wanderers' first ever season in the national 'Gola League'. Paul Bence's side had found it tough going in their debut season - lying in 14th spot prior to the meeting with The U's - and the Cup provided a welcome distraction. Burton Albion had been disposed of in the 4th Qualifying Round to ensure that Wanderers entered the competition proper for the 12th time out of the 13 previous attemptd. Meanwhile, Football League Colchester came into their first ever meeting with Wanderers on the back of four straight defeats that had sent them tumbling from the top spot in the fourth tier of the Football League, to 8th place.

The attraction of seeing Football League opponents at Loakes Park for the first time since in five years swelled the gate from the League average of just under 1,000 to more than 3,000 - this despite the cost of terrace ticket rising from the usual League charge of £1.50 to £2. Unfortunately the tie attracted an unruley element that saw Police contend with trouble before, during and after the game. The Police made five arrests (mostly from the High Wycombe area) and more than 40 spectators were ejected from the unseggregated crowd.

For the Wanderers fans, with many congregated behind the 'Gasworks End' goal, the tie got off to a dream start when on 3 minutes an 19 year old Mark West rose to head in Declan Link's nod on from Bobby Dell's corner. The Essex side were now on what is traditionally termed in giantkilling circles as 'on the rack'. Five minutes before the break Simon Read added a second for Wanderers when he took advantage of a Andy Farrell slip to smash home left footed following a Neal Stanley ball from the right. The terrace celebrations were even more manic than those following the first goal.

Wycombe had efforts by Des MacMahon and West cleared off the line on the stroke of half-time before former Manchester United defender Stewart Houston (and former teammate of Paul Bence at Brentford) looked to help Colchester make a second-half revival. However The U's found home 'keeper Gary Lester in superb form. Three times Lester blocked out efforts from Tony Addock and Tong English with his feet to ensure it was Wanderers who progressed and spark a pitch invasion at the final whistle by many Wycombe fans.


Wycombe: G.Lester, K.Collins, A.Riley, D.Burgess, A.Vircavs, D.MacMahon, M.West, S.Read, B.Dell. D.Link, N.Stanley - sub not used: S.Price
Scorers: West 3, Read 40

Colchester: A.Chamberlain, E.Hedman, A.Farrell, J.Reeves, S.Houston, P.Groves, N.Parkinson. R.Turner. T.Adcock, T.English - sub not used: R.Irving
Scorer: none

Referee: Mr E.J. Scales (Ware)
Attendance: 3,089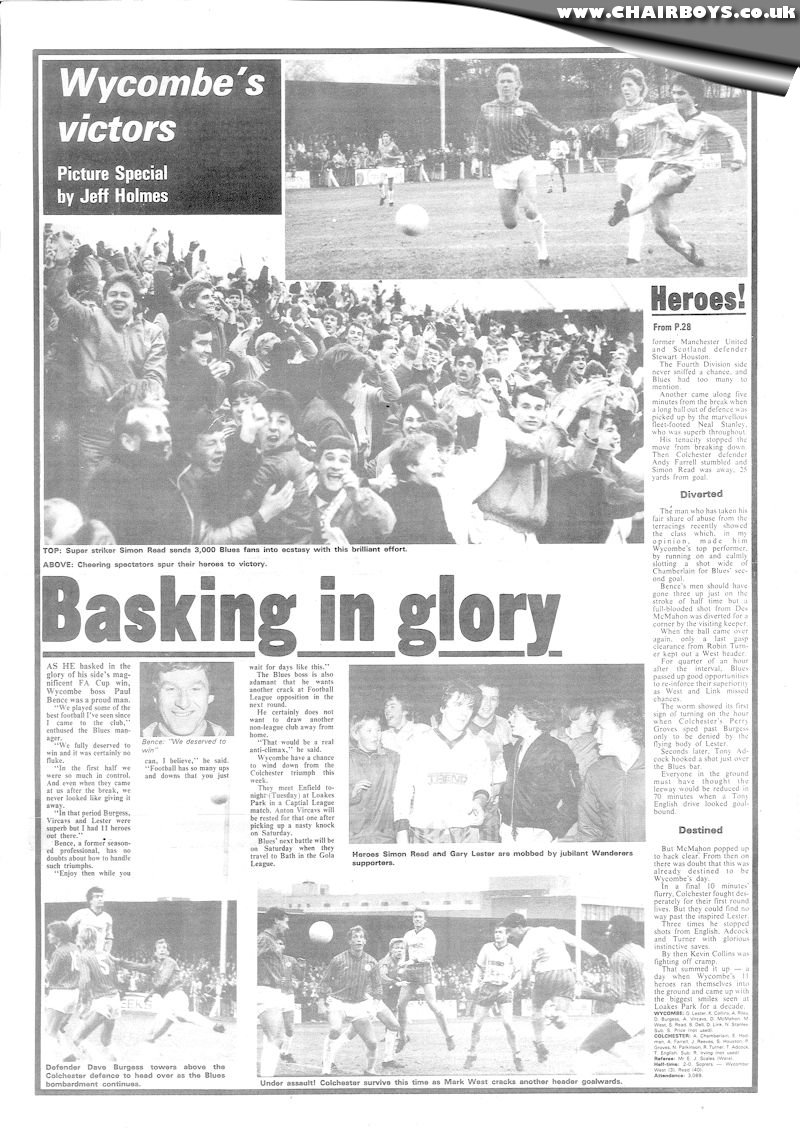 Above - Wycombe v Colchester - Match report and pictures from Bucks Free Press Midweek - click to enlarge in new window.



Speaking after the game Wanderers boss Paul Bence refused to single out any particular player for praise: "It was a brilliant team effort - there were no star players." He added "Even when Colchester came at us after the break we never looked like giving It away. In that period [Dave] Burgess, [Anton] Vircavs and [Gary] Lester were superb but I had 11 heroes out there. We deserved to win . . . this was no fluke."

The draw for the Second Round pitted Wycombe at home to Southern League Chelmsford City on 7 December 1985. The Essex side had beaten Weymouth 1-0 in the First Round and Bence was wary over the draw - reminding people that Wycombe had already failed to beat fellow Goal League side Weymouth on three seperate occasions that same season. He added: "It would have been nice to have drawn Reading at home. The FA Cup is a great opportunity for non-League clubs to grab a bit of glory — so we are going to enjoy it while it lasts."