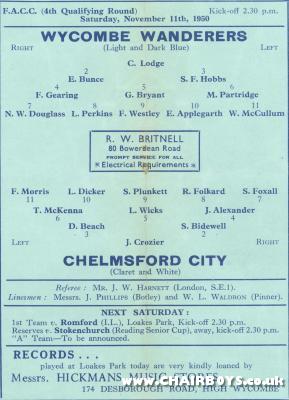 Wanderers and Chelmsford City first crossed paths during the 1950/51 campaign when the two sides met in a FA Cup 4th Qualifying Round tie at Loakes Park on Saturday 11th November 1950.
Wanderers had battled through eight previous ties to reach this stage against the Southern League professionals, including a 13-0 (thirteen-nil) victory over Amersham Town in an Extra Premilinary tie the previous September. As this was the first time the Wanderers had reached this stage of the Cup since 1932, Club officials were expecting a record crowd, so the actual attendance of 10,777, including some 2000 from Chelmsford, was deemed to be rather disappointing. Admission charges had been raised to 1/- (5p) and the gate receipts were £590. The eight page programme would have cost you 2d (1p).
As for the match itself, the visitors got off to the best possible start - scoring inside the first minute through DICKER. For the next half hour they had the Wanderers on the run but were only able to score once more when PLUNKETT was on target. Wycombe fought back after the interval but they wasted their best chance when McCullum's penalty was saved by Prozier on the hour. In the closing stages PLUNKETT completed his hat-trick with a header and a penalty to make the final score Wycombe 0 Chelmsford 4
Wycombe Team: C.Lodge, E.Bunce, S.F.Hobbs, F.Gearing, G.Bryant, M.Partridge, N.Douglass, L.Perkins, W.McCullum, E.Applegarth, G.Jackson.
Chelmsford Team: J.Crozier, S.Bidwell, D.Beach, J.Alexander, L. Wicks, T.McKenna, S.Foxall, R.Foxall, S.Plunkett, L.Dicker, F.Morris.
Attendance: 10,777

The next meeting was more than 30 years later and in the unlikely venue of Cosenza in Italy during the Gigi Peronace Anglo-Italin Tournament in 1983. Both English clubs had lost their semi-final games against their Italian hosts and so played off for 3rd and 4th places on 25th April 1983 in a tie played prior to the Final between Cosenza and Padova. With the attendance swelling to what would be an estimated 10,000, STOTT and BAKER gave the Essex side a two goal lead but the Blues cames back with goals from Steve THORNE and Joe KOTVICS to level the scores at Wycombe 2 Chelmsford 2. The Wanderers then had 'keeper Chris Way to thank for winning the game with two spectacular saves during the penalty shoot-out at the end.
Wycombe Team: C.Way, T.Lee, A.Harman, K.Stone, M.Hill, S.Long, R.Dell, P.West (sub 75 A.Davies), K.Wilson, H.Kennedy, S.Thorne (sub 75 J.Kotvics)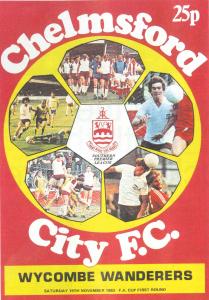 The two clubs were to meet again in 1983, this time in the First Round of the FA Cup. Wanderers had scraped past Eastwood Town in the 4th Qualifying Round and travelled to Chelmsford's New Writtle Street ground on Saturday 19th November 1983 knowing they had a difficult task on their hands. Before a gate of 2,277, City had the better of the opening exchanges with Frank Bishop, son-in-law of Jimmy Greaves, going close as early as the 3rd minute, when he blazed the ball over the bar from 5 yards out after a clever free-kick. For Wycombe, Ken Wilson had a good chance in the first half, but shot over after rounding the 'keeper. In the second half Gary Lester was the busier 'keeper including one tremendous reflex save to deny Powell. However, Willie Carrick in the City goal had to be on his toes to turn a George Borg shot around the post in the dying minutes.
Wycombe Team: G.Lester, T.How, M.Hill, A. Harman, A.Vircavs, G.Borg, J.Jacobs, S.Perrin. T.Glynn, S.Long (sub 88 P West), K.Wilson.
Chelmsford Team: W.Carrick, P.Dudley, C.Johnson, D.Longhorn, J.Devine, M.Bright, G.Cowlishall, G.Powell, M.Blackhall, G.Anderson, F.Bishop - sub not used: M.Tiffen
Attendance: 2,277
The replay at Loakes Park the following Tuesday attracted a gate of 1,937 with the winners set to travel to Gillingham in the Second Round. But on what turned out to be a disappointing night for Wanderers followers, it was visitors who broke the deadlock early on through Frank BISHOP after a mistake by Trevor How. Then after some more poor defending, Gary ANDERSON struck a suberb second just after the hour mark. Wanderers' only consolation came from Terry GLYNN deep into injury time.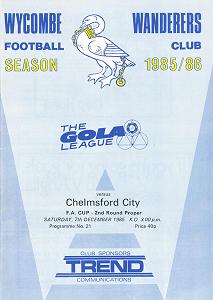 Two years later the two sides clashed again, this time in a FA Cup Second Round tie at Loakes Park on Saturday 7th December 1985. Wanderers had beaten Colchester United in the previous round and crowd trouble at that game had prompted officials and police to segregate home and away fans for the first time ever at Loakes Park. Sadly the measures didn't totally prevent trouble on the day, with police making 24 arrests before, during and after the game. Press reports estimated that '200 youths attacked (McDonalds) restuarant. Speaking after the game, Club Secretary John Goldsworthy said, "Police did an excellent job inside the ground and the segregation of fans for the first time at Wycombe. clearly helped avoid the scale of trouble that marred the Colchester game a few weeks ago. What went on outside the ground had nothing to do with football - these people are not football fans, just hooligans."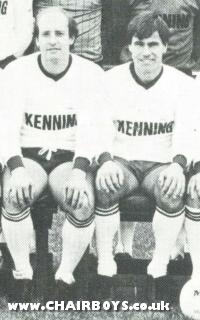 The tie itself saw City include former Wanderer Terry Glynn in their ranks, while former Crystal Palace star Peter Taylor also donned a City shirt at the tail end of his playing career. The game was a rather scrappy affair but Wycombe got the breakthrough in the 14th minute when Des McMahon headed into the area, Adrian Foley miscued his clearance and Simon READ pounced to drill a shot past John Keeley in the City goal. Foley went close for the visitors before the break but Wanderers got the all important second goal ten minutes into the second-half when Keeley rushed out of his area in an attempt to clear the ball but lost possession and when the ball broke free just to the right of midfield, Des McMAHON fired home from around 30 yards into the back of the Gas Works end net. As the Chelmsford heads dropped, Joe Blochel went close to adding a third. Taylor was then booked for a crude challenge of Bobby Dell. Off the pitch, frustration for the travellers from Essex saw them make an unsuccesful attempt to push down the Hospital End clock and shortly afterwards a small number tried to invade the pitch. Back on the pitch, Wanderers were already looking forward to the Third Round draw when former striker Glynn fluffed the visitors best chance of the game when he was foiled by former teammate Gary Lester, the now infamous tie ending Wycombe 2 Chelmsford 0.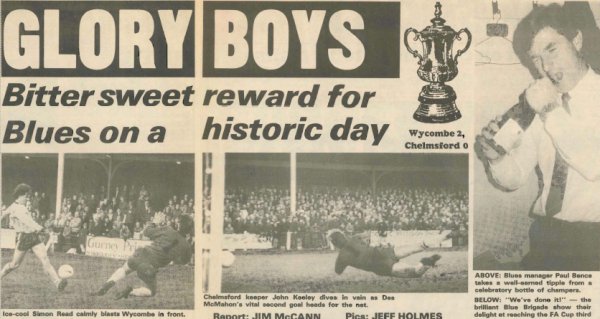 Wycombe Team: G.Lester, K. Collins, A.Riley, D.Burgess, A. Vircavs, D.McMahon, M.West, S.Read, R.Dell, J.Blochel, N.Stanley
Chelmsford Team: J.Keeley, K.Lee, C.Johnson, S.Oliver, R.Makin, P.Taylor, A.Owers (sub P.Thrift), A.Foley, P.Lazarus, T.Glynn, R.Pountney
Attendance: 3,816
For Wycombe, the joy of reaching the Third Round for only the second time in their history and a possible 'glamour' tie, was quickly quelled as the Saturday evening draw saw a trip to Third Division York City pulled out of the hat. A relatively dissapointed Wycombe Manager Paul Bence, tried to remain upbeat after the game, saying "It's equalled a previous achievement and all credit must go to the players, my assistant manager and all the officials and backroom staff. Naturally we didn't want York but it's not a forgone conclusion that they will beat us. Meanwhile, controvesary stormed after the game when Club Captain Anton Vircavs revealed there would be no bonuses for reaching the Third Round, saying to the national press, "There is no question of a bonus for us, there never is one. We make Corinthian Casuals look like millionaires. People think we are getting a lot out of this but we are getting nothing." Vircavs claimed that the players were on around £35 per week wages but would receive no extra for their FA Cup success, adding, "It has caused unnecessary animosity. It's not as though the club cannot afford it but the committee just do not put themselves out for us. Nobody has even come up to us, patted us on the back, and said well done." Wanderers Chairman Brian Lee responded by saying, Footballers don't play for £10, £50 or £100, they play out there for pride." Wanderers went on to lose 2-0 at York with Lee eventually compromising and offering his squad commemorative cups awarded at a function held at the then Crest Hotel in High Wycombe. Lee prefering to offer a permament reminder of the players feats, rather than money than could be squandered.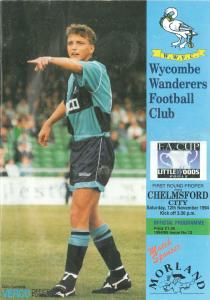 It was the FA Cup that brought the two sides together during the 1994/95 season. This time it was the First Round, with Wanderers having the advantage of a home draw plus Football League status, meaning that Martin O'Neill's side were red hot favourites to win the tie held on Saturday 12th November 1994. However, it was the Southern League Premier side, backed by more than 1,000 fans in a 5,500 plus attendance, who had the better chances in the opening stages, with Kevin Hoddy being denied by Paul Hyde on two occasions. But Wycombe took the lead against the run of play in the 27th minute when Simon STAPLETON's drive from around 25 yards hit both posts before going into the net past Kevin Shoemake with Lee Turnbull, in for the injured Cyrille Regis, claiming (unsuccessfully) that he had got the last touch. Manager O'Neill apparently blasted his side at the break although the visitors still caused a few problems with Adrian Owers (City's sole survivor from the 1985 meeting, forcing another decent save from Hyde. However, Wanderers went into cruise control after Mickey BELL extended the lead on 58 minutes after a 20 yard run down the left ended with a fierce shot into the bottom corner of the net. Three minutes later it was 3-0 after Turnball held the ball up for STAPLETON to smash home. Keith RYAN completed the victory in the 86th minute when he glanced home a Bell cross. Final score Wycombe 4 Chelmsford 0.
Speaking after the game Martin O'Neill said, "We did fine in the end after a difficult first half. Chelmsford got going early on and caused us problems. I think we coped with it very well. I'm just glad we are in the hat for the next round." Wanderers went on to beat Hitchin Town 5-0 away from home in the Second Round amid rumours that O'Neill was about the join Leicester City. The Wycombe boss famously turned down that offer as Wycombe progressed to a Third Round home meeting with West Ham which went the way of the Londoners by a 2-0 margin before a then record gate of 9,007 at Adams Park.
Wycombe Team: P.Hyde, J.Cousins, S.Brown, M.Crossley, T.Evans, K.Ryan, D.Carroll, M.Bell, L.Turnbull, (sub 75 S.Thompson), S.Garner (sub 80 N.Reid), S.Stapleton - sub not used: C.Moussaddik
Chelmsford Team: K.Shoemake, L.Hunter, Eliot Martin (sub 85 Eddie Martin), P.Clark, D.Jacques, M.Keen, K.Hoddy, R.Garvey, A.Rogers, S.Restarick, A.Owers (sub 59 S.Campbell) - sub not used: L.Ballard
Attendance: 5,564