STOKE CITY
Ground:
Britannia Stadium,
Stanley Matthews Way,
Stoke on Trent,
Staffs, ST4 4EG
Google maps
Tel:
01782-592 222
Websites:
Official
Message
Board:
Oatcake Forum
Getting there
By Car: (approx 142 miles from HW)
M40 west to junction 3a M42. M42 to junction 7a to join M6 north. M6 to junction 15. Follow A500 (Stoke on Trent) and then the A50 signposted Derby/Uttoxeter. You have to double back on the A50 to get to the ground but as there is very limited parking at the ground for away fans you are advised to use alternative parking in the Cash and Carry car-park (10 minutes walk to ground). To get to this car-park take the far left lane where the A500 splits into five lanes. Then follow signs for Campbell Road/Michelin. Turn left at the top and then left at the mini-roundabout into the car-park. You should be able to see the ground from the car-park and there have been some new footpaths and a bridge over the canal to ease the route.
Train: Nearest station Stoke on Trent - 2 miles from ground. Connections from London Euston - allow at least five hours travelling from High Wycombe.
It's a long walk to the ground but if you're up for it look for signs to the canal walkway and follow this all the way to the ground.
Matchday buses run from Glebe Street which is a right turn out of the station. Head towards traffic lights by Roebuck Hotel and turn sharp right into Glebe Street.
Chairboy Connections
Players who have played for both clubs include the following:.


Indicates profile available by clicking name.

Paul Barron - 70's keeper played for both


Viv Busby - club hopper began at Wycombe


Jason Kavanagh - faded away via The Potters


Kevin Keen - Just 15 years old on Wycombe debut


Nicky Mohan - career resurrected by Stoke
Graham Potter - Played for both in 1993/1994


Fred Rouse - top scorer with Stoke in 1904/05


Keith Scott - a living legend at Wycombe
John Williams - on loan at Stoke before Wycombe

Other player connections include:
Scott Bevan, Michael Duberry, Steve Guppy, John Halls, Gary Holt, Richard Keogh, Tommy Mooney and Sebastian Svard.
Chairboys all-time record against Stoke City
DATE
Comp
V
Res
SCORE
Att
Sat, Nov 28, 1998
FL2
H
L
0-1
6,023
Wed, Apr 14, 1999
FL2
A
D
2-2
6,569
Tue, Nov 23, 1999
FL2
H
L
0-4
4,345
Sat, Mar 18, 2000
FL2
A
D
1-1
9,738
Sat, Aug 12, 2000
FL2
A
D
0-0
14,532
Tue, Mar 13, 2001
FL2
H
L
0-1
5,385
Sat, Dec 15, 2001
FL2
A
L
1-5
12,911
Sat, Mar 9, 2002
FL2
H
W
1-0
7,344
Wed, Dec 2, 2020
Ch
H
L
0-1
1,000*
Sat, Mar 6, 2021
Ch
A
L
0-2
BCD
Key: FL2 = Football League Division Two
Ch = Championship
* = COVID-19 restricted attendance
Click date for match report, where available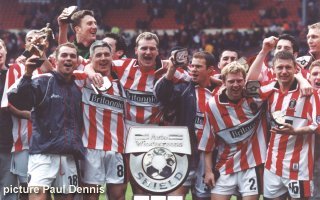 Nicky Mohan and his Stoke team-mates celebrate after the AutoWindscreens victory over Bristol City at Wembley in May 2000.
picture Paul Dennis