Getting there
By Car: (approx 195 miles from HW)
M40/M42 north to join M6 northbound. Continue to junction 20 and take westbound M56 (signposted North Wales, Birkenhead). At junction 15 follow signs to M53. Exit M53 at junction 3 (s/p Birkenhead A552). At roundabout turn right onto A552. After a mile turn right, by Halfway House pub, (s/p B5151 Clatterbridge) into Storeton Road. Tale first left into Woodchurch Lane to ground. For early arrivals there is a car park near the ground but with a charge. Otherwise it is street parking or a car park near the Technical College on Borough Road (heading back towards Birkenhead). Beware of strict matchday parking regulations near the ground. Check www.rac.co.uk for specific or more detailed directions.
Train: Rock Ferry is nearest station and is just over a mile from the ground. This is in on the Wirral Line (local underground) with connections from Liverpool Lime Street. Lime Street is served by trains from London Euston or you can connect from High Wycombe via Banbury or Birmingham Snow Hill and then onto Birmingham New Street. Total journey time from HW using the latter method is around four hours.
Check www.nationalrail.co.uk for specific times and connections of trains.
Chairboy Connections
Players who have played for both Clubs.

Delroy Facey - Striker who made six Football League appearances for the Wanderers during the 2007/8 season while on loan from Gillingham. Originally a trainee with Huddersfield Town. Signed by Sam Allardyce at Bolton in July 2002 and played in ten Premiership games before loan spells with Bradford City and Burnley. Moved to West Brom in January 2004 and then to Hull City in the summer of 2004 where he played under Wanderers Manager to be Peter Taylor. After a short loan spell back at Huddersfield, he joined Oldham Athletic towards the end of the 2004/5 campaign before moving to Tranmere in August 2005. Score 8 League goals for Rovers in 37 appearances before switching to Rotherham United in July 2006 and then onto Gillingham a year later. Switched to Notts County in the summer of 2008 after his contract was terminated by The Gills.

Iffy Onoura - Striker who spent a short spell on loan at Wycombe at the start of the 2003/4 season while on the books of Sheffield United - making 6 appearances. Joined Grimsby Town on a short term deal shortly after his return to The Blades and made 19 League appearances - scoring 3 times before moving to Tranmere in February 2004 but spent just a month at Prenton Park - making 3 appearances - before moving back to Huddersfield and then retiring from playing at the end of the 2003/4 campaign aged 36. Made over 500 appearances and scored in excess of 100 goals in his professional career having started out at Huddersfield Town before spells with Mansfield Town, Gillingham, Swindon Town, Gillingham (again) and then Sheffield United.

Bas Savage - Striker who made 5 appearances for Wycombe during September 2004 while on loan from Reading but failed to score. Went on to spend time at Bury in February and March of the same season - making 5 Football League starts but again unable to find the net. Went on to play for Bristol City and Gillingham before a successful spell at Brighton where he scored 10 times in 42 appearances at 'League One' level. Has since played for Millwall before his switch to Tranmere in the summer of 2008 where he went on to score 9 times in 42 League One appearances during the 2008/9 campaign.

Memories February 2001 - Prior to 2004 there were no players who had played for both clubs at First Team level. So in our desperate attempt to fill a void we recalled without apology the night of Tuesday 20th February 2001 when both Wycombe and Tranmere shared an extraordinary night of cup football. While Wycombe were beating Wimbledon after extra-time and penalties at Selhurst Park, Rovers were having their own night of glory against Southampton. Three goals to nil down at the break, Rovers came back from the dead to win the tie in dramatic fashion 4-3, Paul Rideout scoring a memorable hat-trick on a never to be forgotten night on The Wirral.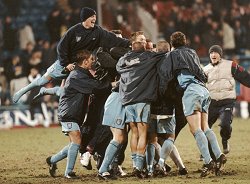 Our memories from Selhurst Park here

If you know of any connections? Please e-mail us at clubguide@chairboys.co.uk
Chairboys all-time record against The Rovers
DATE
COMP
V
R
SCORE
ATT
Sat, Nov 3, 2001
FL2
A
D
1-1
8,096
Mon, April 1, 2002
FL2
H
W
2-1
6,297
Sat, Nov 23, 2002
FL2
H
L
1-3
5,386
Sat, Apr 12, 2003
FL2
A
L
0-1
6,814
Tue, Sep 30, 2003
FL2
A
L
1-2
6,847
Mon, Apr 12, 2004
FL2
H
L
1-2
5,256
Tue, Sep 29, 2009
FL2
H
L
0-1
3,899
Tue, Apr 13, 2010
FL2
A
W
3-0
4,956
Sat, Sep 17, 2011
FL2
A
L
0-2
4,297
Sat, Feb 4, 2012
FL2
H
W
2-1
4,398
Tue, Aug 19, 2014
FL2
H
L
0-2
3,005
Tue, Mar 3, 2015
FL2
A
W
2-1
4,161
Key:
FL2 = Football League Division Two/'League One'