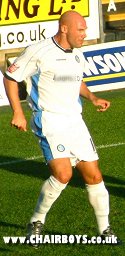 Career summary at Wycombe: 101 appearances - 32 goals
Career Details (* indicates loan spell)
Stats up to the end of the 2004/5 season.
Date
Club
League
Apps
League
goals
Cup
Apps
Cup
Goals
Aug90-Jul93
Scarborough
96(11)
30
20(2)
10
Jul93-Jul94
Southend United
9(5)
5
3(4)
0
Mar94
Watford(*)
9(1)
2
0
0
Jul94-Jun01
Watford
211(30)
58
37(1)
5
Jun01-Jul03
Birmingham City
29(5)
13
5
2
Sep02-Dec02
Stoke City(*)
11(1)
3
0
0
Jan03-Mar03
Sheffield United(*)
2(1)
0
2(1)
1
Mar03-May03
Derby County(*)
7(1)
0
0
0
Jul03-Jul04
Swindon Town
41(4)
19
3(1)
1
Jul04-Jun05
Oxford United
42
15
3
0
2005-2006
Wycombe Wanderers
44(1)
17
7(0)
2
2006-2007
Wycombe Wanderers
41(1)
12
7(0)
1
Jul07-May08
Walsall
36(0)
11
4(0)
1
Background: With more than 150 goals in his 15 year Football League career, Tommy Mooney arrived at Wycombe with a goal scoring pedigree not seen at the Wanderers since Andy Rammell. Originally a trainee at Aston Villa, he had to wait until a transfer to Scarborough to make his professional debut. His goalscoring talents for Boro got him noticed and a £100,000 fee took him to Southend United and then on to Watford. It was with The Hornets that he continued his goalscoring touch. A move to Birmingham saw him feature strongly in the side that earned promotion to the Premiership. However, after just one appearance in the top flight he was loaned out to Stoke City, the first of three loan deals that season. Taking a step down to Swindon Town saw him top up his scoring record and a further move to Oxford United in the summer of 2004 saw him finish the 2004/5 season as top scorer for the U's with 15 goals. It will the goalscoring touch that John Gorman will hope is retained as he looks to play out his twilight years with the Wanderers. Commenting to the Wanderers official website, Gorman said "He holds the ball up well and scores goals and he'll give us that something we've not had at times. I think it's a great signing for the club, I'm delighted to have him here and I hope the fans are happy with it."
External links:
Wikipedia
Read or hear Tommy Mooney interview from BBC 3 Counties - June 2005 - "I made this decision in all honesty on the football side of it.."
Read about Mooney's attempt to rejoin Swindon - June 2005 - from the Swindon Advertiser"