Know Your History

While the 'League One' meeting between Wycombe Wanderers and Sunderland was the first ever meeting between the two sides, representative sides from the two areas have met before. In 1981 High Wycombe Schools Under 15's side reached the final of the English Schools Trophy and took on a Sunderland Schools side in a two-legged final.

The 1st leg took place at Loakes Park – then home of Wycombe Wanderers – on Thursday 30th April 1981. With many of the ties leading up to the final also being played at Loakes Park, local interest was at a high and an estimated attendance of 6,000 walked up to the ground that evening – more than eight times the average gate for Wycombe Wanderers' League games at the time and the biggest attendance at Loakes Park since 12,000 had packed the ground for the visit of Middlesbrough in the FA Cup Third Round in January 1975. The attendance would not be bettered in the remaining nine years that Wanderers played on the town centre site.

The game itself was a tense affair and the expectant crowd were mostly subdued until local hero in the making Mark West grabbed the only goal of the tie after 67 minutes – just three minutes from the end of the35 minute each-way leg. The crucial goal came when a long throw from the right from Paul Bates was headed on by Keith Dublin for West to acrobatically sent a shot past Kevin Wolfe in the Sunderland goal.

West, a schoolboy at Stokenchurch's Batholomew Tippings, had scored in each round leading up to the two-legged final – bagging 17 goals in seven ties. Raymond Jack had chipped in with 8 goals to make High Wycombe's strike force a formidable one. West had also hit the local headlines by gaining an international schoolboy cap with England in the weeks leading up to the final. He had scored on his international debut but a leg injury had seen him limp through the encounter with Sunderland before popping up to spark the loudest cheer at Loakes Park for years.

The team line-ups and squad details for both sides were as follows:

High Wycombe: Tony Ashby (Bartholomew Tippings, Stokenchurch), Jon Delaney (Brenchwood), Russell Turner (Cressex), Paul Bates (St Bernards), Martin Smith (Brenchwood), Kevin Keen (John Hampden), Graham Bressington (Bartholomew Tippings, Stokenchurch), Chris Searle (Great Marlow), Keith Dublin (Cressex), Mark West (Bartholomew Tippings, Stokenchurch), Raymond Jack (Cressex) – sub David Lay (John Hampden) 43 mins for Bressington
Other squad members: Philip Walsh (Sir William Ramsey), Barry Wilson (John Hampden), David Coggan (John Hampden), Richard Victory (Hatters Lane), Mark Chisholm (Bartholomew Tippings, Stokenchurch)

Sunderland: Kevin Wolfe (Farringdon), Paul Fairweather (St Thomas Aquinas), William Bowman (St Aidan's), David Corner(St Thomas Aquinas), Phillip James (Hylton Red House), Dean Ferry (Pennywell), Robert Holden (Southmoor), Paul Reveley (Hylton Red House), Stephen Ferguson (Bede), David Edwards (Monkwearmouth), Gary Porter (Monkwearmouth) Other squad members: Allan Hope (Pennywell), Derrick Williams (Monkwearmouth), Robert Smithson (Monkwearmouth), David Edwards (Monkwearmouth)


Chairboy Connections

Indicates player profile available

John Cornforth - Joined Wycombe from Birmingham City during the 1996/97 campaign but left in May 1999 after failing to regain the form that gave him Welsh International honours. Sunderland was his first professional club - making 32 League appearances between 1985 and 1991 before a move to Swansea City where made more than 150 senior appearances and gained international honours with Wales.

Billy Knott - Played one First Team game for Sunderland in 2011. Made 17 League appearance for Wanderers on loan from Sunderland during the 2013/14 season, scoring one goal.

Paul Hardyman - More than 100 appearance for Sunderland between 1989 and 1992. Played in the 1992 FA Cup Final as substitute for Sunderland when they lost to Liverpool. Made 15 League appearances for Wanderers during the 1995/96 season after signing from Bristol Rovers.

Louis Laing - Former Sunderland Academy player who made one First Team appearance in 2011. Made 11 loan appearances for Wanderers from Sunderland in 2012.



Luke O'Nien - Midfielder who joined Sunderland in July 2018 from Wanderers for a fee believed to be in the region of £350,000. Had made 119 appearances for Wycombe in a three year spell following a free transfer from Watford in July 2015.



Barry Richardson - A former trainee with Sunderland but failed to break into the First Team and joined Scarborough in 1989 to persue his football career. Had previously played junior football in the same team as Alan Shearer. Became the oldest player to have appeared for Wanderers in the Football League when he took the field at age 46 in January 2016.



Josh Scowen - Midfielder who started his professional career with Wycombe after progressing through the Youth Team, making his First Team debut just prior to his 18th birthday. After 100 apps for Wanderers, joined Barnsley in January 2015 for an undisclosed fee. Subsequently joined Queens Park Rangers in the summer of 2017 before a move to Sunderland in January 2020. Made 55 apps for The Black Cats, scoring three times, before returning to Wycombe in June 2021 on a free transfer.

Other connections

Martin O'Neill - Legendary Manager for Wanderers between February 1990 and June 1995. Not so legendary Manager for Sunderland between December 2011 and March 2013.

Chairboys all-time record against Accrington
| | | | | | |
| --- | --- | --- | --- | --- | --- |
| DATE | COMP | V | R | SCORE | ATT |
| Sat, Nov 17, 2018 | FL2 | A | D | 1-1 | 30,727 |
| Sat, Mar 9, 2019 | FL2 | H | D | 1-1 | 8,725 |
| Sat, Oct 19, 2019 | FL2 | H | W | 1-0 | 8,395 |
| Sat, Jan 11, 2020 | FL2 | A | L | 0-4 | 29,331 |
| Sat, Aug 28, 2021 | FL2 | A | L | 1-3 | 29,344 |
| Sat, Jan 8, 2022 | FL2 | H | D | 3-3 | 7,229 |
| Sat, May 21, 2022 | FL2-POF | N | L | 0-2 | 72,332 |
The Football League game on Saturday 17th November 2018 was the first ever meeting between the two clubs at any level.
The attendance of 30,727 at The Stadium of Light on 17th November 2018 was the 2nd highest ever to have a watched a Football League involving Wycombe Wanderers. It was 2nd only to the 38,082 for the match at Sheffield Wednesday on 5th May 2012. The previous 2nd best was 29,337, for the game at Manchester City on 24th April 1999.
The attendance of 72,332 for the League One Play-Off Final at Wembley Stadium on 21st May 2022 was the 2nd highest ever to watch a Wycombe Wanderers game in all competitions. The only game with a higher attendance was the 1957 FA Amateur Cup Final at Wembley versus Bishop Auckland, watched by a crowd of 90,000.
Key:
FL2 = Football League Division Two/'League One'
FL2-POF = Football League Two Play-Off Final at Wembley

Know Your History (continued from opposite)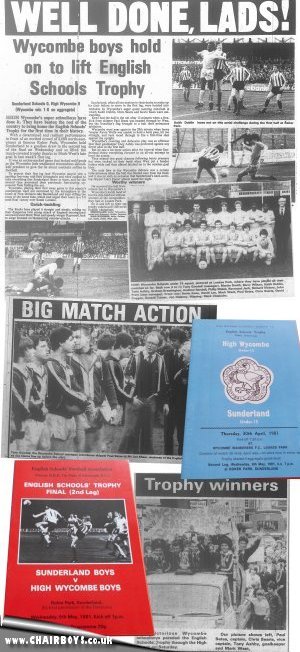 The return at Roker Park the following Wednesday 6th May 1981 saw both sides put out unchanged line-ups and before an 8,000 attendance it was the High Wycombe side who withstood the pressure from a home side who had beaten South London 5-0 in the semi-final to secure a 0-0 score-line and lift the Trophy on aggregate. Captain Paul Bates lifted the Trophy to delight the hardy band of supporters from High Wycombe who had mostly made their way up north by coach.

Looking back at the High Wycombe squad, Mark West was already a schoolboy with West Ham but later became a Wanderers legend – ten years later scoring the winning goal in the 1991 FA Trophy Final at Wembley. Graham Bressington also played for Wanderers while a non-League side, before having a Footballl League career with Lincoln City and Southend United. Kevin Keen played for Wanderers as a 15 year old while his father Mike was Manager at Wycombe, before a professional career with West Ham, Wolves, Stoke City and Macclesfield. Keith Dublin made his name at Chelsea, Brighton, Watford and Southend.