All the news stories from June 2020
TRUST NEWS UPDATE TO MEMBERS
(Monday 29th June 2020)
Wycombe Wanderers Trust provided an update to members on 29th June 2020 via an email and update to their website. The updates included: Season Ticket discussions, pitch renovation, new Wi-Fi installation at Adams Park and a warning over the protection of the 25% stakeholding of the Trust in Wycombe Wanderers Football Club.
Read more at wycombewandererstrust.com
AGENT FEES FOR 2019/20
(Wednesday 24th June 2020)
Intermediary-fees and transactions for the 2019-20 season were published by the FA on 24th June 2020. Wycombe Wanderers were the 3rd lowest in League One with £25,868 compared to £19,500 for same period last year (only Rochdale and Bolton Wanderers were lower). Sunderland were top of this table with £1.34m, with the next highest Coventry City with a spend of £353,632. The transaction detail shows 16 different Wycombe players.
Read full details via thefa.com
ROB COUHIG ADDRESSES FEEDBACK
(Thursday 18th June 2020)
Club CEO Rob Couhig moved quickly to allay criticism of the prices rises and restricted refunds for Season Tickets for the 2020/21 season. Firstly commenting on the large increase for junior tickets Couhig said: "No longer are we willing to offer free tickets to children, or any fan for that matter. I don't know of any organisation in the entertainment or leisure industries that welcomes children for free. How can you teach anyone the value of a ticket to an experience if that ticket has no price attached to it?" However, Couhig accepted the price was too high and the increase would now be from £90 to £95, rather than £190, with refunds made to anybody who had already purchased. It was also agreed that pro-rata rebates would be offered for games played behind closed doors in addition to access to viewing all home games via the iFollow streaming service.
Read Rob Couhig's full statement via wycombewanderers.co.uk
SEASON TICKET DETAILS 2020/21
(Friday 19th June 2020)
There was mixed reaction from supporters after the Club released Season Ticket details for the 2020/21 season on 19th June 2020. Adult Season Ticket prices increases were between 19-25% while there were price rises for juniors in the Family Stand up from £90 to £190.
The press release stated: "The club have brought prices in line with what it believes represents fair value for money. These prices remain consistent regardless of which division the club will be in next season." Terms and conditions of the Season Tickets also stated that no refunds would be made for any games played behind closed doors, thus leaving many supporters unsure of their benefit of renewing during such uncertain times. Other fans also commented that automated emails had not been received via ticket agency TicketCo.
Read full details via wycombewanderers.co.uk
ROB COUHIG ON TICKET PLANS
(Thursday 18th June 2020)
Wycombe Wanderers CEO Rob Couhig published a statement on 18th June 2020 where he outlined his thoughts ahead of releasing Season Ticket details for the 2020/21 season. He said: "We needed to make a realistic plan for the coming year. Of course, this was complicated by the fact that the present season has not concluded, there is uncertainty over which league in which we will play (although I have a belief as to which one!)." The comments come as suggestions that the new season will start in September and is likely to be behind closed doors but with contingency to limit a 'socially distanced' crowd to Season Ticket holders only capped at 25% of capacity of Adams Park.
Read Rob Couhig's full statement via wycombewanderers.co.uk
TICKET REFUND OPTIONS
(Thursday 18th June 2020)
The Club announced on 18th June 2020 a wide range of options of claiming back or waiving (part or full) previously purchased matchday tickets and season tickets for unfulfilled games during the curtailed 2019/20 season. The Club also said that any waived money will be put towards the playing budget for 2020/21. Season Ticket information for the 2020/21 campaign will be published on 19th June 2020.
Read full details via wycombewanderers.co.uk
AINSWORTH "WE'RE NOT LUCKY"
(Saturday 13th June 2020)
Gareth Ainsworth defended Wycombe's chance to compete in the play-offs after his team finished 3rd in the table on PPG. Speaking to the Daily Mirror, he said: "We don't feel 'lucky'. We still feel we had a chance of automatic promotion if the season continued." The response follows other media outlets, close to clubs who didn't achieve enough points during the season to qualify on PPG, going into a tail-spin over Wycombe Wanderers' wrongly perceived actions of voting to curtial the season. The Wanderers boss added: "We didn't lobby for PPG because we knew it would favour us and wouldn't have looked right."

EFL CONFIRM PLAY-OFF DATES
(Friday 12th June 2020)
The dates of the League One Play-Offs were confirmed by the EFL on 12th June 2020 as follows:

Friday 3rd July 2020
Portsmouth v Oxford United 5.30pm
Fleetwood Town v Wycombe Wanderers 7.30pm

Monday 6th July 2020
Oxford United v Portsmouth 5pm
Wycombe Wanderers v Fleetwood Town 7.30pm

Monday 13th July 7.30pm
Final at Wembley Stadium

All games will be played 'behind closed doors' and shown live on Sky Sports. The ties will not be available via the any of the club's iFollow streaming services.
THE COUHIG'S ON THE PLAY-OFFS
(Thursday 11th June 2020)
The Club confirmed on 11th June 2020 that loanees Paul Smyth, Giles Phillips, Nnamdi Ofoborh and David Stockdale have all had their deals extended with Wycombe to cover the play-offs. Meanwhile, Craig Mackail-Smith is back training with the squad following the end of his loan with Stevenage but will not be permitted to feature in the play-offs. Millwall loanee Jason McCarthy had already returned to his parent club due to financial implications of extending the loan.

THE COUHIG'S ON THE PLAY-OFFS
(Wednesday 10th June 2020)
The Club continued their #ChairboysLive feature via their official YouTube channel on 10th June 2020 where Wanderers' Head of Media Matt Cecil was joined by Rob, Missy and Pete Couhig to look ahead to the play-offs.

WANDERERS BEST EVER FINISH
(Tuesday 9th June 2020)
Wanderers' final placing of 3rd place in the 3rd tier of English football is the highest ever in the 133 year history of the Club and sets up a chance to reach the 2nd tier for a first time. The achievement comes 25 years after Wycombe missed out on a play-in chance at the end of the 1994/95 season, when Martin O'Neill's side finished 6th but were not granted a play-off spot due to re-structuring of numbers of clubs competing in a reduced Premier League.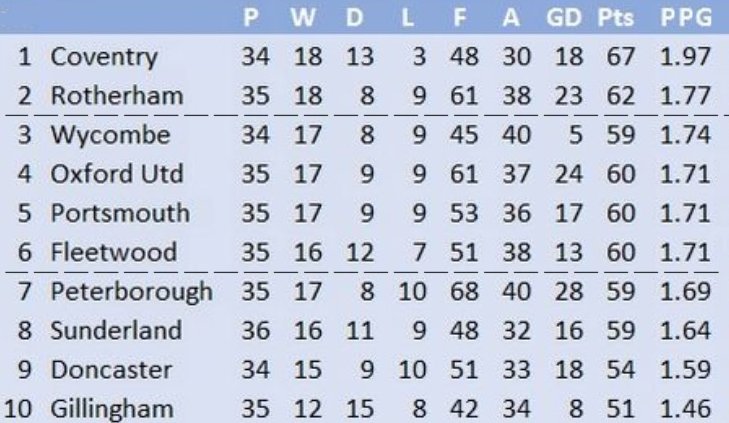 WANDERERS CONFIRMED 3rd
(Tuesday 9th June 2020)
Wycombe Wanderers were confirmed as finishing in 3rd place in League One for the curtailed 2019/20 season following the outcome of the Extraoridinary EFL meeting on 9th June 2020. A statement from the EFL said: "League One Clubs have voted by an overwhelming majority to formally end the 2019/20 season."
It's understood the only clubs to vote against the proposals were Peterborough United, Portsmouth, Ipswich Town, Sunderland and Tranmere Rovers. The decision means that Wycombe will travel to 6th placed Fleetwood Town in the 1st leg of the Play-Off Semi-Final, with the winners taking on the victors of the Portsmouth (5th) v Oxford United (4th) Semi-Final. Dates for the ties had yet to be decided at the time of EFL statement.
Full statement via the EFL website
EFL UPDATE
(Wednesday 3rd June 2020)
The FFL released a statement on 3rd June 2020 confirming the end of consultation with Clubs over varying proposals to determine what will happen in the event the 2019/20 season is curtailed in any EFL Division. A formal meeting is scheduled for Tuesday 9th June 2020.
Full statement via the EFL website
NEW LOOK TRUST WEBSITE
(Monday 1st June 2020)
Wycombe Wanderers Trust launched a new look website on 1st June 2020, with a revised 'Mission Statement' of 'To protect the "supporter quarter" and keep Adams Park 100% Trust-owned.
Trust Chairman Nigel Kingston commented: "Wycombe Wanderers Trust is a vital link for supporters to be able to have their say about the way our Club is run and we need to preserve that influence. Following the sale of 75% of the Club to Rob Couhig and Feliciana, it is vital that we protect and safeguard the remaining 'supporter quarter' – and keep Adams Park 100% Trust-owned. In order to do that, we need to raise money for the Club through the Trust – now more than ever and this new website will play a central role in the new campaign."
Read more at wycombewandererstrust.com

Previous month ||| Latest news from chairboys.co.uk