Getting there
By Car: (approx 40 miles from HW)
A few routes to choose from but for those opting for the motorway go via the M40 east, M25 north to join the M1 northbound. Proceed on M1 until junction 10 and follow the A1081 signposted Luton (S). After ½ mile turn left at junction 10A and into London Road. After another mile turn left at roundabout onto flyover. Just before the next roundabout, turn left into Dallow Road and then look for a left turn into Clifton Road. Ground is just over the bridge.
Parking is street parking but it may be better to park nearer the town to reduce the risk of car crime. Check www.rac.co.uk for specific or more detailed directions.
Train: Nearest station Luton. Trains run from London Kings Cross Thameslink. Kenilworth Road is around a 15 minute walk from the Station. Turn right out of station and follow road towards Sainsburys. Turn left near the dual carriageway and onto pathway. Follow pathway until the roundabout complex at Dunstable Road. Turn right and then down onto the road. Take the first left for the ground. Check www.nationalrail.co.uk for specific times and connections of trains.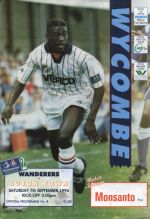 KNOW YOUR HISTORY
The first League meeting between the two sides in September 1996 marked the official opening of the Woodlands Stand at Adams Park.

The two sides did meet once before - a friendly in November 1971 arranged as part of the deal that took Viv Busby to Kenilworth Road the previous year. The game ended 1-1 before a gate of 1,499 at Loakes Park. Vic Halom scored for the Hatters with John Delaney equalising for Wycombe.

The meeting between the two sides on 24th March 2015 was Wanderers' 1000th Football League game.
Chairboy Connections
Players who have played for both Clubs.


Indicates profile available by clicking name.

Lee Angol - Former Tottenham Hotspur youth player who was signed by Gary Waddock at Wycombe in July 2012. However, only made three First Team apps for Wanderers during a two year spell that also saw him loaned to Hendon, Maidenhead United and Boreham Wood. Signed for The Hatters on a free from Wycombe in July 2014 but was loaned out for a season to Boreham Wood where he scored 30 goals in all competitions before departing Luton in the summer of 2015 without having made a First Team app in a Hatters shirt. Subsequently signed for Peterborough United at the start of the 2015/16 season.



Will Antwi - Defender who made 55 appearances for Wycombe during a four year spell having signed on a free from Aldershot Town in May 2005. Subsequently had a two year spell with Dagenham & Redbridge before joining The Hatters in the Conference in July 2011 on a six month deal. Scored twice in 12 appearances before time with Staines Town and then a switch to AFC Wimbledon in September 2012.

Trevor Aylott - Scored 10 goals in 32 appearances for The Hatters between 1983 and 1984. Previously at Crystal Palace and Millwall and has also played for Bournemouth and Birmingham City. Made three Conference appearances for Wycombe in 1993 while on loan from Gillingham.

Matthew Barnes-Homer - Striker who made a solitary appearance for Wycombe in March 2007 - appearing just once before joining Conference side Kidderminster Harriers where he scored 34 goals in 98 League appearances. Enjoyed a relatively successful spell with The Hatters in the Conference between January 2010 and February 2012 - scoring 19 goals in 64 appearances. Amongst other clubs, had also had a successful spell with Macclesfield Town.

Andre Boucaud - Former QPR and Reading youngster but made his Football League debut while on loan at Peterborough United in March 2003. After a permanent spell with Posh moved to non-League Kettering Town in 2006 before spending the 2007/8 season at Wycombe where he made 10 League appearances. Returned to Kettering before a loan switch to York City in the first half of the 2010/11 season. That move was made permanent in January 2011 and he spent a year with The Minster Men, making 40 Conference apps before signing for Luton Town in January 2012. Joined Notts County on loan in August 2012 after falling out of favour with Hatters boss Paul Buckle. The deal was made permanent in January 2013 and he totalled more than 70 First Team appearances before his release in May 2014 and a switch to Dagenham & Redbridge.



Viv Busby - Spent four seasons with Wycombe in the late 1960's before moving into the full-time game with Luton Town in January 1970. Made 77 League appearances for The Hatters before moving to Newcastle United. Went on to make 100 plus appearances for Fulham before spells with Norwich City, Stoke City, Sheffield United, Blackburn Rovers and York City. Moved into coaching after his playing career finished.



Steve Claridge - Spent four month at Luton at the start of the 1992/93 season - making 20 apperances and scoring 6 times. The much travelled striker did his time at Wycombe in the second-half of the 2004/5 season under John Gorman.

Peter Cruse - Made 4 Football League appearances for The Hatters in the 1973/74 season. Went on to appear 15 times for Wycombe during the 1976/77 season.



Darren Currie - Former Wycombe favourite who who joined Luton in February 2007 - making 31 League appearances before signing for Chesterfield in the summer of 2008. Originally made his Football League debut while on loan to Shrewsbury Town from West Ham United during the 1994/95 season. Joined The Shrews on a permanent basis the following season before a short spell at Plymouth Argyle at the end of the 1998/99. Then spent three years at Barnet before joining Wycombe in the summer of 2001 for £200,000. Left in the summer of 2004 and eventually joined Brighton before a £250,000 move to Ipswich Town. Also played on loan at Coventry City and Derby County before moving to The Hatters.



Gary Doherty - Experienced central defender who joined Wanderers on loan in February 2012. Originally started his pro career with Luton Town in 1997 before time with Tottenham Hotspur and Norwich City before joining Charlton Athletic in 2010.

Anthony Grant - Defender who spent the 2006/7 season on loan at Wycombe from Chelsea - making 49 First Team appearances under Paul Lambert. Made five appearances for Luton, also on loan from Chelsea, the following season before switching to Southend United on loan for the second-half of the 2007/8 season and then making the deal permanent in August 2008. Also played made two appearances for Oldham on loan while at Chelsea prior to joining Wycombe.

Michael Harriman - Midfielder who originally made 20 loan appearances at Wycombe from Queens Park Rangers during the 2012/13 season. The following season he spent time on loan at Gillingham before an eventual season long loan with The Hatters for the 2014/15 season where he scored twice in 35 League Two appearances. Rejoined Wanderers on loan at the start of the 2015/16 season.



Alfie Mawson - Player of the Season for Wanderers in 2014/15 while on loan from Brentford. Previously made one loan appearance for The Hatters during the 2013/14 season. His performance and goal in the Luton/Wycombe live TV game in March 2015 is reported to have attracted the interests of several scouts and prompted his subsequent move to Barnsley in June 2015.

Dean Morgan - Well travelled striker who signed for Wycombe in September 2012 from Chesterfield in what turned out to be Gary Waddock's last permanent signing as Wanderers Manager. Scored 15 times in 57 League games for Wycombe before switching to Woking at the start of the 2014/15 campaign. Started his senior football with Colchester United in the 2000/2001 season. Went on to score 11 goals in 88 appearances for The Hatters in a four year spell starting from the summer of 2005.



Sam Parkin - Striker who earned fame at Wycombe during the 2000/2001 run to the semi-final of the FA Cup while on loan from Chelsea. Went to Oldham on loan towards the end of that season before spending the 2001/2 season on loan at Northampton Town. Went to have a successful spell with Swindon Town. Spent the 2005/6 season at Ipswich Town before a £340,000 move to Luton Town in August 2006. Scored nine goals in 35 appearances before being loaned out to Leyton Orient in October 2008.

Paul Read - Former Arsenal apprentice. John Gregory signed him for Wycombe in January 1997 for an initial fee of £35,000. Scored 12 goals in 65 appearances before being released at Wycombe by Lawrie Sanchez in May 1999. Subsequently played in Sweden before returning to the UK where he made one First Team appearance for Luton Town in December 1999 before moving to Exeter City. Spent two years with The Grecians, making 26 League appearances before retiring from the playing side in 2002.



Scott Rendell - Striker who joined Wycombe in June 2010 from Peterborough United - scoring 22 times in 54 appearances. Made five appearances for Bristol Rovers during the 2011/12 season on loan from The Wanderers and then 18 appearances on loan at Oxford United before signing for Luton Town in June 2012. Scored 8 goals in 37 Conference appearances for The Hatters before a move to Woking in September 2013. Previous clubs also include two spells with Cambridge United

Ben Roberts - Goalkeeper on loan at both clubs in the 1990's from Middlesbrough - making 15 Wycombe apperances in 1995/96 under Alan Smith, while his spell with The Hatters came in the 1999/2000 season where he made 14 First Team apps. Has also played for Bradford City, Millwall, Charlton Athletic, Reading and Brighton before being forced to retire in 2005 aged 29 due to a back injury.



Barry Silkman - Made three appearances on loan for Luton in 1978 from Plymouth Argyle. Spent a month at Wycombe during the 1986/87 season - making eight appearances. Best remembered for his time with Orient



Danny Spiller - Made a single appearance for Wanderers (a 4-0 home League Cup defeat to Peterborough in August 2009) after signing a short term contract under Peter Taylor following his release from Millwall. Has made just 10 First Team apps for Millwall in two years after signing from GIllingham in the summer of 2007. Played for Welling and then Dagenham & Redbridge following his release from Wycombe at the end of August 2009. Signed a two year deal with Luton in June 2012 but injury meant he made no First Team appearances.

Matt Spring - Midfielder who began his career at Luton Town in 1997, where he made 289 First Team appearances before spells at Leeds United and Watford. Rejoined The Hatters in January 2007 for £200,000 fee from Watford before a move to Charlton Athletic two years later. Signed for Wanderers in July 2012 following his release from Leyton Orient the previous season. Had made close to 100 apps for The O's in a two year spell having joined from Charlton in June 2010. Released by Gareth Ainsworth at the end of 2013/14 season having made 30 League appearances in two years.

Also:
Mike Keen - Made 144 Football League appearances for The Hatters between 1968 and 1972. Wycombe born Keen went on to Manager The Wanderers in the early 1980's - winning the Isthmian League in season 1982/83.

Wayne Turner - Former Luton defenderhad a brief spell as coach at Adams Park in 1998 under Neil Smillie.

Paul Buckle - Midfielder who made three appearances at Wycombe during the 1992/93 season while on loan from Brentford where he was a trainee. Appointed Luton Town Manager in April 2012 and took The Hatters to the Conference Play-Off Final in May 2012 where they lost to York City. Sacked by Luton in February 2013.

Hakan Hayrettin - Midfielder who made 19 appearances for Wanderers during their debut season (1993/94) in the Football League under Martin O'Neill. Joined the coaching set-up at Luton under John Still in July 2013. Best remembered for his winning goal against Preston North End in a Division Three game at Deepdale.

Other player connections include:
Luke Bolton, Jake Gray (Wycombe Wanderers Youth Team), Craig Mackail-Smith, Marek Stech
Chairboys all-time record against The Hatters
DATE
Comp
V
Res
SCORE
Att
Sat, Sep 7, 1996
FL2
H
L
0-1
6,471
Tue, Apr 8, 1997
FL2
A
D
0-0
7,626
Sat, Nov 1, 1997
FL2
H
D
2-2
6,219
Sat, Mar 7, 1998
FL2
A
D
0-0
6,114
Sat, Aug 8, 1998
FL2
H
L
0-1
5,252
Sat, Jan 9, 1999
FL2
A
L
1-3
5,063
Tue, Oct 19, 1999
FL2
A
D
1-1
5,820
Sat, Apr 29, 2000
FL2
H
L
0-1
5,379
Mon, Aug 28, 2000
FL2
H
D
1-1
6,001
Fri, Jan 12, 2001
FL2
A
W
2-1
4,551
Sat, Dec 28, 2002
FL2
H
L
1-2
7,740
Sat, Jan 25, 2003
FL2
A
L
0-1
7,351
Sat, Oct 11, 2003
FL2
A
L
1-3
5,695
Sat, Feb 14, 2004
FL2
H
D
0-0
6,407
Sat, Dec 4, 2004
FAC2
H
L
0-3
4,767
Sat, Dec 13, 2008
FL3
H
D
0-0
5,567
Tue, Apr 21, 2009
FL3
A
W
1-0
6,553
Fri, Dec 26, 2014
FL3
H
D
1-1
7,539
Tue, Mar 24, 2015
FL3
A
W
3-2
8,379
Sat, Dec 26, 2015
FL3
A
W
2-0
9,676
Sat, Jan 6, 2016
FL3
H
L
0-1
4,598
Sat, Sep 3, 2016
FL3
A
L
1-4
8,097
Sat, Jan 21, 2017
FL3
H
D
1-1
5,387
Sat, Sep 16, 2017
FL3
H
L
1-2
5,512
Tue, Jan 30, 2018
FL3
A
W
3-2
8,564
Sat, Sep 1, 2018
FL2
H
D
1-1
6,072
Sat, Nov 10, 2018
FAC1
A
L
0-2
5,343
Sat, Feb 9, 2019
FL2
A
L
0-3
10,072
Sat, Oct 3, 2020
Ch
A
L
0-2
BCD
Sat, Apr 10, 2021
Ch
H
L
0-3
BCD
Key:
FL2= Football League Division Two/'League One'
FL3= Football League Division Three/'League Two'
Ch= Championship
FAC= FA Cup
Click date for match report