1000 GAME LANDMARK FOR WYCOMBE
(First published Monday 16th March 2015 - stats updated 19th March 2015)


Wycombe Wanderers will hit two significant landmarks in their Football League history during March 2015. The home game with Accrington Stanley scheduled for Tuesday 17th March 2015 will be Wanderers' 500th home game in the Football League, while the away game at Luton Town the following Tuesday will be the 1000th Football League encounter for Wanderers since they made their debut back in August 1993 at Carlisle United.

The total has been reached in just over of 21 seasons, 12 of which were spent in the third tier (Division Two and League One). During that period Wanderers have gone through 10 permanent managers, with Gareth Ainsworth being the 11th.


To reach the landmarks, Wanderers have used 330 different players. Steve Brown tops the appearance makers for Wanderers in the Football League games with 371 to his name followed by Keith Ryan on 351. Current squad member Matt Bloomfield sits third in the current ranking on 308. Goalkeeper Martin Taylor holds the current record for consecutive appearances in Football League matches for Wanderers with 115 back to back apps between January 2000 and August 2002. Current 'keeper Matt Ingram had 90 to his name prior to the game with Accrington. At the other end of the scale, Aaron Patton (May 1998) and Jerome Federico (Sep 2010) both appeared as 89th minute substitutes for Wanderers in the Football League but failed to add to their minute of fame in a Wycombe shirt.


Top scorer is Nathan Tyson with 42 League goals during his all but too brief spell with the Wanderers. Scott McGleish clocked up the most in one season when he bagged 26 goals during the 2007/2008 season under Paul Lambert. Tyson also holds the record for a transfer fee received by the Wanderers when Nottingham Forest paid £675,000 for his services in January 2006. The most Wanderers have paid out for a player was £200,000 - Sean Devine and Darren Currie both commanding this fee when they moved from Barnet in March 1999 and July 2001 respectively.


Jordon Ibe became the youngest player to date to appear in the Football League for the Wanderers when he came on as substitute in the game at Hartlepool on 15th October 2011 aged 15 years and 311 days. 14 days later he became the youngster player to score a League goal for Wanderers when he netted at home to Sheffield Wednesday. Ibe joined Liverpool in December 2011 for a fee in the region of £600,000. The oldest player to date to take the field for Wanderers in the Football League is Rob Lee. The former England International joined Wanderers in March 2005 when John Gorman was Manager. He made his final League appearance for Wanderers aged 40 years and 87 days in the penultimate game of the 2005/6 season. Lee surpassed the previous record held by Ray Wilkins, who was 7 days short of his 40th birthday when he made a one-off appearance for Wanderers in September 1996. Current boss Gareth Ainsworth was a few days behind when he played aged 39 years and 351 days on the final day of the 2012/13 season. But he was still registered as a player at the time of this article, so you never know.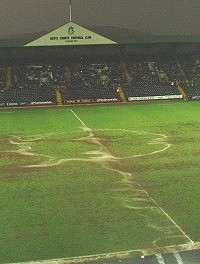 If you are counting grounds, then Wanderers have played at 93 different ones in League games. The most visited club in the Football League is Chesterfield with 15 trips for the Wanderers (plus a postponed game in December 2001). The most visited ground are Notts County's Meadow Lane with 14 visits plus an extra one for good luck when the League meeting was abandoned there in April 2001 due to torrential rain: while Wanderers have also visited Bury's Gigg Lane on 14 occasions plus an additional visit in September 2001 when the match didn't start because of a floodlight failure before kick-off.

The average home Football League attendance prior to the visit of Accrington Stanley was 5,093, while the average away attendance before the visit to Kenilworth Road was 5,541. The total number of spectators to make their way to Wanderers' games in the Football League is a fraction over 5.3 million.

Need more stats? chairboys.co.uk has compiled this lot.


Wycombe Wanderers' Football League record

Div 3   Pl   W   D   L  GF  GA Pts  Pl  Top scorer
1993-94 42  19  13  10  67  53  70  4th Scott 10

Div 2   Pl   W   D   L  GF  GA Pts  Pl  Top scorers
1994-95 46  21  15  10  60  46  78  6th Garner & Regis 9
1995-96 46  15  15  16  63  59  60 12th DeSouza 18
1996-97 46  15  10  21  51  56  55 18th Carroll 9
1997-98 46  14  18  14  51  53  60 14th Stallard 17
1998-99 46  13  12  21  52  58  51 19th Devine 8
1999-00 46  16  13  17  56  53  61 12th Devine 23
2000-01 46  15  14  17  46  53  59 13th Rammell 10
2001-02 46  17  13  16  58  64  64 11th Rammell 11
2002-03 46  13  13  20  59  66  52 18th Faulconbridge 6
2003-04 46   6  19  21  50  75  37 24th Tyson 9

Leag 2  Pl   W   D   L  GF  GA Pts  Pl  Top scorer
2004-05 46  17  14  15  58  52  65 10th Tyson 22
2005-06 46  18  17  11  72  56  71  6th Mooney 17
2006-07 46  16  14  16  52  47  62 12th Easter 17
2007-08 46  22  12  12  56  42  78  7th McGleish 26
2008-09 46  20  18   8  54  33  78  3rd Harrold 9

Leag 1  Pl   W   D   L  GF  GA Pts  Pl  Top scorer
2009-10 46  10  15  21  56  76  45 22nd Harrold 8

Leag 2  Pl   W   D   L  GF  GA Pts  Pl  Top scorer
2010-11 46  22  14  10  69  50  80  3rd Rendell 14

Leag 1  Pl   W   D   L  GF  GA Pts  Pl  Top scorer
2011-12 46  11  10  25  65  88  43 21st Beavon 21

Leag 2  Pl   W   D   L  GF  GA Pts  Pl  Top scorer
2012-13 46  17   9  20  50  60  60 15th McClure 11
2013-14 46  12  14  20  46  54  50 22nd Morgan 8
2014-15 37  18  14   5  54  34  68  3rd Hayes 9


Totals  Pl   W   D   L   GF   GA Pts    Top scorers
       999 347 306 346 1245 1228 1347   Tyson 42, Carroll 41,
                                        Devine 41
Top ten Football League appearances for Wycombe:
Steve Brown (371) - February 1994 to May 2004
Keith Ryan (351) - August 1993 to April 2005
Matt Bloomfield (308) - December 2008 to present
Dave Carroll (302) - August 1993 - January 2002
Jason Cousins (296) - August 1993 to January 2002
Michael Simpson (285) - January 1997 to April 2004
Danny Senda (276) - March 1999 to May 2006
Martin Taylor (238) - March 1997 to December 2002
Chris Vinnicombe (221) - August 1998 to May 2004
Paul McCarthy (212) - August 1996 to February 2003

Goalscoring Records - League games
Biggest winning margin (home)
Biggest winning margin (away)
5-0 Burnley 15 April 1997
5-0 Hartlepool 4 Feb 2012
5-0 Northampton Town 4 Jan 2003
Biggest losing margin (home)
Biggest losing margin (away)
0-6 Huddersfield 6 Jan 2012
0-6 Stockport 8 Dec 2007
0-6 Huddersfield 14 Nov 2009

Highest scoring draw (home)
Highest scoring draw (away)
3-3 Mansfield 17 Aug 2002
3-3 Chesterfield 23 Aug 2003
3-3 Chester City 1 Oct 2005

3-3 Stockport 10 Sep 2005
3-3 Peterborough 31 Mar 2007
3-3 Brentford 14 Mar 2009

Highest aggregate score (home)
Highest aggregate score (away)
L 4-5 Macclesfield 2 Jan 2006
L 3-6 Peterborough 28 Sep 1996
Attendance Records - League games
Top 5 highest home attendances
Top 5 highest away attendances
9,625 v Notts County (2nd May 2009)
9,250 v Reading (26th Feb 2002)
9,250 v QPR (27th Aug 2001)
8,567 v Southend (7th May 2011)
8,438 v Watford (22nd Feb 1997)

38,082 v Sheff Wed (5th May 2012)
29,337 v Man City (24th Apr 1999)
24,383 v Leeds Utd (9th Jan 2010)
23,428 v Norwich C (22nd Aug 2009)
19,596 v Sheff Wed (30th Jan 2004)

Lowest home attendance
Lowest away attendance
2,185 v Fleetwood (11th Feb 2014)
1,050 v Accrington S (15th Dec 2012)
Other stats - League games only
Most consecutive wins - 6 (19 Aug 2006 to 16 Sep 2006)
Longest spell unbeaten within season - 21 (6 Aug 2005 to 10 Dec 2005)
Most consecutive defeats - 6 (March/April 2006)
Most consecutive draws - 5 (Jan/Feb 2004)
Longest spell without a win - 13 - three times
(twice during season 2003/4 and once during 2007/8)
Most consecutive games without a draw - 14 twice
(1 Jan 1994 to 29 Mar 1994 and 26 Dec 2011 to 6 March 2012)
Most consecutive games goals scored - 16 (13 Sep 2015 to 26 Dec 2015)
Most consecutive clean sheets - 5 (16 Aug 2008 to 13 Sep 2008)
Most consecutive games goals conceeded - 17 (27 Sep 2011 to 14 Jan 2012)
Most consecutive games without scoring - 5 - three times
(March 1995, Oct/Nov 1996 and Aug/Sep 2011)
Most common results - 1-1 (148 times), lost 0-1 (102), won 1-0 (97), 0-0 (95)

Click here for all the latest from chairboys.co.uk
---
---

FANS
FORUM
See comments and updates via
www.gasroom.co.uk
---