1993-94 - more memories from chairboys.co.uk
Wanderers prepare for their Football League debut


As the 20 year anniversary of Wanderers' debut in the Football League passes on 14th August 2013, chairboys.co.uk takes another look back on an historic season for the Club. This time around we plan to reproduce match reports from every First Team game (the first time on the internet), to compliment the retro articles first published during the 2003/4 season.

Refresh the page on the following link throughout the 2013/14 season to find the latest reports:
1993-1994-RESULTS, SCORERS, ATTENDANCES - MORE REPORTS >>>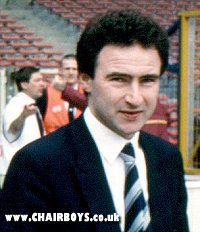 Wanderers had earned their promotion to the Football League following a triumphant 1992/93 campaign where they had won the Conference and FA Trophy double. During the close season Manager Martin O'Neill had turned down an approach from Nottingham Forest to become their boss - saying, "I've got a great affection for Forest, especially their fans but I honestly couldn't leave Wycombe at such an important and exciting time. I would genuinely love to see Forest go right back to the top and I have this silly little dream that I would love to see us join them there."

The eargerly awaited fixtures for the 1993/94 season were released in June 1993 and pitched Wanderers with a 600 round trip to play Carlisle United. However, before the start of the season Martin O'Neill was in contract discussions with all of his squad, with much of time spent on deciding who would be offered full-time contracts. In the end only Ty Gooden was released prior to the start of the season, while the solitary new signing was Barnet defender Duncan Horton. Speaking of the decision to release Gooden, O'Neill said, "It was a hard decision to make. But over a two-year period he had not really done it here. While he hoped I would offer him a full-time contract, I thought he would do better elsewhere."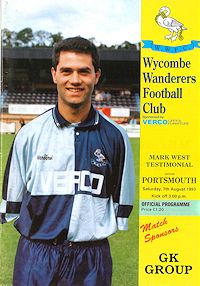 Highlights of Wanderers pre-season programme had been home friendlies with Swindon Town and Portsmouth. A crowd of 2,832 saw Wycombe come from behind twice to draw 2-2 with then newly promoted Premier League Swindon - and perhaps Town Manager John Gorman was impressed with Wycombe striker Keith Scott who struck home Wanderers second equaliser. Meanwhile, the meeting with Pompey was also Mark West' testimonial. 2,712 (paying £6 to stand and £8 to stand) gave Westy a resounding reception but the visitors (who had missed out on promotion to the Premier League via the play-offs at the end of the 1992/93 campaign) triumphed 3-0 with a brace from Paul Walsh in the first half and a third early in the second by Alan McLoughlin. Wycombe included David Titterton as a trialist from Hereford United.

Despite Wycombe's lack of signings, bookmakers still made had Martin O'Neill's side 9-2 favourites to take the Division Three championship, with the Wycombe boss reacting, "We had a quiet chuckle to ourselves when we saw our odds, but not as big a laugh as they must have had at places like Preston and Crewe." More seriously, O'Neill was surprised to discover that from the start of their League campaign, Wycombe would not be on an even financial footing with their rivals, explaining ""All clubs in Division Three receive money from a central pot of around £150,000. But the club coming up have to share their bit with the relegated team so we get £75,000 and Halifax get the other £75,000. I don't want to deny Halifax money but I think it's pretty hard on the side coming up. After what's happened in the past you would think the League would want to make the passage as comfortable as posible. That £75,000 could have paid four or five players wages for a year, so we start from a negative position."

However, Wanderers had been boosted by record season ticket sales totalling over 2,000 and netting £200,000 in income, compared to £90,000 sold the previous season in the Conference. This came dispite price rises of around 30% with terrace season tickets for adults costing £102 and seats £136. And many of those season ticket holders headed north on the weekend of Saturday 14th August 1993 to visit Brunton Park and see Wanderers kick-off their first ever Football League campaign. Read the match report >>>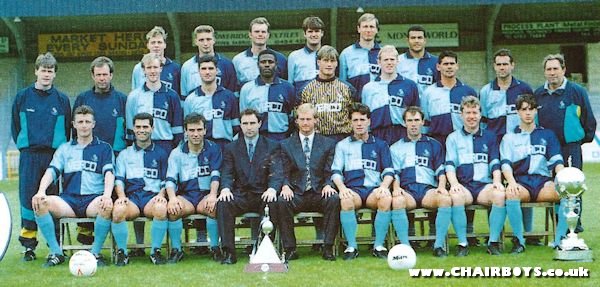 Wycombe Wanderers First Team squad - July 1993
Back row: Steve Guppy, Simon Stapleton, Keith Scott, Matt Crossley, Anton Vircavs , Hakan Hayrettin.
Centre row: Dave Jones (Physiotherapist) , Jim Melvin (Youth Team Coach), Dave Carroll, Jason Cousins, Andy Kerr, Paul Hyde, Keith Ryan, Geoff Cooper, Duncan Horton, John Reardon, (Kit Manager)
Front row: Glyn Creaser, Mark West, Tim Langford, Martin O'Neill (Manager), Paul Franklin (Coach), Dennis Greene, Steve Thompson, Kim Casey, Simon Hutchinson.