All the news stories from July 2018
MAIDENHEAD 1 WYCOMBE 1
(Friday 27th July 2018)
Wanderers drew 1-1 at Maidenhead United in their final pre-season friendly before the start of the 2018/19 campaign. Returning loanee Watford midfielder Randell Williams was on target for Wanderers on 71 minutes to equalise Ryan Bird's early opener for the home side.
Maidenhead 1 Wycombe 1 - report,stats,reaction,highlights
WILLIAMS RETURNS ON LOAN
(Friday 27th July 2018)
Wanderers announced shortly before their pre-season friendly with Maidenhead United on Friday 27th July 2018 that Watford striker Randell Williams had re-joined the Club on a loan deal running until 2nd January 2019. The 21-year-old originally joined Wanderers on loan in January 2018 - overcoming injury before making six appearances and scoring a crucial winning goal in the match at Yeovil in April 2018. He will continue to wear the No.24 in the Wanderers squad.
O'NIEN OFF TO SUNDERLAND
(Friday 27th July 2018)
There was surprise news for Wycombe followers on Friday afternoon (27th July 2018) when an unconfirmed news story broke that Luke O'Nien was set to sign for Sunderland. Wanderers confirmed the news later in day, with the deal expected to be completed over the weekend in a Club statement that also said: "With O'Nien's contract due to expire next summer, the club have taken the decision to allow the 23-year-old to pursue his career at the Stadium of Light, joining the Black Cats for an undisclosed fee."
CHESHAM 1 WYCOMBE 2
(Tuesday 24th July 2018)
A late goal from substitute Craig Mackail-Smith saw Wanderers register their first pre-season victory before the 2018/19 campaign. However, the 2-1 victory over Chesham United at a sun-drenched Meadow was dampened by another frustrating injury to striker Scott Kashket.
Chesham 1 Wycombe 2 - report,stats,reaction
HAVANT & W 2 WYCOMBE 0
(Saturday 21st July 2018)
Wanderers conceeded a brace of penalties as they went down 2-0 at Havant & Waterlooville. The Hawks Alfie Pavey converted both spot kicks past Ryan Allsop as Wycombe were described as being 'well below par' by Manager Gareth Ainsworth in his post-match interview.
Havant & W 2 Wycombe 0 - report,stats,reaction,highlights
WYCOMBE 0 BRENTFORD 1
(Tuesday 17th July 2018)
A 75th minute penalty converted by Marcus Forss was enough for Brentford to secure a 1-0 victory over Wanderers in a pre-season friendly on a warm evening at Adams Park. Wycombe's second pre-season match, following their narrow defeat to West Ham the previous Saturday, proved another experimental session for Manager Gareth Ainsworth who again used a different starting XI in each half and included three of the five triallists used in the meeting with The Hammers.
Wycombe 0 Brentford 1 - report,stats,reaction,highlights
WYCOMBE 0 WEST HAM 1
(Saturday 14th July 2018)
Wanderers suffered defeat in their first pre-season friendly prior to the start of the 2018/19 campaign - going down 1-0 to a relatively strong West Ham United side at Adams Park. The only goal of the game came on 34 minutes when Austrian International Marko Arnautovic fired past new signing Ryan Allsop. Wanderers included five trialists throughout the 90 minutes.
Wycombe 0 West Ham 1 - report,stats,reaction,highlights
THOMPSON BACK WITH WANDERERS
(Saturday 14th July 2018)
Midfielder Curtis Thompson has agreed a 'short-term' deal with Wanderers having been released by Notts County at the end of the 2017/18 campaign and spending pre-season training with Gareth Ainsworth's side. The 24 year old originally joined Wanderers on 26th January 2018 on a loan deal for the remainder of the 2017/18 season from the fellow 'League Two' side. He made seven appearances during his loan before returning to County.
Curtis Thompson - new player profile added
NEW KIT DESIGNS REVEALED
(Saturday 7th July 2018)
New design 'home' kit and goalkeeping kits were revealed by the Club this week following the news that Cherry Red Records had signed a deal to sponsor the front of Wanderers' traditional first choice light and dark blue quartered shirt. The new 'home' kit was launched at a special event at Adams Park on Saturday (7th July 2018). The design retains the quarters but also includes a distinctive swan outline in the background. A new goalkeeping kit was revealed the previous day and features another bizarre design (see below). The complete kit range will continue to be produced by O'Neill's.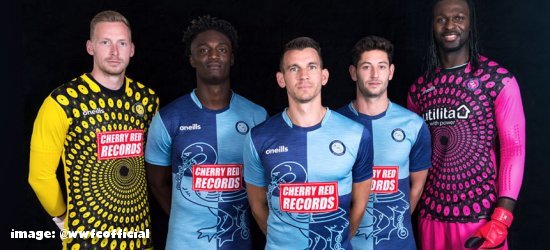 Official website press release |||

Cherry Red Records press release
CHERRY RED NEW SHIRT SPONSOR
(Thursday 5th July 2018)
The Club announced on Thursday (5th July 2018) that Cherry Red Records have agreed a deal to sponsor the front of Wanderers' 'home' shirts for the 2018/19 season. The news follows the announcement on 1st June 2018 that Beechdean would stepping down as the main sponsor of the 'home' shirt. Adam Velasco, managing director of Cherry Red Records, said: "It's a proud day for us as a business and also for me personally, being a lifelong supporter of the club going back to the days at Loakes Park. The club welcomed us with open arms when we first started working with them in 2016 and we're thrilled to now be the front of home shirt sponsor as we begin life back in 'League One'". The new design 'home' kit will be unvielled at a special event at Adams Park on Saturday 7th July 2018 - starting at 12 noon.

Previous month ||| Latest news from chairboys.co.uk