WYCOMBE WANDERERS YOUTH TEAM
at the JET 2000 TOURNAMENT
HAMAR - NORWAY - JULY 2000


reporting for Chairboys on the Net in Norway
Allan Aasterud
(updated Monday 10th July 2000)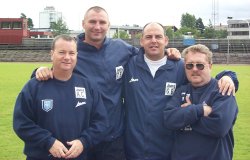 Among the 24 sides in the JET 2000-tournament, Wycombe Wanderers were one of the youngest. However, Gary Goodchild's ambitious side held no fears and wanted to do well and at least finish higher than last year's sixth place.

Wycombe were the only British side amongst the 24 entrants, with sides from Denmark and Sweden competing against the prime of Norwegian youth football. Games are 25 minutes each way with the initial stages played in eight groups of four teams. The top two teams in each group then progress to the 'A' finals, where the winners of four further groups of three teams go into the semi-finals. The teams missing out qualifying for the 'A' finals go into the 'B' finals for a similar competition.

Having just started pre-season training after a deserved six weeks holiday, Wycombe were drawn in a tough opening group. Their opponents in the first game, Ham-Kam, were outsiders in the tournament; small skillful quick players, and the manager also had three players from neighbour clubs on trial. The second game was against one of the tournament favourites Brann Bergen. The final group game was against another strong side, Moss, who have several Norwegian Under 19's in their squad.


Opening Group games
Wed 5th July (am) Ham-Kam 0 Wycombe 2 - report - reaction
Wed 5th July (pm) Brann Bergen 0 Wycombe 1 - report - reaction
Thur 6th July (am) Moss 2 Wycombe 1 - report - reaction

Final Group Table

| | | | | | | |
| --- | --- | --- | --- | --- | --- | --- |
| | W | D | L | F | A | Pts |
| Moss | 2 | 0 | 1 | 5 | 2 | 6 |
| Brann Bergen | 2 | 0 | 1 | 5 | 3 | 6 |
| Wycombe | 2 | 0 | 1 | 4 | 2 | 6 |
| Ham-Kam | 0 | 0 | 3 | 2 | 9 | 0 |
An unlucky sequence of results meant that Wycombe were forced into the in the 'B' finals - Moss and Brann going through to the 'A' finals. Brann snatched a last minute victory in their final game against Ham-Kam to go through - pipping Wycombe on goals scored.

B-Final Group matches
Thur 6th July (pm) Eik Tønsberg 0 Wycombe 3 - report - reaction
Sat 8th July Raufoss 1 Wycombe 1 - report - reaction

Once again Wycombe were unlucky not to win their group after Raufosse beat Eik 4-1 - eliminating Wycombe again on goals scored. The lads played a final group consolation game on Sunday against Bryne - winning 2-1.

The final of the tournament saw Brann Bergen beat Moss on penalties after a 0-0 draw - ironically Wycombe had beaten Brann earlier in the competition.

Click here to read a round-up of the tournament, from Wycombe's point of view. Including best goal, best player, funniest moment, worst mistake and more from Allan in Norway >>>

All reports, comments and pictures from the tournament have been provided to Chairboys on the Net, thanks to our correspondent in Norway - Allan Aasterud.
Allan would be keen to hear feedback from Wycombe fans who have read his reporting - e-mail him at rush09@hotmail.com

Return to News Desk...
---


Click here for special offers on Book's, CD's, Video's and DVD's
---

THE GAS
ROOM
Leave your own stories and comments via the Message Board