CHAIRBOYS ON THE NET
- IN THE BEGINNING
Just like Wycombe Wanderers Football Club itself, the exact date that Chairboys on the Net was released to an unsuspecting public is a bit hazey. A few things that are for sure is that the first 'match report' was the 1-0 defeat at Wrexham on Saturday 9th December 1995 and one of the first pieces of sensational news was that Jason Rowbotham's fee for his transfer from Raith Rovers has been set at £40,000 by a League tribunal.
Thankfully just a few remnant archives exist of those early efforts. And before those groundbreaking graphical delights are resurrected (scroll down slowly, if you must), it's worth making a few comments (ie excuses) for these eyesores.

These were the days before Microsoft Explorer - version 1 was still a few months away. Background colours were a novelty recently introduced by the clever bods at Netscape. Before then it was black text on a grey background. If you saw an animated graphic you thought, what the hell, can the internet get any better? If you had a modem faster than 28K you would have parted with the best part of £200. Flatbed scanners were in the order of £1000 while digital cameras were stuff for 'Tomorrows World'. The sorry tale of how the first graphic was created involves a picture taken of a Wycombe Wanderers pennant with a conventional camera and then paying for Boots' photo department to convert to photo CD. The resulting digital image was then transfered to the PC via a super fast x2 CD drive, cropped and converted to a file type and size that wouldn't take as long as an Alan Smith apology to deliver. Oh yeah, the picture of the Valley End used in the original 'Rough Guide' was borrowed off Championship Manager - probably the best use to date for that game. Yes, that's right, back then the internet was the reserve of computer geeks, students and others with far too much time on their hands. Not now of course, no way Josť.

It would be fair to say that the original home page had been literally minutes in the making and probably uploaded 'because you could'. Of course there was a slight problem with readership at the time. Hardly anybody had access to the internet, even at work and it was left to the usual suspects (see above), to spread the word. And if you were one of those (thanks), this is what is looked like.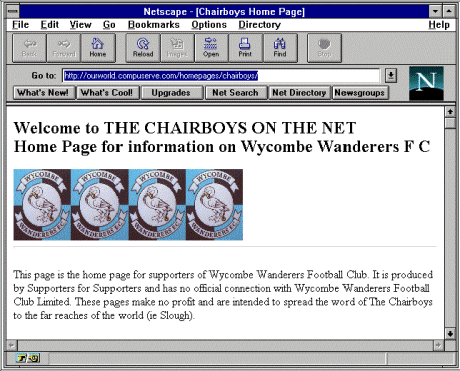 It will come as little surprise that the original front page lasted less than a week or so. Some extra graphics were added and somebody had worked out how to get a blue background (ten years later there is still debate about what the definitive shade of blue should be). A blantly plagiarised logo of music press darlings of the time 'Menswe@r' was used for the now familar graphic. Cue total oblivion for the band, although an internet search would most likely turn up the original (for those with time to spare). New Year 1996 was probably celebrated in Chairboys HQ when one of those hideous page counters had clicked into three figures. With people actually reading the site, it was time to get more serious.




Of course the only reason Chairboys on the Net exists is because of Wycombe Wanderers Football Club and the stories and history associated with a Club formed back in 1887 (so they say). And in its first ten ten years of existence it has enjoyed its fair share of stories on and off the pitch. Not quite, 'never a dull moment' but not far short, with a thriving on the parochial nature of many of the topics. Back in the early part of 1996 Chairboys on the Net had to contend with the departure of Paul Hyde, suggestions that the quarters would be scrapped, as well as rapidly declining performances on the pitch. The stories literally wrote themselves from day one and have done ever since. The following pages share a few more random thoughts, memories and graphics from those early years.



Chairboys on the Net - In the beginning 1996-1997
Click here to read all the latest Wycombe news
---
---

FANS
FORUM
Leave your own stories and comments via
www.gasroom.co.uk
---