GORMAN - I WANT TO HELP
(Friday 28th January 2005)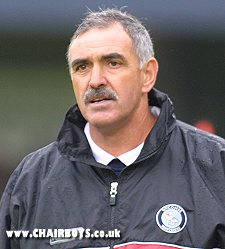 John Gorman says he wants to encourage fans back to Adams Park by winning games but while also playing attractive football. The Wycombe boss was speaking at a Fans Forum held on Thursday 20th January in The Vere Suite and arranged jointly by various Supporters' groups rather than the usual Club organised event. He said "We want to win and we want to win and play good football. I don't just want to win because I'm sorry but that's just not my way. I want us to play attractive football and win games and I believe that can happen."
The former sidekick to Glenn Hoddle also revealed that he returned to Wycombe because he had a passion to come back and was not concerned with potential money problems. He added "I didn't even think about finance. I know it's not great. I wanted to come here and help. If I'm not helping I'll be the first one to say that I'm not doing the job. I'm here to do everything I can to really try and help this team and the fans because I want to see 10,000 fans here again. I want to see them coming and say 'I can't wait to get down to Wycombe the way they play football'."
Gorman said he was looking for a blend of youth and experience to bring back the winning formula on the pitch, saying "I think that is very important. I know people say, 'Steve Claridge, 38, why are bringing in people like that'. The first reaction from people is understandable but we need a blend because it is no good for the likes of Mike Williamson and people like that unless they have got experienced people around them. They need help and they need help not only from the coaching side but from the playing side."
He backed up his like for the experienced player when asked whether he would have kept Darren Currie, Jermaine McSporran and Michael Simpson if he had been Manager at the end of last season. He said "I think everybody knows they would be (still here), there is no question. But everybody looks at players differently. I'm not going to criticise Tony (Adams) at all." He added "'Jocky' still needed things to get better but I just felt with the type of players that were here and the experience they had, then of course I would have kept them." He also confessed his particular like for Darren Currie, saying "Even the fans slaughtered him at times because he was lazy and different things but for me you need players like that in the team. You need players who have got a bit of flair, a bit of confidence and sometimes the other players have to make up for it."
New Director Steve Hayes also explained why the Board had gone with Gorman, saying they had been looking to tick a number of boxes in a wish list, saying "What we saw as really high up on the list as the sort of Manager that we wanted at this Club was somebody who was not just a 'Team Manager' but a 'Club Manager', somebody who actually cared about the Club. The Club includes being here tonight, includes mixing with people in the community and all the rest of it. John Gorman ticks all those boxes. We are very pleased to have him here. We want to work together."
Earlier in the forum, Hayes had painted a fairly bleak picture on the fincances at the Club but said he saw his investment as a challenge to try and put things right, concluding "I'm confident we can do it or I wouldn't be wasting my time and money." General Manager John Harrrison also revealed that the proposed budget for the first year of trading for the plc were "fairly optimistic" in attempting to turn a £600,000 loss into a break even situation. He commente "Quite simply the budget's that were in the business plan were pretty unrealistic. There are budgets in place for the footballing side and the non-footballing side. We've spent more money than we've budgeted on the football side and the cost cutting exercises that were in the business plan have not come to fruition for various reasons." He added "Obviously there was an element of commercial success built in to the business plan which we've not yet achieved which is one of the areas that we are looking at to go forward. So to be honest with you the business plan was just fairly unrealistic."
John Gorman, meanwhile, reiterated his thoughts on the finances, saying "I was under no illusions when they picked the Manager and told me the situation. I knew it wasn't going to be pretty. But I think a Coach or a Manager should be able to sometimes work with what you have got. That's the kind of thing I've decided. If that's what I've got then I'll make the best of it and I'll bring in what I can to improve be it Youth or the likes of Steve Claridge. I think I've got that experience. I've made a couple of mistakes but that's how you do sometimes when it's a low budget." He finished the evening by asking for patience from the fans, adding "Bear with them, get behind them, support them. The fans have been great since I've been here. Once we start winning, there will be more and more people want to come. There are fans ready to come to watch Wycombe if we know we've got a good product to sell. I'm hoping that I will help you bring a good product to this club."

More Fans Forum related reports.


Wasps call for talks on new ground deal

Supporters' Trust set to claim place on Board
Click here for all the latest from chairboys.co.uk
---
---

FANS
FORUM
Leave your own stories and comments via
www.gasroom.co.uk
---