Wanderers v Liverpool
FA Cup Semi-Final 2001
CIVIC RECEPTION FOR CUP HEROES
(Thursday 12th April 2001)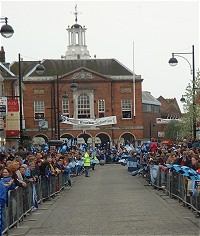 The Wanderers squad were greeted by a packed Town Centre on Thursday evening as part of a Civic Reception. The players arrived on an open top bus having travelled from Adams Park and the fans were then treated to brief interviews with a few of the Wycombe players. This was followed by speeches from Council Chairman David Cox and the Town Mayor. Cox presented the Club with an crystal rose bowl that been 'engraved' with the words "Presented to Wycombe Wanderers Football Club by the Chairman of Wycombe District Council in recognition of the team's FA Cup success in the 2000/2001 season."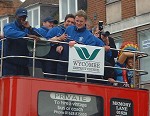 There was embarrassment for the Mayor when he referred to goalkeeping hero Martin Taylor as 'Dennis Taylor', a comment that brought cringes from the crowd. Earlier the real Martin Taylor told the crowd "When I left Derby I thought things like this would never happen, especially an FA Cup Semi-Final against Liverpool. It has been a fairytale"


Club Captain and goalscorer at Villa Park, Keith Ryan told the fans "We gave it all on Sunday but it wasn't quite good enough but we wouldn't have been out on the field if it wasn't for you lot so thanks very much for coming." Ryan, who's in his 11th season with Wycombe, added "I've really, really loved my time here, I've won a couple of things and the culmination of that was the performance on Sunday"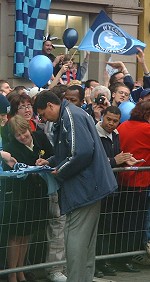 Lawrie Sanchez thanked the fans who had lined the streets to greet his team. The Wycombe Manager said "I'd just like to say on behalf of the players, myself and the Directors of the Club that we thought your support was magnificent on Sunday. It was nice to see 20,000 people in blue and blue quarters."

He went on to say how he wished that some of those fans would come and support the Club in the future, "I'd like to see us sell out one of these games we've got left this season. We've got three home games. Come down and see as many as you can, support the lads and let's put this season to bed and in the summer we can lie on the beach and enjoy what we've achieved"

Before the parade Sanchez said "Hopefully we will be sitting on top of buses next year when we have won something"

Back to Semi-Final special >>>
---
---
---

THE GAS
ROOM
Leave your own stories and comments via the Message Board
---