The opponents:



Shelbourne (Friday 27th July): The 'Shels' play at Tolka Park which is situated on Richmond Road in Drumcondra on Dublin's Northside.
Wycombe went down by two goals to nil with a goal conceded in each half. Martin Taylor and Keith Ryan both made their first appearances of the season for Wycombe.
Shelbourne 2 Wycombe 0 - Full report and pictures



Bohemian (Sunday 29th July): The Boh's play at Dalymount Park, which is just to the north of the City centre..
Wycombe went down by two goals to one. Mark Rogers scored Wycombe's goal after trailing 2-0 at the break.
Bohemian 2 Wycombe 1 - Full report and pictures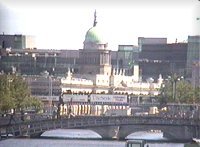 Other games around Dublin:

See the National League of Ireland website for the latest fixture information
But please check with the home clubs before travelling - you never know what might happen!


Drinking: All that football is likely to make you thirsty so a visit to the rather large selection of pubs in the capital is a must. Most pubs stay open past midnight on all days except Sunday. Dublin = Guinness but there are at least two pubs that had taken the alternative route of brewing their own brand of stout. Messrs Maguires on the south side of the O'Connell Bridge served two excellent stouts (Plain and Extra) while The Porterhouse in Parliament Street on the edge of The Temple Bar area had three different 'home brew' stouts. Both places also have bitters and lagers both brewed on or close to the premises.

Eating: We'd recommend eating fairly early in the evening before claiming a place in the pub of your choice. The multi-national feel of Dublin is reflected in the selection of restaurants available. If you're looking for a good curry, look no further than The Jewel in the Crown - 5 South William St. Dublin 2.

We've been here before: Take a look at what happened in 1999 (no games!) and 2000 (one game). Three games in 2002 maybe?