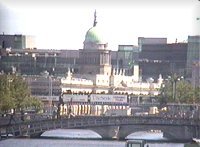 The opponents: The Boh's started their pre-season campaign on July 5th in preparation for their UEFA cup game with Aberdeen in August. They play at Dalymount Park, which is just to the north of the City centre. If you walk up O'Connell Street, past the 'Flozzie in the Jacuzzi', cross over past the Ambassador Cinema and go down Parnell Square East. Continue on over Dorset Street Upper and into Blessington Road and then Berkley Road. When this road joins the North Circular Road turn left. Dalymount Park is on the corner of Prospect Road. It's a fairly big ground, with a new stand built during last summer. The three other sides are all terracing giving the place a sort of 'time-warp' feel.
Click here for Bohemian v Wycombe match report - July 2000 >>>

Other games: Sadly Wycombe only played one game before returning home. Most other clubs took in at least two or three games whilst on their Irish tour. The same week Wycombe were in Dublin; Crewe, Cardiff City, Grimsby Town, Tranmere Rovers, Halifax Town and Leicester City were amongst the Clubs also in Southern Ireland. Perhaps next year the Club can arrange an extended tour - one of the Wycombe party spent time in Cork where they played a mini-tournament, although the preference would be to be based in Dublin.

Other games in the Dublin area:
See the National League of Ireland website for the latest fixture information
But please check with the home clubs before travelling - you never know what might happen!

Drinking: All that football is likely to make you thirsty so a visit to the rather large selection of pubs in the capital is a must. Most pubs stay open past midnight on all days except Sunday. Last year we said Dublin = Guinness but there are at least two pubs that had taken the alternative route of brewing their own brand of stout. Messrs Maguires on the south side of the O'Connell Bridge served two excellent stouts (Plain and Extra) while The Porterhouse in Parliament Street on the edge of The Temple Bar area had three different 'home brew' stouts. Both places also have bitters and lagers both brewed on or close to the premises.

Eating: We'd recommend eating fairly early in the evening before claiming a place in the pub of your choice. The multi-national feel of Dublin is reflected in the selection of restaurants available. If you're looking for a good curry, look no further than The Jewel in the Crown - 5 South William St. Dublin 2.