Shelbourne 2
Wycombe Wanderers 0
Friday 27th July 2001
Pre-Season Friendly

Wycombe went down 2-0 in their friendly match with Shelbourne in Dublin on Friday evening. A strong Wanderers line-up, including triallist Gavin Holligan, conceeded a goal in each half and while the result may not be important, Wycombe's lack of creation up front could be a worry for Lawrie Sanchez.

Wycombe began with Holligan partnered up front by Danny Senda while Martin Taylor made his first start of the season following his back strain. However, it was an unhappy return for Taylor when, in the 7th minute, he raced off his line to clear, only for the ball to be blocked and Garry Haylock had the easiest of chances to tap the ball into the empty net.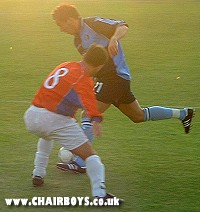 Wycombe could have been level four minutes later when some good control from Darren Currie, just to the left of midfield, set up Holligan but the ex-Hammers player scuffed his chance. Currie was at it again in the 17th minute when he whipped in a cross from the left bye-line but it was cut-out by The Shels defence just ahead of Senda.

In the 26th minute the hardworking Dannie Bulman saw a snap effort pushed away by Shelbourne 'keeper Steve Williams but chances for Wycombe were rare. It was Currie who came the closest to equalising when he saw a shot tipped over three minutes before the break. However, the home side looked dangerous going forward and Gary Haylock came with inches of scoring with a header second before the break.

Half-time Shelbourne 1 Wycombe 0
It was a dissapointing second-half for Wycombe as the ideas began to dry up going forward. It was left for Wycombe Man of the Match, Darren Currie, to carve out some half chances down the left flank while in contrast Senda was eventually replaced by Keith Ryan who finished the game playing up front.

Shelbourne should have increased their lead in the 73rd minute when substitute Trevor Fitzpatrick pulled the ball back from the right only for fellow sub Jim Crawford to sky his effort. However, the home side confirmed their victory in the 81st minute when Fitzpatrick smashed the ball home from close range after the ball had pin-balled around in the Wycombe penalty area.

Wycombe's solitary effort at goal in the second-half game with five minutes left on the clock when Michael Simpson's cross from the right was met by the head of Stewart Castledine but The Shels 'keeper collected after the ball had deflected off of one of his own defenders.

Wycombe play Bohemian on Sunday and Lawrie Sanchez has said he will give the remaining members of the 20 man squad a run out.

Final Score Shelbourne 2 Wycombe 0
Wycombe: Taylor, Marsh, Vinnicombe, Cousins, McCarthy, Carroll (sub 74 Castledine), Simpson, Bulman (sub 70 Brown), Currie, Senda (sub 58 Ryan), Holligan
subs not used: Emblen, Rogers, Johnson, Phelan, Townsend, Osborn
Yellow Cards: McCarthy (79 foul), Brown (90 foul)
Shelbourne: Williams, Heary, Minnock, McCarthy (sub 79 D Byrne), Gannon (sub 12 Hutton), (sub HT Geoghegan), Houlihan (sub 79 Doherty), Haylock (sub HT Crawford), Foran (sub HT Fitzpatrick), Baker, Fenlon, Crawford
Referee: Declan Hanney
Attendance: 300 (100 Wycombe approx)
Click here for the Chairboys on the Net - Dublin Quick Guide 2001
All match reports © 1996, 1997, 1998, 1999,2000, 2001
Chairboys on the Net - Not to be reproduced without our written permission.