Bohemian 2
Wycombe Wanderers 1
Sunday 29th July 2001
Pre-Season Friendly

Wycombe went down 2-1 to Bohemian's of Dublin on Sunday afternoon. Wanderers conceded two goals in as many minutes during the first half against a strong Boh's side. First on 18 minutes Glenn Crowe pushed the ball left to Simon Webb who neatly chipped Taylor from the edge of the box. Two minutes later it was 2-0 when Crowe headed home from another cross from the right flank, this time from Kevin Hunt.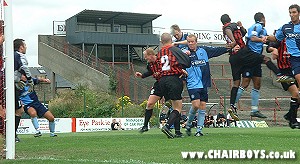 As expected Lawrie Sanchez gave a run-out to some of the squad members and also experimented with Keith Ryan and Leeyon Phelan up front in the first half. However, Wycombe had to wait until six minutes before the break for a worthwhile effort on goal when Phelan's glancing header grazed the far post following Carroll's corner from the left.

Half-time Bohemian 2 Wycombe 0


The introduction of Darren Currie after the break injected more life into Wycombe and a flurry of corners in the last twenty minutes saw The Wanderers finish on top. Their efforts were finally rewarded when Mark Rogers got the finest of glances to Currie's free-kick from the left wing with six minutes left on the clock.

The home side included centre-back Shaun Maher in their starting line-up. Lawrie Sanchez has been tracking the 23 year old and talks are expected to begin shortly on bringing the 6'2" player to Adams Park. Read more

Final Score Bohemian 2 Wycombe 1
Wycombe: Taylor, Townsend, Vinnicombe (sub HT Marsh), Cousins, Rogers, Emblen (sub 83 Johnson), Castledine (sub 63 Senda), Brown, Carroll (sub HT Currie), Ryan, Phelan (sub HT Holligan)
subs unused: Osborn
Bohemian: Dempsey, Shelley (sub HT O'Connor), John (sub 82 Ryan), Hunt (sub hT Harkin), Maher (sub HT Shevlin), Hill (sub HT Quigley), Morrison, Caffrey (sub 63 Mooney), G O'Neill (sub 73 Meade), Crowe (sub HT Molley), Webb (sub HT Byrne)
sub unused: A O'Neill
Referee: John McDermott
Attendance 450 (150 Wycombe approx)
Click here for the Chairboys on the Net - Dublin Quick Guide 2001
All match reports © 1996, 1997, 1998, 1999,2000, 2001
Chairboys on the Net - Not to be reproduced without our written permission.