Getting there
By Car: (approx 36 miles from HW)
Check Google Maps for directions from your location


Train: Nearest tube station Seven Sisters, about 1.5 miles from the stadium. White Hart Lane overground is closer to the ground but can get very busy on matchdays.



KNOW YOUR HISTORY
The first competitive meeting between the two clubs was the FA Cup 4th Round tie at White Hart Lane in January 2017 but there had been a number of friendly matches dating back 1895.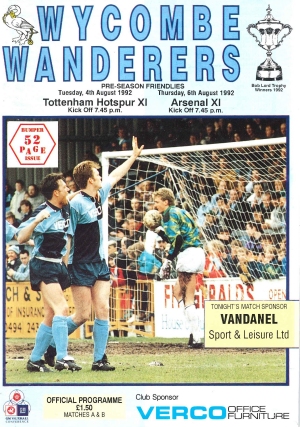 Read more about the pasting meetings between Wycombe Wanderers and Spurs in a special feature written for chairboys.co.uk prior to the FA Cup meeting at White Hart Lane in January 2017
Chairboy Connections
A selection of players who have played for both Clubs.



Indicates player profile available

Gary Doherty - Experienced central defender who joined Wanderers on loan in February 2012 from Charlton Athletic. Originally started his pro career with Luton Town in 1997 before time with Tottenham Hotspur between 1999 and 2005 - making 78 First Team appearances and scoring 8 goals. Later played for Norwich City before joining Charlton in 2010.



Stuart Nethercott - Central defender who made over 50 appearances for Spurs between 1991 and 1998. Later moved to Millwall where he joined Wycombe on loan in January 2004 before a permanent deal was agreed in April 2004. Moved into non-League football after his time with Wycombe.

Andy Turner - Played for Wycombe at the start of the 1994/95 season on loan from Tottenham Hotspur where he was an apprentice. Joined Portsmouth from Spurs for £250,000 in September 1996 and made 40 League appearances in a two year spell. His long list of clubs following his departure from Fratton Park include Doncaster Rovers, Huddersfield Town, Crystal Palace and Rotherham, the latter club also seeing a short loan spell at Boston United, Yeovil Town, Tamworth, Northampton Town and Northwich Victoria.

Len Worley - A star of the Amateur game with Wycombe Wanderers in the 1950's, skillful winger Worley was offered a trial with Spurs at the start of the 1959/60 season and went on to play one game for their First Team. He was offered a professional contract by Spurs but the player turned down the offer to remain in the Amateur game. The previous season, he had also played as an Amateur (while still at Wycombe) for Charlton Athletic. He reamined at Wycombe until the late 1960's, totally 512 First Team games for Wanderers and scoring 67 times.


Other player connections include:
Peter Garland, Lee Hodges, David Kerslake, Mark Robson, Adam Smith, David Tuttle and Steve Walford

In addition, the following players were part of the Spurs youth team but never made a First Team appearance for Spurs prior to later appearing for Wanderers:
Ijah Anderson, Lee Angol, Jordan Archer, John Cheesewright, Danny Foster, Stuart Lewis, Charlie Mapes, Chuck Moussaddik, Ian Stonebridge and John Sutton

Former Wanderers Centre of Excellence player Michael Malcolm was also signed by Spurs from Wycombe in March 2000 at the age of 14 for an initial fee of £10,000. Wycombe would later recieve a further £10,000 when Malcolm signed pro forms in 2003 but he never made into the Spurs First Team and was eventually transfered to then Football League side Stockport County before spending the remainder of his footballing career in non-League football.

Also: Former Wycombe Manager John Gorman was a Tottenham player between 1976 and 1979 and later an assistant to Glenn Hoddle at both England and with Spurs. He was originally caretaker Manager at Wycombe in 2003 before a brief spell as assistant under Tony Adams. He returned as Manager at Adams Park in late 2004

Chairboys all-time record against Spurs
DATE
Comp
V
Res
SCORE
Att
Sat, Oct 19, 1895
Fr
A
L
3-4
-
Sat, Dec 1, 1900
Fr
H
W
2-1
-
Sat, Sep 1, 1951
Fr
H
D
0-0
5,000
Wed, Sep 14, 1955
BOB
H
L
0-1
-
Wed, Sep 19, 1956
BOB
H
W
3-1
-
Sat, Dec 24, 1960
Fr
H
W
4-3
-
Thu, Aug 8, 1985
Fr
H
D
3-3
-
Tue, Oct 10, 1989
Fr
H
L
1-3
2,829
Tue, Aug 4, 1992
Fr
H
W
3-0
3,039
Sat, Jul 21, 2001
Fr
H
L
1-2
8,018
Sat, Jul 19, 2003
Fr
H
L
2-3
5,389
Sat, Jan 28, 2017
FAC4
A
L
3-4
31,440
Mon, Jan 25, 2021
FAC4
H
L
1-4
BCD
Key:
Fr = Friendly/Testimonial
BOB = Battle of Britain Cup (Charity Match)
FAC = FA Cup