WASPS MOVE A STEP CLOSER
(Thursday 31st January 2002)
The proposed move to bring London Wasps to Adams Park has moved a step closer with the news that QPR and Fulham will sign a deal on Friday 1st February that will see the Premiership side move into Loftus Road next season.
With Rangers receiving a reported £1m from Fulham for a 12 month contract for use of their ground there will be money available to help fund Wasps with their move to Wycombe but the move isn't without complications. The redevelopement of Craven Cottage is being opposed by local residents and a High Court judgement will be needed to resolve the issue. Meanwhile, the move to bring the Rugby Union outfit to Buckinghamshire is sure to be met with opposition by residents local to Adams Park and there will be planning considerations too. Access problems to and from Adams Park have still to be resolved by the Club despite promises earlier in the season that a "50% improvement" would result from changes to traffic flow. Fans are still waiting for those changes to be implemented with delays from the Club car park after games now close to one hour due to the attendance increase at Adams Park this season.
The other complication is that, at present, Adams Park is only licensed to hold a certain number of sporting events per year and special permission will need to be granted from the local Council. All this is sure to cause Sands residents to up in arms over the proposals who have always bitterly opposed any development on the football front at Adams Park.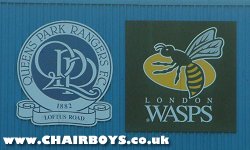 Earlier in the week this ongoing saga took another twist when it was revealed that Brentford Chairman Ron Noades had bid to buy out QPR and move The Bees into Loftus Road. That offer was turned down by The Rangers Administrators, with speculation that the Fulham deal would better help bail Rangers out of their debts while still retaining ownership of the ground.
Wasps and Wycombe will need to move quickly to get a deal in place although Wasps do have an option to share at Harlequins Stoop ground in Twickenham. It would appear that Wycombe is their preferred option despite opposition from many of their supporters. This messy situation looks to be reaching a head though with Wanderers continuing talks with Wasps this week and every indication points towards a two year deal being struck with the option to extend should the move prove successful.


Click here to read all the latest Wycombe news
---
---

FANS
FORUM
Leave your own stories and comments via
www.gasroom.co.uk
---