NEWS FROM WEEK ENDING 27th February 1999
CONTRACT CHAOS FOR SANCHEZ?(26th February 1999)
Lawrie Sanchez has walked into a chaos of a activity with player's contracts at Wycombe Wanderers. Thirteen of the present squad are out of contract at the end of the 98/99 season and he could be forced to sell before the end of the season to generate cash needed by the Club. Mark Stallard is one of those players out of contract and this week was the subject of a bid from Notts County. Sanchez told the Bucks Free Press "County have mentioend a figure but it is nowhere near what we want. I would also prefer not to sell to them because I would rather, if he went, that he went to someone who is not a competitor of ours this season." Stallard joined Wycombe for a £100,000 in March 1997 from Bradford City.
The majority of those players out of contract would be able to leave at the end of the season on a free but for those under 24 years old it gets more complicated. Andrew Baird falls into this catergory. Baird has yet to sign a new contract for Wycombe despite one being offered and according to club sources was the subject of a £200,000 plus bid from Portsmouth earlier in the season. Pompey's financial difficulties may have put a spanner in the works of that deal but most Wycombe supporters will be keen to see the youngster as part of the future at Adams Park. If Baird doesn't sign a new deal before the end of the season, Wycombe could still demand a fee but it may only be nominal.
The full list of players out of contract in May are: Andrew Baird, John Cornforth, Jason Cousins, Michael Forsyth, Lee Holsgrove, Jason Kavanagh, Paul McCarthy, Aaron Patton, Paul Read, Keith Scott, Michael Simpson, Mark Stallard and Mark Westhead.
RESERVES BEAT QPR(24th February 1999)
Wycombe Reserves came back from 1-0 down against QPR on Wednesday afternoon (24th February) at Adams Park to register a 2-1 victory. Both Wycombe goals came in the second-half - headers from Dave Carroll and Dannie Bulman. Loan players Neville Roach and Matt Stowell played for the Wanderers put seemed to lack match fitness and are unlikely to figure in Saturday's trip to Bournemouth. Since losing to Fulham 9-0 on 3rd February, the reserves have gone four games unbeaten and this was the first home league victory since September.
WYCOMBE TEAM:Westhead, Wraight, Beeton, Rogers, McCarthy, Stowell, Carroll, Holsgrove, Roach, Bulman, Patton
NEW LOANERS(23rd February 1999)
Lawrie Sanchez has signed two loan players possibly with a view to a permanent move. They are 20 year old Neville Roach from Reading - a 5'10" forward who is a former trainee with The Royals but who has had only limited first team opportunities since making his debut in the 1996/97 season. The other is 22 year Matt Stowell from Bristol City - a right back signed from Slough Town in the summer of 1998 but yet to make his City debut. Both players are due to play in Wednesday afternoon's home Combination game against QPR.
CANADIAN SIGNED(20th February 1999)


Following his first goal in a Wycombe shirt during the B&B tie with Marlow, Canadian Mark Rogers has been given a contract by Wycombe until the end of the 1999/00 season. The 23 year old played for Burnaby Canadians during his Univerisity days in Vancouver and paid his own air fare to Britain in order to get his chance with Wycombe. Lawrie Sanchez's first signing plays in the centre-back position and is already living in High Wycombe. With 14 of the present squad out of contract at the end of the season the oportunity could well be there for Rogers to make a breakthrough into the first team.

---

---

NEWS FROM WEEK ENDING 20th February 1999
B&B VICTORY(17th February 1999)
Wycombe overcame Marlow 2-0 in the Second Round of the Berks and Bucks Senior Cup at Oak Tree Road on Wednesday evening (17th February). First half headers from Mark Rogers (18 mins) and Paul McCarthy (22 mins) set up the comfortable victory. It was Mark Rogers first goal for the Wanderers since he arrived on trial from Canada late last year. The 23 year old is on a week-to-week contract with The Wanderers. Wycombe will now be at home to Chesham United in the Semi-Final on a date to be arranged. The clash will see Sanchez go head to head with former Wimbledon team-mate Alan Cork who is now in charge at The Meadow.
WYCOMBE TEAM:Osborn, Wraight, Rogers, McCarthy (sub 65 Gray), Beeton, Carroll, Emblen (sub 65 Leach), Lee, Patton, McSporran (sub 65 Townsend), Senda.
OTHER NEWS(17th February 1999)
Tickets for the away game at Reading on Saturday 20th March are on sale now at £12 adults and £7 concessions. Wycombe have an initial allocation of 1,000 South Stand tickets - entrance on the day of the match will be £14 adults, £8 concessions.
Former Olympic athlete Daley Thompson spent his first day with the Wycombe squad this week as part of Lawrie Sanchez's new training schedule. Thompson regularly works with the Wimbledon squad. Apparently Terry Evans thought he looked fitter than some of the Wycombe players!
Also at the Club this week was former Barnet 'keeper Gary Phillips who was providing some goalkeeping coaching for Wycombe's three stickmen. Phillips is currently playing at Aldershot under the Managership of former Wycombe hardman George Borg.
RESERVES HOLD HAMMERS(15th February 1999)
Wycombe reserves came back from 2-0 down against West Ham in the Avon Insurance Combination at Adams Park on Monday evening (15th February) to lead 3-2 but were eventually pegged back back to 3-3. Wycombe's goals came from Paul Emblen on 46 minutes - striking home a left foot shot from close range - Jermaine McSporran after 57 minutes - a 25 yarder and Danny Senda on 69 minutes - with a neat near post header after a move down the right wing. Steve Brown missed a great chance to win the game in injury time when he fired wide with the goal at his mercy. In the crowd was Peterborough manager Barry Fry who was rumoured to be looking at Paul Read - but with Read being injured after just 15 minutes with a possible hamstring problem, there was little to see.
The reserves travel to Marlow on Wednesday evening (17th February) in the Second Round of the Berks and Bucks Senior Cup - kick off 7.45pm.
SANCHEZ MUST SELL(14th February 1999)
In a hectic weekend for the new Wycombe boss, Lawrie Sanchez has revealed that he was told during his interview for the Wycombe job that he had to make £200,000 from transfers before the end of the season. In a lengthy interview with Sunday Express reporter Paul McCarthy, Sanchez said that he had taken a pay cut to manage at Wycombe but thought it was destiny that he would end up at Wycombe. Sanchez lost his wife through cancer last year and is now bringing up their only child on his own. Sanchez said "She used to work in High Wycombe as a college lecturer and looked out of her room every day over Wycombe's old ground. There is something that tells me she was willing me to get the job." Sanchez went on to say "The board have put a great deal of trust in me and I am going to repay them. I feel driven now, as if there is something I can really get my teeth into once more after too many months just getting through one day at a time."
Full article via this link http://www.express-sport.com/article/index.tpl?id=144126
On Saturday morning (13th February) Sanchez was interviewed on BBC Radio Five while later in the day he was escourted into the stands by two policemen after he went too far with his opinion on referee David Laws during the 2-1 defeat at Preston. Wycombe's Press Officer Alan Hutchinson described the official as a "nutcase", "looney" and "disgraceful" during his 1170am match commentary. The following day Sanchez helped out with the draw for the Sixth Round of the FA Cup working alongside fellow Cup Final goalscoring hero Trevor Brooking.
---

---

NEWS FROM WEEK ENDING 13th February 1999
HYDEY TESTIMONIAL(12th February 1999)
Former Wycombe 'keeper Paul Hyde is to have a testimonial on Monday 29th March at Brisbane Road in a game between Leyton Orient and West Ham United. "Hydey" made close to 250 appearances for Wycombe between July 1991 and February 1996 before he was shown the door by Wycombe's 'Manager' at the time Alan Smith. He went on to join Leyton Orient but sustained a broken leg in January 1998 during a game against Exeter City. 36 year old Hyde made played over 50 times for the O's and like at Wycombe was a firm favourite with the fans. WWISC are arranging a coach for transport to the game.
GIBSON IS ASSISTANT(11th February 1999)
Lawrie Sanchez has appointed his former team-mate at Wimbledon, Terry Gibson, as his assistant. Sanchez contacted Gibson the day before he took charge at Adams Park and he officially took up his new role on Monday (8th February). 36 year old Gibson has been out of football for the past year or so after a spell as Youth Team Manager at Barnet. He is a former apprentice at Spurs before moving on to play for Coventry City, Manchester United, Wimbledon, Swindon (loan), Petterborough and then Barnet. He played alongside Sanchez in the 1988 FA Cup Final for Wimbledon. Gibson returned to Barnet on Wednesday afternoon with the Wycombe reserve team and saw Paul Read score a hat-trick in a 3-0 victory.
Lawrie Sanchez will appear with Trevor Brooking on Sunday to help make the draw for the sixth round of the FA Cup - the connection is that they both scored the winner with their head in a FA Cup Final.
It will be a busy week for Wycombe starting with the trip to second placed Preston on Saturday (13th February). On Monday (15th February) the reserves are at home to West Ham in the Combination - kick-off 7.45pm. Last week former Wycombe striker Steve McGavin played for West Ham reserves on loan from Southend United. On Wednesday (17th February) the reserves play at Marlow in the Berks and Bucks Senior Cup -kick off 7.45pm
LAWRIE SEARCHES(9th February 1999)
Lawrie Sanchez has begun his hunt for a new assistant following the predictable departure of Gary Micklewhite. Sanchez tried to tempt former colleague Steve Cotterill away from his manager's position at Conference side Cheltenham Town on Tuesday (9th February) but Cotterill told ITV's Teletext "I would love to complete what I've started here and I owe it to the chairman, directors, supporters and players to stay.". Cotterill succeded Sanchez as Manager at Sligo Rovers - a side that appointed former Wycombe and Man City player Nicky Reid at the start of this season.
Sanchez was also reported to be returning to his old club Wimbledon this week to secure a couple of loan signings. Stewart Castledine is well known to Wycombe fans but the Dons injury problems and an important Worthington Cup semi next week against Spurs could hinder Sanchez's plans.
FREEZE BEATS ADAMS PARK(9th February 1999)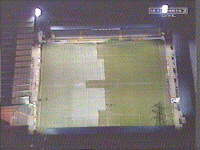 The Under 18 clash between England and France due to take place on Tuesday (9th February) at Adams Park fell victim to the weather and was postponed at around 4.30pm. The freezing conditions throughout the day meant that the half of the pitch shielded by the Woodlands Stand remained frozen and the referee called the game off for safety reasons. The two teams considered playing a private friendly on the slippery surface but this was also shelved as the temperature continued to fall right up to the scheduled kick-off time of 6.05pm. The loss of the fixture is a major disappointment for Wycombe who were expecting a crowd of over 5,000.
---

---

NEWS FROM WEEK ENDING 6th February 1999
SANCHEZ IS THE NEW BOSS(5th February 1999)
Wimbledon Reserve Team boss Lawrie Sanchez was announced as the new Wycombe Manager during a Press Conference on Friday (5th February) at Adams Park. He's been given a two and a half year contract and will take charge alongside Terry Evans for the home game with Fulham on Saturday (6th February).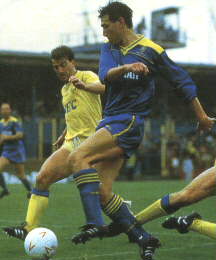 39 year old Sanchez is best remebered for scoring the winning goal in the 1988 Cup Final versus Liverpool. He becomes the third successive Wycombe Manager to have played in a FA Cup Final - following John Gregory (QPR 1982) and Neil Smillie (Brighton 1983). The midfielder started his playing career with Reading in 1977, making close to 300 appearances before a move to the Crazygang in 1984. After 9 years and 228 appearances for the Dons, Sanchez spent a year in the Premier League with Swindon Town - playing in the same side as Keith Scott - but he left at the end of the season to join Sligo Rovers on the West coast of Ireland. During his time at Wimbledon he gained three caps for Northern Ireland.
Speaking soon after the appointment was made, Sanchez indicated that Wycombe could be a stepping stone for greater things. "Every time I've come to Wycombe I've thought that this is a decent club and lovely ground. When the opportunity came for the Manager's job I thought that it was somewhere that I'd like to start my career. The tradition with Martin (O'Neill) and John (Gregory) both going on to Premier Division clubs obviously comes in the equation as well - it's every other one.. hopefully I'm the next one in line."
Chairman Ivor Beeks defended the Board's decision to appoint a man with little managerial experience and compared Sanchez to O'Neill and Gregory. "I think he has some of the qualities that we've seen from the other successful managers we've had. He's played under the best, with some of the best and for some of the best. Perhaps one of the things he might lack, but then the other two did as well, is experience in management but so did Martin and John and look where they are now. Whilst perhaps we would have prefered someone with more experience we've got ticks in other columns which override that particular one."
Sanchez lacks managerial experience at First Team level but the Board and the fans will be hoping for more luck from the Irish as Sanchez begins what looks to be an impossible fight against relegation at Adams Park. He gained a degree in Management Sciences at Loughborough University and it's management that the Club desperately needs at the moment. Sanchez added during the press conference "Wycombe can go places - just look at Wimbledon. Everything is right off the pitch and I have to get it right on the field."
---
WHO ELSE WAS IN THE RUNNING?(6th February 1999)
Chairboys on the Net were the first to connect Lawrie Sanchez with the job at Adams Park on Tuesday (2nd February) and the Bucks Free Press followed suit on Friday morning as the Club's attempt to keep the name under wraps failed. Sanchez's appointment came after John Ward and Mickey Adams both turned the job down and according to sources close to the Club, Oxford's Malcolm Shotton was high on the wanted list but United must have been more than reluctant to let him go.
Shotton must have been a name that surprised Wycombe fans as a choice for Manager at Adams Park. Shotton took charge at the Manor Ground less than a year ago and help beat off the threat of relegation with ease. This season has continued to be a struggle with the well publicised financial problems and threatened winding up orders. Newcastle born Shotton played over 300 times for United in the 1980's and a fans campaign help bring him back to Oxford as Manager from his position as Reserve Team Coach at Barnsley. He's now the Messiah at the Manor Ground but with United's future up in the air he may of been thinking of a change and his no nonsense attitude could have been ideal in motivating the Wycombe players.
Ex-Port Vale boss John Rudge returned to near the top of the candidates after he turned down the opportunity of "moving upstairs" at Port Vale this week. His shock dismissal from the manager's post at Port Vale last month prompted protests from the Vale fans and he seems keen to return to the game as soon as possible. 54 year old Rudge had spent 15 years in charge at Vale Park where he helped win promotion from the old Fourth Division in 1986 and gain further promotion three years later. Vale were relegated back to the new Second Division in 1992 but after winning the Auto Glass Trophy in 1993 returned to their current place in the new First Division in 1994. Vale have been Rudge's only club as Manager having played for Huddersfield, Carlisle, Torquay, Bristol Rovers and Bournemouth. Rudge maybe remembered by Wycombe fans for signing Steve Guppy from Newcastle in November 1994, less than 4 months after 'Gupps' had left Wycombe. Guppy is now setting the Premiership alight with his wicked crossing at Martin O'Neill's Leicester.
If you are looking for a man to get you out of deep trouble then Steve Gritt has those credentials. The former Charlton, Bournemouth and Walsall player was pulled in by Brighton in December 1996 as they fought for their Football League survival. Gritt had an initial hard time with the Brighton fans due to the unpopularity of their Chairman but an unbeaten home run to the end of season (10 wins and 2 draws) saw a dramatic escape on the last day of the season and he was a hero. Times change rapidly, however, and by March 1998 Gritt had been shown the door as Brighton survived again only because of the long doomed Doncaster Rovers. Gritt has been keeping a low profile since but but must been keen to get involved again.
OTHER NEWS THIS WEEK
The reserves took a real hiding from Fulham on Wednesday (3rd February) afternoon - losing 9-0 (nine-nil). Wycombe's side of Westhead, Townsend, Reeks, Rodgers, Leach, Beeton, Bulman, Cornforth, Stallard, Read and Lee trailed 3-0 at half-time before being totally overrun in the second-half. Fulham's side included several experienced fringe first-teamers including £600,000 signing from Arsenal Ian Selley and ex-Palace and Coventry striker John Saloko.
Fulham have sold all their official allocation of 1,600 for Saturday's game at Adams Park. Tickets in the 'neutral' area in the Woodlands Stand are now selling fast and the gate could near the 10,000 capacity if the missing home fans are tempted to welcome in the new boss.
The Berks and Bucks Senior Cup game with Marlow has been switched to Wednesday 17th February and will take place at Oak Tree Road - kick off 7.45pm. The home Combination game with West Ham due that day has been brought forward to Monday 15th February at Adams Park also kicking off at 7.45pm.
Steve McGavin has joined Southend United on a month's trial. Southend were apparently not prepared to risk a longer term without first seeing if McGavin's problem foot holds out. Colchester also tried to capture McGavin but probably couldn't match his wage demands.
---