MARK PHILO R.I.P.
(Saturday 14th January 2006)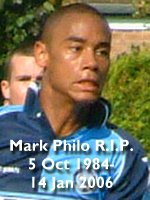 All news involving the Club was overshadowed on the evening of Saturday 14th January 2006 evening when it was revealed that Wanderers' 21 year old midfielder Mark Philo had died as a result of a serious head injuries after being involved in car accident in the early hours of the morning. The youngster died later in hospital and the news was revealed to stunned supporters and players following Wanderers 2-0 victory over Notts County the same afternoon.

Tributes poured in for the likeable player following the tragic news and the Club opened the gates of Adams Park on Sunday morning to allow fans to place their own tributes and momentoes in front of the commercial offices. By Sunday evening dozens of flowers, shirts, flags and other touching souvenirs and messages had been left as stunned well wishes looked on. A book of condelence will be available at the Club's Main Reception as from 10am on Monday 16th January. The GasRoom message board has also been swamped with similar messages from Wycombe fans and supporters of other clubs alike and chairboys.co.uk will publish these at a later date as a permenent record of a potential talent that will sadly never be realised.

The news of the accident was broken to Wycombe Manager John Gorman on the morning of the game and he made the trip to Reading's Royal Berkshire Hospital to visit the player who had been put on a life support machine. Gorman returned to the Club and after consulting with Chairman Ivor Beeks and MD Steve Hayes decided, at the request of the player's family and friends, to go ahead with the game versus Notts County. The decision was made to tell the players of the news directly after the final whistle.

A highly emotional John Gorman struggled to hold back the tears as he spoke to the press after his side had beaten County 2-0. The Wycombe boss said, "It was a very, very difficult day, it is just unbelievable, words cannot describe it but I have to talk about it because he is our player, we love him but the team is absolutely distraught, he's got his best friends in that dressing room."

Philo's family and friends had attended the game knowing that the worst news was to follow. At 4.20pm, literally a minute or so after Wycombe had taken the lead against Notts County, the news arrived that Mark's life support machine had been turned off. At the final whsitle, Gorman, who was soon to updated with the situation, pulled his players together at the end of the game to say that some serious news would be relayed to them in the dressing room. Gorman said his colleagues on the bench had helped him out during the game, adding, "Brownie has been a magnificent support to me, I told him what ever happens to keep me under control, It's been the most emotional day in my life if I'm being honest. To win the game was great because we won it for Mark, nobody else. But they (the players) didn't know that but they played their hearts out and there was some spirit there to guide them to get them through the game."

Club Manager Director Steve Hayes passed on the tragic news to supporters gathered in the Scores Sports Bar at 5.10pm after the game with County. Hayes said his thoughts were with the player's family and friends before paying tribute to the 21 year old, commenting. "You never saw the lad with anything but a smile on his face. I got to know him reasonably well but not as well as all the players who are working with him, day in day out. I just can't quite believe it at the moment." Philo, who joined Wycombe at the age of 15 at the start of the 2000/2001 season, had missed the much of the last 18 months through injury and was just starting to come back into First Team contention. Despite his absence from First Team action, Hayes said he had still been an integral part of the squad. adding "He was part of the team, he was coming back to full strength and at 21 he was just coming up to a good part of his career. We were looking for good things from Mark and it's been snuffed out and it's just desperate."

Hayes went on to commend John Gorman on his handling of the days events, commenting to BBC 3 Counties, "John's a 100% man. I'm staggered at how hard he works but not as football manager but just as a man. He cares so much about not just his players but everybody. John has got difficult things to cope with in his life. His wife is not well, he has not been well himself but he just keeps going. We have the utmost respect for him and I'm very proud to call him my friend."

John Gorman concluded his post match comments by adding, "To win that game the way we did was fantastic and I'm so proud of them and so proud of Mark and so devastated because it just shouldn't have happened. He's been taken away from us but we have to fight on."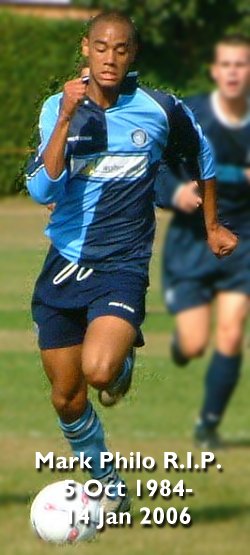 Click here for Mark Philo tribute picture gallery
---
---
---

FANS
FORUM
Leave your own stories and comments via
www.gasroom.co.uk
---