MARK PHILO PHOTO GALLERY
(Monday 16th January 2006)
The following are a selection of snaps taken by chairboys.co.uk during Mark Philo's all too short time at Wycombe Wanderers.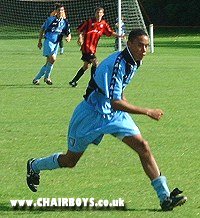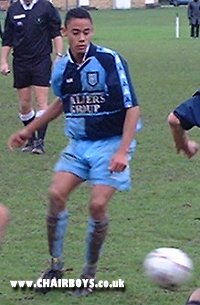 Mark as a 15 year old playing two of his first games for Wanderers Under 17 Youth Team versus Brighton (23 September 2000) and Southend United (28 October 2000). His two goals versus Brighton were his first in a Wycombe shirt. He went on to score a total of seven goals for the Under 17's that season.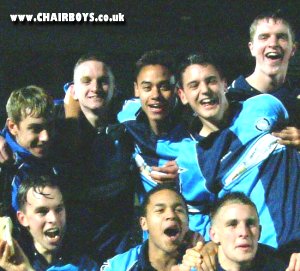 Mark was awarded a scholarship at the start of the 2001/2002 season and went on to be part of Wanderers most successful Youth Team to date - reaching the 5th round stage before bowing out on penalties at Barnsley. The above photo shows Mark with team mates following the memorable penalty shoot out victory over Norwich City at Adams Park on 16th January 2002.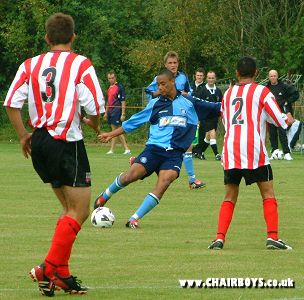 Season 2002/3 and Mark is now a regular in the Under 19 side. Here he is against Brentford on 14 September 2002.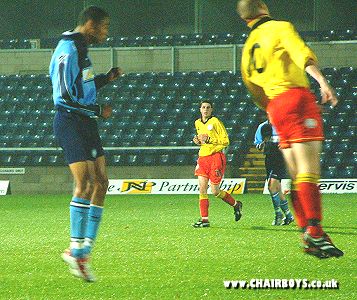 On the FA Youth Cup trail again. Mark scored in this 2-0 2nd Round victory against Cirencester on the 2nd November 2002 before defeat in the following round versus Tranmere.



A typical Philo run - cool and collected while his opponent strugglers to catch up. This was against Southend United on 20th September 2003 and this run resulted in his final League goal for the Youth Team before he became a Reserve regular.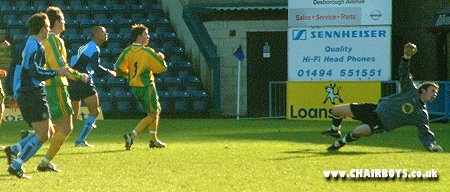 This is Mark scoring his first senior goal for Wycombe at Adams Park. It came in a Combination game against Norwich City Reserves on 25th February 2004. Four days previous he had been given his First Team debut by Tony Adams when he came on as substitute in the 0-0 draw at Barnsley.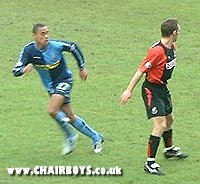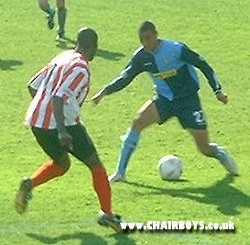 6th March 2004 - Mark is given his full First Team debut when he starts in the Division Two game at Bournemouth. A couple of late runs by the now 19 year old couldn't prevent a 1-0 defeat. Later in the season at Brentford he makes a further impression during the 1-1 draw at Griffin Park.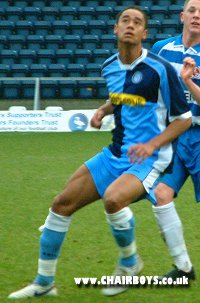 A serious foot injury during a pre-season match with Portsmouth on 20th July 2004 kept Mark out of action for the vast majority of the 2004/5 season and a further injury during the final game of the same season at Bristol Rovers proved to be another set-back. However, he fought back and made two LDV appearances during 2005/6 - away to Gillingham and Walsall. While, as he continued his recovery from injury, he made what tragically turned out to be his final games at Adams Park against Reading Reserves on 20 November 2005 and QPR Reserves on Tuesday 10th January 2006.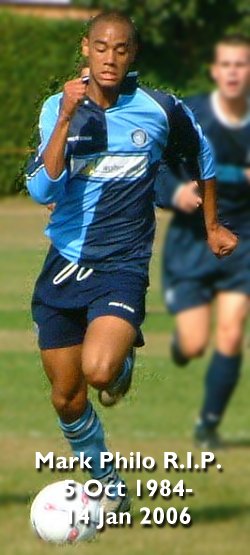 We'll miss you Mark.
Click here for all the latest from chairboys.co.uk
---
---
---

FANS
FORUM
Leave your own stories and comments via
www.gasroom.co.uk
---