LOOKING FOR 'MR BIG'
(Wednesday 22nd February 2006)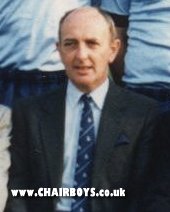 As Wanderers followers wait with interest the announcement of further new investment in the Club, former Wanderers Manager and Chairman Brian Lee believes that Wanderers' achievable level of support may only allow the Club to survive in what is currently known as 'League One'. Lee was interviewed for the February 2006 issue of F.C. Business, a magazine that looks closely at finances of Football Clubs in the UK and he is quoted as saying "Wycombe Wanderers has developed amazingly over the years but like everything else we have been sucked into living beyond our means. We are in debt and if we do go up we will have to carry the increased costs of promotion. Our crowds in [League One] will probably be near the bottom and there lies the problem - increasing our core support"
Lee says he thinks Wanderers will be promoted this season but he questions whether this will be a major advantage to the Club, saying, "Is it better to be successful at a lower level than a failure at a higher one?" Lee adds, "We can get into the next division but that could be our pinnacle. I can't honestly see the Club getting the support required to move any further."
The comments come as Wanderers enter the final stages of the 2005/6 season in an automatic promotion place and with a average home League gate of around 5,200. A similar average was achieved during the relegation season of 2003/2004, while Wanderers' most successful season, from an attendance point of view, came in 2001/2002 when the average home gate was 6,700. Perhaps significantly, a sell-out Football League game at the 10,000 capacity Adams Park has still to be realised.

Lee first became involved with Wycombe in 1968 when he came in as Manager and guided the Club to four Isthmian League Championships in five seasons plus a headline grabbing FA Cup run during the 1974/75 season when his side held Middlesbrough, then joint leaders of the top division in the English League, to a goalless draw at Loakes Park before narrowly losing the replay. Having stepped down as Manager in 1976, Lee went on to become Chairman of the Club and oversaw the conversion to a Limited by Guarantee company in the summer of 1986. Two years later he stepped aside to allow local businessman Ivor Beeks to become Chairman while Lee took on the full-time role of managing the construction and move to Adams Park in the summer of 1990.

Lee, who now lives in Dorset, has taken a backseat at the Club in recent years and particularly since the conversion to a PLC in the summer of 2004. In the past 12 months he has looked on as Wanderers' debts haven risen to close to £3m and seasonal losses break the £1m barrier. It's these figures that are a concern to Lee, who adds, "We are what I consider to be a good community club and that will satisfy a lot of people." But Lee warns, "We can't afford to be swept along by the minority who don't care about the consequences."
Lee believes that promotion this season for the Wanderers would be euphoric but suggests it would very difficult trading out of the £2million plus debts the Club had built up. He concludes, "Football is about dreaming but with a debt like ours what sort of dream is that? John Gorman has done very well and Wycombe Wanderers is doing very well but unless we find a Mr Big I'm not sure what the future holds. The only certainty is we need a benefactor to give us the money"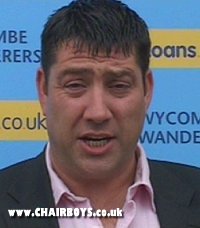 Not mentioned in the interview is the closest to what many people would regard as Wanderers' 'Mr Big' in recent times, PLC Director Steve Hayes. Along with Ivor Beeks and Brian Kane, Hayes invested around £250,000 in the Club following the PLC conversion and he's also gone on to put in at least double that in the form of 'Loan notes'. Hayes says he wants to convert these into shares but can not do that until further significant investment from others allows him to convert his loan notes while still maintaining the 25% maximum shareholding enshrined in the Club's Articles of Association.
Hayes suggested earlier this season that a small group of additional investors had shown an interest in putting money into the Club but subsequent legal issues preventing this happening straight away. Temporary changes to the PLC articles were originally planned for November 2005 as a way around these issues but the AGM was postponed due to further legal problems. The changes were eventually pushed through at a rearranged AGM on 1st February 2006 and Hayes said following the vote that he hoped to have more information in the next two months.

Commenting in a question and answer session with shareholders after the AGM, Hayes said "We couldn't do anything until after today. I have a few people that have been speaking to me and I've been speaking to them coming up for today and I'm expecting some new investment to come in." The changes to the Articles are not starightforward but in layman's terms will allow a small amount of large investors to come into the Club but significant numbers of investors could still be some time away. Also without producing a prospectus the Club are not allowed to go out and entice new shareholders on a large scale.
A legitimate share offer is something that Hayes would prefer, but he added, "We would like that to happen. In time we will put together a prospectus but this is quite an expensive thing." Fellow PLC Director Brian Kane added, "What you voted on tonight allows people to approach us and invest in the Club. The alternative way was for us to raise a prospectus and then we can talk to anyone, the down side of that is that it costs £20K to £30K to produce a full prospectus" But Hayes says the priority for the Club lay in other areas at the moment, commenting, "It is quite a complicated issue and at the moment we are very busy getting on with our infrastructure and making sure we are sorting things out properly because we would like people to invest but don't want to ask people to invest and then have nothing to show them. We want to get down the line a little bit further to be able to show them some more." In the meantime COTN understands that any potential new investor will have to come up with a figure approaching a minumum of £35,000 in order to conform to company law regarding issue of shares to the public. The temporary changes to the Articles that allow this form of investment also expire at the next PLC AGM scheduled for November 2006.

Click here for all the latest from chairboys.co.uk
---
---
---

FANS
FORUM
Leave your own stories and comments via
www.gasroom.co.uk
---