MACCA AND RAMBO TO LEAVE
(Friday 14th March 2003)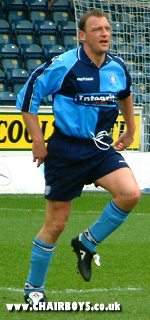 Andy Rammell and Paul McCarthy are the big name casualities of this season's end of season clear out. Lawrie Sanchez is being forced to cut the annual playing budget by £250,000 and 'Rambo' and 'Macca' are the unlucky players to be out of contract during this transistion period.
The news of the departures of Rammell and McCarthy will come as no real great surprise to many Wycombe supporters who have seen both players struggle with injuries this season. Rammell has not played a First Team game since sustaining a calf injury against Luton in December, while McCarthy has clocked up just 13 minutes of First Team action during the same period.
And Sanchez seems keen to bring the reasons for the departures out into the open, stating to the Bucks Press Free "One of my major faults is that perhaps I haven't had a big enough changeover of players in my time here. We saw last Saturday (a 4-0 victory over Brentford on Saturday 8th March) what having a bit of youth can do. It's going to be youth and it is going to be cheaper next year. Rams and Macca were unfortunate that their contracts are up this year and we're releasing them because of financial constraints." The Club estimate they will lose around £400,000 this season but this comes after they had already lost over £500,000 in the first four months of the season. Some swift action by the acting Chief Executive Rod Tomlin has turned the budget around and Wanderers now look to be on a far better financial footing and one that is far superior to many other Football League clubs.
But while the news of the impending departures is not earth shattering, fans and staff alike will be quick to pay tribute to two key figures in Wycombe's recent history. Lawrie Sanchez said "They've been a pleasure to work with and have been excellent servants for the club."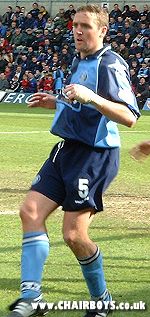 It was Alan Smith who brought McCarthy to Wycombe in the summer of 1996 for a £100,000 fee from Brighton and after a slow start he has clocked up over 250 appearances in a Wycombe shirt and scored several crucial goals. It was during the 2000/2001 that 'Macca' installed himself as a Wycombe legend when he scored five goals during the run to the Semi-Finals of the FA Cup starting with a spectacular overhead versus Millwall in the Second Round and culimating in the opening goal in the famous victory over Leicester City at Filbert Street. It is memories like those that will mean that 'Macca' will be remembered by anybody who witnessed any or all of that cup capaign. Talking of his imminent departure, Macca, who is still only 31, said "I'm disappointed to be leaving. I would have loved to stay but it hasn't worked out that way. I have enjoyed my time at the club. I have some very fond memories of the place but life goes on."
Rammell, now 36 years old, was brought to the Club by Sanchez in September 2000 for £75,000 from Walsall. 10 League goals in 25 starts by the end of the season proved his worth not to mention a famous goal and celebration in the snow during a Fourth Round FA Cup tie with Wolves. 'Rambo' continued to knock the goals in during the 2001/2002 season and finished his first two seasons at Wycombe with a strike rate better than one goal every three games. The current season has been awkward for the striker as he struggled to regain fitness from an pre-season injury picked up while playing tennis. He did however still manage to find the net on four occasions to take his playing record with Wycombe to 31 goals from 90 appearances, thus maintaining his remarkable goalscoring ratio. Speaking of the news to the press, Rammell said "I've had a great two and half years here and I'm convinced that if I hadn't spent the last couple of months injured, I'd have got a new contract. I still believe I'm one of the best strikers Wycombe have got but I understand the club's financial position and the gaffer has been as good as gold with me."
With goalkeeper Mark Osborn also being released, Sanchez now has four players contracts still to deal with. Gavin Holligan, Richard Harris, Martyn Lee and Steve Williams will be the ones sweating it out with the former two the most likely to survive the cut. However, all four players have youth on their side and could be kept on if the right deal is found. A decision will be made before the 27th March transfer deadline.

Read all the latest news from chairboys.co.uk
---
---
---

THE GAS
ROOM
Leave your own stories and comments via the Message Board
---