NEW KITS UNVEILED
(Friday 18th April 2003 - updated 2nd May 2003)

Wanderers unveiled new home and away kits for the 2003/4 season during the Supporters Evening on Thursday 17th April. However, Wanderers Financial Director Rod Tomlin revealed that the Club had still to find a shirt sponsor for next season and were considering selling the kit in its blank form depending on feedback from supporters.
The new home kit is a no frills light and dark blue design that is sure to please the traditionalists. The 'away' kit is a red dominated design that replaces the yellow kit after just one season in use.
Wanderers quest to find a new shirt sponsor began with in February 2003 shortly after it was announced that Integerity Software were opting out of their sponsorship agreement after just one season. Tomlin said a number of companies had been targetted from a very wide area and although the kit sponsorship had not been agreed, Lucus World of Furniture in Aylesbury had signed a first ever deal to sponsor the matchday programme for what Tomlin added was for "quite a decent amount of money".
Tomlin also said "We do have some interesting possibilities with regards to naming rights of the stadium. We could have a new name on the main stand. London Wasps are involved in trying to raise sponsorhip for those facilities for us and the Woodlands Stand likewise. So there are interesting options in the pipeline, all designed to replace the sponsorship that we've been privilleged to receive in the past.".
Tomlin is keen to get as many different businesses on board at Wycombe, commenting "You can work out that you only need a few lots of £10,000 in sponsorship and it all add ups and can make a big difference. Sponsorship is what the business is all about but the economy and climate makes it very, very difficult."
It was also revealed that the Official Wycombe Wanderers Supporters Association (www.thebluesclub.co.uk) had agreed to sponsor the kit and training wear for Wanderers Centre of Excellence set-up for the next three years. Tomlin greeted this news as "absolutely brilliant". The deal will see the OWWSA donate £6,000 in order to deck out all the kids from age 10 through to 15 and the Supporters Club name will appear on all the kits and training tops.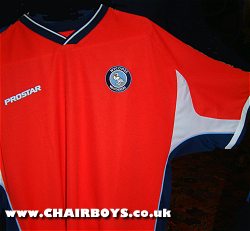 Explaining the introduction of the new First Team strips, Tomlin commented "Under the terms of our Customer Charter we were due to introduce a new 'home' strip but not an 'away' strip. But without the sponsor we had last year we decided that the yellow strip wasn't particularly attractive proposition in the shop, so I hope you don't mind that we introduce something different for next season."
The Club are also keen to hear whether supporters would buy it now in a form without the sponsors name or delay it until later. Tomlin added "We are still looking for a shirt sponsor for next season. We may split home and away or may even offer draw tickets at £1000-£2000 to a number companies and end up with a name on the shirt."
Any new shirt deal would run from 1st May 2003 and the Club want to get shirt production underway as soon as possible and say they are "willing to take relatively modest bids to try and set this up. Tomlin stated earlier on the Club's official website "It is a great opportunity for a local, or even national, company to gain name exposure via widespread media attention through an association of this kind with the renowned dark blue and sky blue quarters." Any deal struck with a new sponsor would also include tickets, match-day hospitality and other attractive benefits.
As an update to this story, it was reported by the Club on 2nd May 2003 that they had set noon on 12th May 2003 as the deadline for offers to own the rights for First Team shirt sponsorship. The Club is looking for a minimum of £60,000 per season for the rights to the home and away First Team shirts and £10,000 for a similar deal for the Reserve team.
Rod Tomlin can be contacted on any matter regarding sponsorship on 01494 472100 or e-mail rodt@wycombewanderers.co.uk.



Click here to read all the latest Wycombe news
---
---

FANS
FORUM
Leave your own stories and comments via
www.gasroom.co.uk
---