CLUB SIGN NEW SPONSOR DEAL
(Thursday 11th April 2002)
The Club have announced a new main sponsorship deal with High Wycombe based software specialists Integrity Software. The news ends a three month search by the Club for a company to take over from Verco who have been sponsors for the last 14 years. The Club spoke to at least five other potential sponsors before agreeing the deal with a company who specialise in web-based accounting software for the distribution and contracting industries. The company are based in High Wycombe but have their main headquarters in Dublin as well as other outlets in South Africa.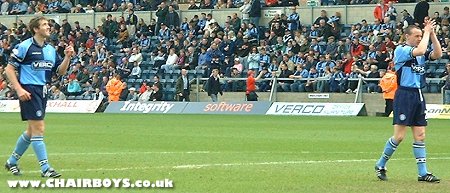 The deal with Integrity Software is for an inital three years and worth around £300,000 to the Club over that time but the company will also be the main instigators behind a scheme to raise money purely for team funding. Click here for more details.



Wanderers will wear a new home kit displaying the Integrity Software logo for the game with Oldham on Saturday 13th April and will also show off the new all yellow 'away' kit at the final game of the season at Swindon on Saturday 20th April. The yellow kit will replace the current orange kit which has been in circulation for only 12 months.


Click here to read all the latest Wycombe news
---
---

FANS
FORUM
Leave your own stories and comments via
www.gasroom.co.uk
---