LOOK BACK AT FANS FORUM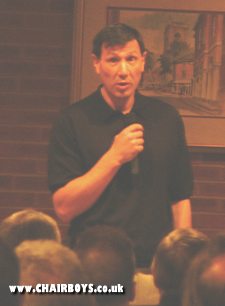 On Thursday 17th April 2003 close to 400 Wanderers' fans packed into The Vere Suite at Adams Park to hear the views of Club officials, including Chairman Ivor Beeks and Manager Lawrie Sanchez, as well as having a chance to air their own opinions and questions.
Surprisingly, despite the very encouraging turn out, the evening was barely reported on in the local press, while official reports were minimal, although well intended.
The Bucks Free Press Midweek in their edition of Tuesday 22nd April branded supporters at the forum as a "hate mob" but failed to back up the allegations with any quotes or actions from the evening. Bucks Free Press Sports Editor Dave Peters also took hypebole to new extremes when he wrote in his Wanderers' programme column on 26th April "Manager Lawrie Sanchez must have thought he was in Baghdad as he came under a fierce attack from a section of the club's supporters". Again there was nothing in print to back up his crass stance. In stark contrast, the official view from the Club in the same programme was that "It was a very well mannered evening with fan's listening to everyone's point of view".

Chairboys on the Net has put together a series of reports from the evening available via the links below.



Part 1 - Summary of opening speeches

Part 2 - Ivor Beeks on the positives and negatives of the season

Part 3 - Rod Tomlin on the financial situation and communication

Part 4 - Lawrie Sanchez on the season just gone and next season

Part 5 - Question and Answer session selection
Click here to read all the latest Wycombe news
---
---

FANS
FORUM
Leave your own stories and comments via
www.gasroom.co.uk
---